Barnett and McGowan speak at Australian Christian Lobby forum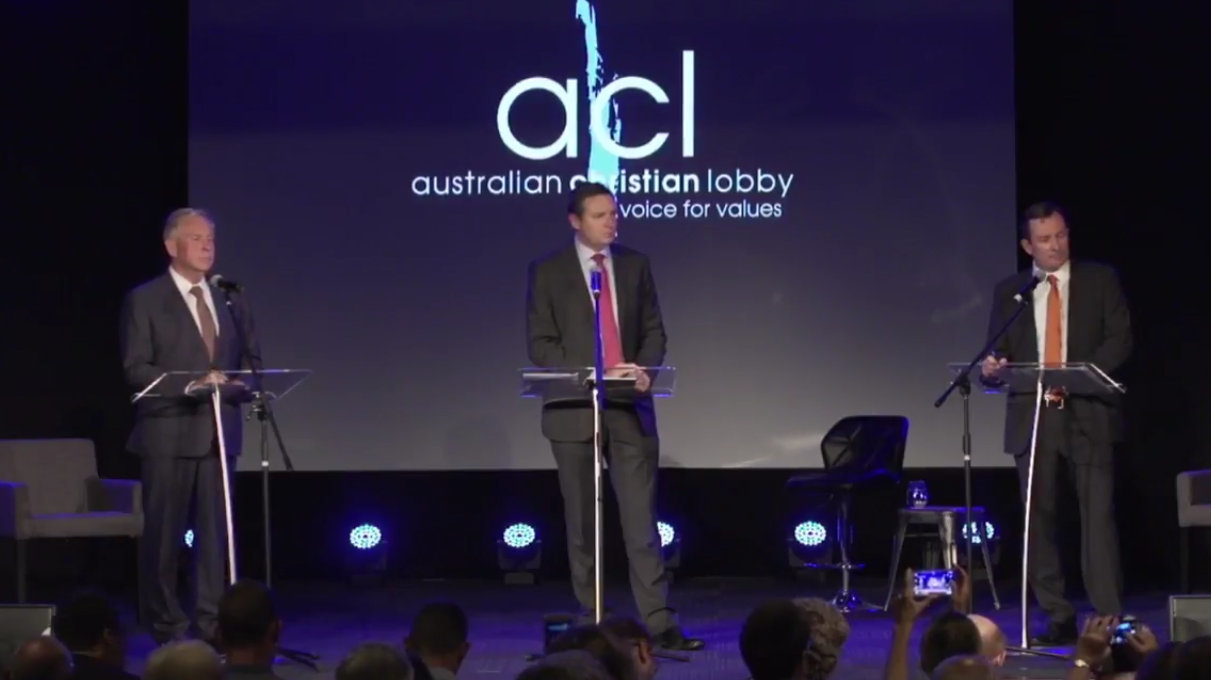 Premier Colin Barnett and opposition leader Mark McGowan made their election pitches to Christian voters at a forum facilitated by the Australian Christian Lobby.
Hundreds of people packed out the Kingdom City church last week to hear the two political leaders speak, while more watched online via a live Facebook broadcast.
Premier Barnett said people should never forget that Australia was a society based on Christian values.
"Western Australia is a very tolerant, accepting, society. There are people who have come here over the years from all sorts of parts of the world, and with all sorts of religions and faiths, but we should never forget that Australia is essentially a Christian society." Barnett said.
Barnett said Christian values and ethics underlay our systems of law and government, noting that parliament still commences each day with The Lord's Prayer.
The premier said that during his two terms leading the state he had regularly met with religious leaders via a six-monthly meeting, and through this work new initiatives to tackle the city's homelessness challenge had been developed. Barnett also highlighted his government was committed to funding school chaplains.
Premier Barnett said at the start of his eight years in power he has vowed to lead a government of integrity, be decisive, be pro-development and lead a government that was caring and compassionate.
Opposition leader Mark McGowan made his pitch to Christian voters saying that churches provided an important service in Western Australia society.
McGowan highlighted work churches undertake in tackling homelessness and assisting society's most disadvantaged. McGowan said church's played an important part in providing services in education and health as well.
The opposition leader listed tackling unemployment, addressing the state's methamphetamine problem and improving health services as areas that some of the reasons he wanted to be the state's next premier.
McGowan said his party had the right plan for the future.
"It's a program around diversifying and broadening our state's economy to create more jobs for people. Keeping our mining industry strong and not putting in place some very destructive ideas that are out there about our mining industry.
"Making sure our state a far more comprehensive transport and planning system to ensure that we have more opportunities to get out of our cars, use public transport. Higher density living around train stations." McGowan said.
Improving the health system, increasing the number of education assistants in primary schools, and not selling off state assets were other items McGowan listed as being part of the Labor agenda.
McGowan said he hoped to have an honest and respectful relationship with churches. The Opposition Leader said the issue of voluntary euthanasia for people who are terminally ill and in pain was one topic some voters may not agree with him.
"Voluntary euthanasia, with appropriate safeguards, is something I support." McGowan said, noting that the Labor party treated the issue as a conscience vote should a bill become before the parliament.
At the close of the night the Premier was asked about his views on euthanasia. Barnett said he was not in favour of euthanasia, drawing on his own personal experiences of making decisions about his own father's death.
School Chaplains
Taking questions from the audience both leaders voiced their support for the School Chaplaincy program.
Indigenous Suicide Rates
The high rates of indigenous youth suicide was also raised as a discussion topic. Mark McGowan said it was a complex issue with no easy answers, but creating 'hope for the future' in people's lives was essential.
"What we've got to do, as senior politicians, the Premier and I, is make sure there is hope for the future for aboriginal people, and that there are programs, and plans and jobs and opportunities."
McGowan said it was essential indigenous communities needed to have health and police services within their communities and education and employment opportunities. McGowan said he was not in favour of closing indigenous communities.
Premier Barnett said the rate of suicide in indigenous communities was a national disgrace, but he was proud of the suicide prevention strategies that had been rolled out for all West Australians. The premier said sometimes closing an indigenous community was the right decision.
Prostitution
McGowan said changing the laws around prostitution would not be on the agenda if he becomes the state's next premier. The Opposition said while prostitution was not illegal but police should follow up cases of sex trafficking.
McGowan said he was not in favour of holding a parliamentary inquiry, warning that an inquiry might lead to outcomes that the audience might not be in favour of.
The Premier said his government would tidy up the laws around prostitution and give greater powers to police dealing with sex slavery. The Premier said he didn't believe a parliamentary inquiry would be worthwhile.
---

---
Abortion
Both leaders were asked if they'd support an inquiry into the state's abortion laws, particularly into the current practice of denying care to babies who survive abortions.
The Premier said the current laws which were brought in via a private member's bill in the 1990's were one the most harrowing debates he'd experienced during his parliamentary career.
Barnett said his personal view was that medical care should be administered if a child is born and has a reasonable chance of a healthy life.
The Premier said he would probably not be support a parliamentary inquiry into the issue, but said it was up to the parliament to decide what topics it looked into.
Opposition Leader Mark McGowan said babies surviving termination was a tragedy. McGowan said there were strict guidelines in the law around late term abortions. McGowan said the decision about the treatment of babies who survive abortions was a decision for doctors and families.
"As a politician I'm not going to go in and tell a mother and a doctor what should be done in those circumstances. I think it's best left to those people to make those decisions in those circumstances."
Host Lyle Shelton said surely a baby surviving an abortion was not a tragedy, a comment that got a round of applause from the audience. McGowan restated that he believed the issue was one for individual doctors and mothers.
Homelessness
The founder of homeless support ground Manna Industries asked each of the party leaders how they would address homelessness.
McGowan said homelessness was linked to drug problems, alcoholism, family abuse, family breakdown, employment and mental health. McGowan said if was elected he would devote more of the department of housings budget to tackling the issue.
The Opposition leader said an across government approach was the only way to tackle the problem effectively. Getting more anti-drug programs into schools was another area McGowan highlighted.
The Premier said his government had put a lot of money into tackling the problem through the creation of Tom Fisher House, Foyer, and St Bartholomew.
Barnett said letting more young people own homes sooner lead to people having more stable lives. Allowing older people to downsize their homes by offering stamp duty concessions also allowed more people to get into the housing market.
Safe Schools Coalition
Offering support for LGBT students was an area where the two leaders had a distinct difference of opinion.
McGowan said a Labor government was committed to continuing the program.
"A lot of young people who identify as gay are very likely to commit suicide. It is a major problem amongst young people of school age who identify as being gay or homosexual.
"There are also problems with young people who identify as being gay being bullied at school." McGowan said.
The Opposition leader said some problems had been identified with the program when it was reviewed, but improvements had been implemented.
McGowan said the program gave important support to teachers, and schools should be able to access the support they need.
Host Lyle Shelton said many parent's were concerned about elements of the program that described gender as being fluid, Shelton said many parents would be concerned about the $1.4 million that Labor has pledged to the program, saying it could be better spent on reading, writing and arithmetic.
The opposition leader said it was a point they would have to disagree upon, voicing his support the program.
Premier Barnett said he would not support the program in any form.
"From my perspective I do support the Safe Schools program in any way." Barnett said.
The Premier said when issues of gay rights had come up in parliament in the past he had done a lot of his own research and he believed around 5% of the population may be gay, or gay at some stage in their life.
"Probably most of them have that from an early age." Barnett said, "I think that can out enormous emotional, psychiatric stress on the child, or the young adult, and on families."
"We have to be compassionate and understanding, part of Christianity I'd have thought." Barnett said, "Can I say in relation to the Safe Schools program, to my knowledge of it, and I've never read the material, but I've heard fellow members of parliament describing it.
"To me it encourages experimentation, promiscuity, to very young children, getting right down into primary schools. I don't think it any way that it what should happen in our schools, and I don't think you can have situations where boys, or even their parents could think that they've got the right to use the girls toilets and things like that. That's not part of the Australian way."
The Premier said children going through "all the emotions of that" should be supported by psychologists and chaplains.
"We do let schools make their own choice, but my view, it's not a directive, but my view is I don't want to see that in our schools."
Watch the whole discussion below.