Comedian Sophie Joske launches Kickstarter campaign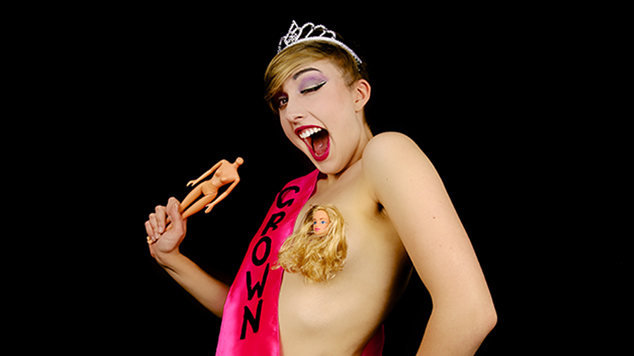 Following a sell out season at Fringe World comedian Sophie Joske has launched a Kickstarter campaign to help take her show 'Become a Functional Adult in 45 Minutes' to the Sydney and Melbourne fringe festivals.
The barbie destroying comedian is hoping to raise $2,500 to take the show to the east coast.
OUTinPerth quizzed Joske and asked her why we should consider donating to her campaign.
Why should we give you some cash?
We debuted 'Become a Functional Adult in 45 Minutes', my first original one-woman show at Perth's Fringe World earlier this year. It's all about growing up and feeling like you've not quite got there, which a lot of people seem to relate to. We sold out at Perth Fringe so we're keen to see how it chalks up at the Sydney and Melbourne Fringe Festivals in September. It'll be the first time I'm performing my work outside of WA so it's a tremendously exciting opportunity.
I'm bringing with me my amazing production manager Nick Pages-Oliver, who is responsible for publicising the show, operating the tech, organising stuff and basically keeping it from going off the rails. He's donating his time to the project and we've also put up the money for registration and airfares ourselves.
Depending on how ticket sales go, it's a strong possibility that neither of us will get paid for doing this, which is the reality of independent theatre. We're doing it because we really believe that the show is worth our time and money and we're hell-bent on getting as many people as possible to see it because it's really quite good, even if I do say so myself.
What do people get in return for supporting your fundraising campaign?
We're giving out a bunch of different rewards to our supporters, including a written recommendation, which is basically myself penning a highly professional letter singing your praises using facts I've completely made up. I'll write recommendations for job interviews, dates, or just to proclaim how awesome you are!
There's also a limited number of Certificates of Adulthood available. They're laminated proof that you are a true grown up! And, for the right price, I will put on a blue unitard and dance to the song of your choice.
How do we know you won't blow it all on balloons and sherbet?
When you set up a Pozible campaign they make you submit ID so that if you did hypothetically run off with the money and spend it all on sherbet you could be tracked down and made to feel the full force of the law. Also, we've already booked our venues and submitted our program entries to the Sydney and Melbourne Fringe Festivals, so it'd be quite embarrassing if we didn't make it over there.
How many Barbie dolls suffered to create this show?
Unfortunately we had to decapitate two Barbie dolls to be converted into nipple pasties for our publicity photos, and several others were similarly mutilated and conscripted into public nudity for artistic purposes. We also suspend one from the ceiling during the show. Sacrifices must be made for art.
To support Sophie's show head to her Kickstarter campaign.
OIP Staff
Sophie Joske is a former employee at OUTinPerth and is a contributing writer to the publication. We never saw her hurt a Barbie doll but she did constantly hum radio hits from the '80s.