Confusion over who paid for Kellie-Jay Keen's tour of Australia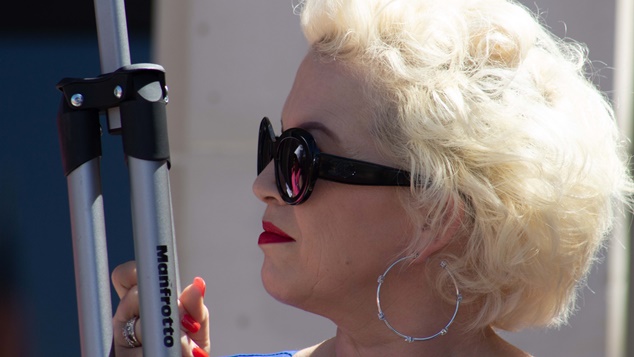 Kellie-Jay Keen was forced to leave New Zealand late last month after thousands of protesters swamped her 'Let Women Speak' open mike event in Auckland.
Warning: This story has details of violence and anti-transgender views which might be distressing to some readers. For 24-hour crisis support and suicide prevention call Lifeline on 13 11 14. For Australia-wide LGBTQI peer support call QLife on 1800 184 527 or webchat.
The event saw violent outbursts from both sides, and Keen was doused in tomato juice by a protester. Just minutes after she arrived, she was escorted away from the event by her private security and volunteers, before the police placed her in a police car and took her to a nearby police station.
She cancelled her planned event in Wellington, and left the country a few hours later, bringing an end to her tour of Australia and New Zealand. In the wake of her tour around Australia confusion emerged over who actually paid for it all.
The logo of the Conservative Political Action Conference (CPAC) appeared on her promotional materials, and the organisation's Executive Director had previously spoken about why they thought Australians needed to hear from Keen.
In a social media post last week, Keen said her own organisation Standing for Women covered the costs.
"Standing for women paid for all flights, accommodations, nearly all food…thousands for security, incidentals, we also managed and promoted the tour." Keen said, encouraging supporters to buy products from her online store.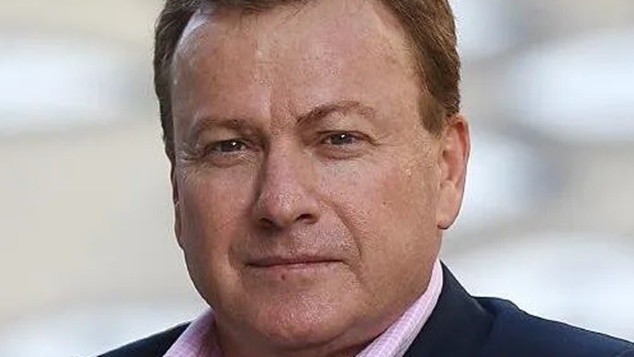 Prior to this, Andrew Cooper, the founder and executive director of CPAC Australia, spoke to ABC Melbourne and confirmed his organisation had paid for Keen's flights to Australia.
"We think she's got some interesting things to say, and we think it's kind of a hot topic at the moment. The rights of minorities, I guess, is always at the fore of the Australian marketplace.
"She's a provocateur and has an interesting way of putting things." Cooper said.
Cooper said he had not expected the response from Australians that Keen's speaking tour had provoked but he was pleased with the attention it had brought.
The CPAC Australia founder said Keen's key messages were about safety in sport, protection and children and women's rights.
"It's unfair to paint her as anti-trans, because I've never heard her – she may well have said something – but I've never personally heard her say anything that purely anti that group of people." Cooper said.
Host Raph Epstein challenged Cooper highlighting a litany of statements Keen has made in the past, to which Cooper said he was unable to talk to specifics and questioned if Keen's comments had been taken out of context.
"There's a lot of them Andrew, a lot of them" Epstein responded.
Cooper said while CPAC Australia had supplied funds towards the tour but were not involved in its organisation. He said it was disappointing that the appearance of a neo-Nazi group at the Melbourne event had distracted people from the event's goals. Cooper also appeared on Sky News where CPAC Australia was again described as having paid for Keen's flights.
Ahead of Keen's tour Binary, Australia's anti-transgender organisation, began promoting that their leader Kirralie Smith would be co-headlining the Let Women Speak events in Sydney and Brisbane.
The posts led many to ask if Keen's events were really about letting whoever turned up on the day speak, or if the speakers were in reality organised in advance.
The social media posts were challenged by Keen who commented, "Let Women Speak" do not do joint events or have special guests. This must be a misunderstanding." Soon after Smith's posts were deleted, but she did appear at both of the outlined events.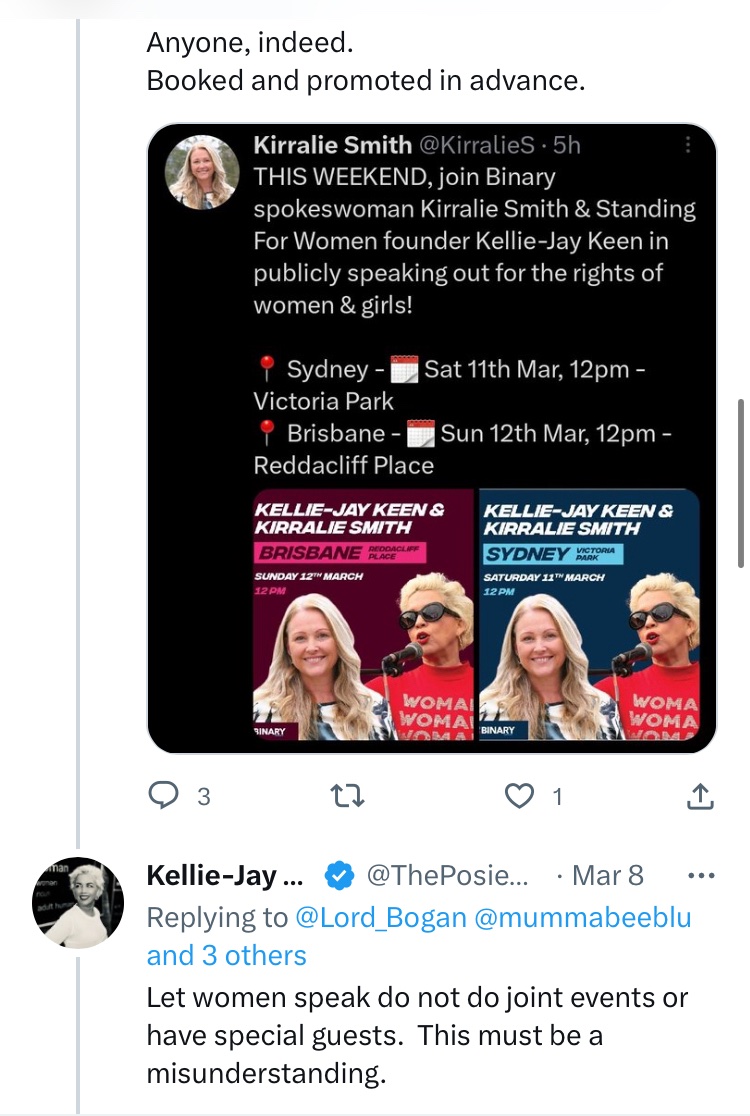 Binary were previously known as The Marriage Alliance and were a leading organisation in the NO campaign against marriage equality. The group's directors include Lyle Shelton, former head of the Australian Christian Lobby, and James Parker, the Western Australian speaker who argues people can fight against homosexuality and embrace a celibate or heterosexual lifestyle.
Now in an interview with The Australian a new explanation of who funded the tour has been offered.
"Keen's tour of Australia and New Zealand was funded by sales of her T-shirts and stickers, with Conservative Political Action Conference providing insurance cover only and a group called ­Binary contributing $1000 towards security costs." the newspaper said as the interviewed Keen from her home in Wiltshire.
That's a lot of stickers.
OIP Staff, OUTinPerth contacted Kellie-Jay Keen and Andrew Cooper for comment.  
---
Do you need some support?
If you are struggling with anxiety or depression, support and counselling are available from:
QLife: 1800 184 527 / qlife.org.au (Webchat 3pm – midnight)
QLife are a counselling and referral service for LGBTQIA+ people.
DISCHARGED: [email protected] / discharged.org.au
Discharged is a trans-led support service with peer support groups for trans and gender diverse folks.
Lifeline: 13 11 14 / lifeline.org.au
Beyondblue: 1300 22 4636 / www.beyondblue.org.au
---

You can support our work by subscribing to our Patreon
or contributing to our GoFundMe campaign.