Courtney Act: The Girl From OZ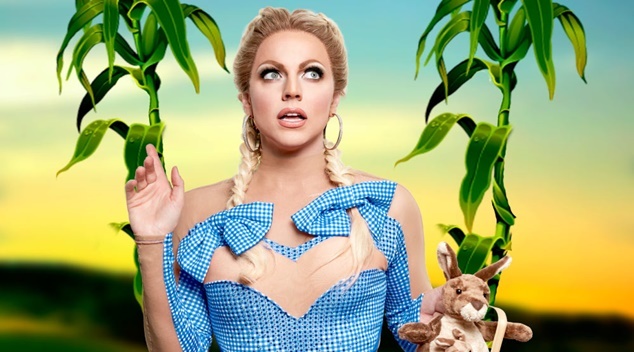 From Australian Idol to RuPaul's Drag Race, Courtney Act has been representing Australia on the international drag and entertainment scene as one of our top exports.
Making a name for herself as a bi-coastal queen, Act has emerged as not only a great musical talent but as a queen with a message – heading to heated Trump-centric events across the United States to better understand those who support the divisive new leader of the free world.
Calling from Los Angeles, Act tells me she's happy to be doing everyday things like decorating her house as a reprieve from infiltrating Republican rallies and even the inauguration of newly-elected President Trump.

"I was genuinely afraid. I went to a Trump rally earlier last year and both times I had a bodyguard with me. I had a marine with me at the inauguration who was 6' 5" and ready to do what had to be done. I think having him standing there looking intimidating is probably doing 75% of the job anyway. I didn't have any trouble but I think that's because no-one was gonna fuck with him."
The Aussie expatriate says while she seems composed in the YouTube videos in which she visits Trump rallies, she was scared enough to write a will on the plane to the inauguration.
"I left all of my human hair wigs to Vanity and gave Willam second choice. I really thought Trump's election would give everyone a mandate to hate, and in some respects it has, but there were a lot of protestors there. I would say about 70% of the people I came into contact with outside of the inauguration were protestors – even when I ventured to the line to get comment from Trump supporters I still found protestors waiting to get inside."
While there were an inordinate amount of anti-Trump protestors at the events, Act says she was surprised to find queer youth showing up at the events.
"There was a girl and a gay shouting 'Courtney! Courtney!' and I thought I'd been sprung. They were wearing 'Make America Great Again' hats and my heart broke but when I asked what they were doing at the event they said they were just wearing the hats so they didn't get singled out."
Moving away from politics, Act tells us that The Wizard of Oz imagery that accompanies her Fringe World show is a ruse – The Girl from Oz is all about her Australian roots and translating for US audiences.
"The shows was originally written for American audiences because their understanding of Australia begins at Crocodile Dundee and ends at Steve Irwin. I just wanted to do my bit as the cultural attache to Australia and educate Americans on the wonders of our country."
Act says she was tired of having to point out to her friends that the pop hit they were listening to on the radio was Australian made.
"People are shocked to learn that Air Supply, ACDC, The Divinyls… even Olivia Newton-John and Kylie Minogue are Australian performers. Americans had no idea! I felt it was my duty to educate them and tell them Fosters is absolutely not Australian for beer and hasn't been for about 30 years."
The Girl from Oz is filled with a selection of songs, quotes and iconic film moments Americans know and love, that Act intended to assert Australian ownership of.
"If you watch a Hollywood movie these days, you'll notice some of America's greatest actors are Australian. Listing all of their names on a screen makes you realise just how prevalent we are in Hollywood and American culture."
Celebrate Australia with Courtney Act in The Girl from Oz, from Wednesday Feb 15th – Sunday Feb 19th. Tickets and more information available from fringeworld.com.au
Leigh Hill