Courtney Act picks Black Rainbow as her 'Dancing with the Stars' charity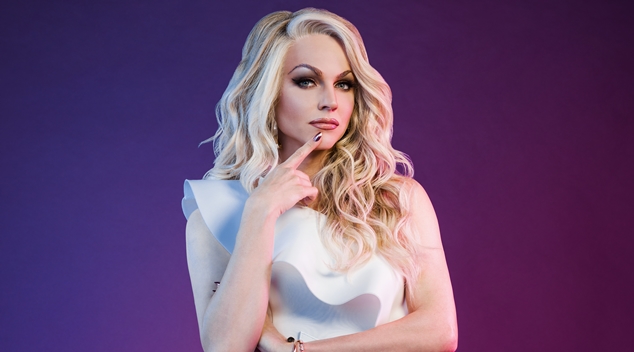 Drag star Courtney Act has selected indigenous suicide prevention charity Black Rainbow as her charity as she competes on Channel Ten's Dancing with the Stars.
The charity said they were ecstatic that Courtney Act We are ecstatic to have Courtney Act chose Black Rainbow as her charity of choice as she competes on Dancing with the Stars.
"We'd like to also thank the First People's Disability Network for agreeing to act as auspice in event the Ms Act is successful in the competition. We are also extremely thankful for Curtin University for agreeing to partner with us to undertake some much needed and long overdue research into the suicide ideation, self-harm and resilience amongst Aboriginal and Torres Strait Islander lesbian, gay, bisexual, trans* queer and intersex (LGBTQI) people, in the event of Ms Act's success." Black Rainbow said in a statement.
The charity organisation highlighted that there has been no specific research into suicide among people who are in this intersectional community, despite Aboriginal and Torres Strait Islanders and LGBQTI people, as two separate population groups being widely researched in suicide prevention and wellbeing.
"Aboriginal and Torres Strait Islander Australians are 2-3 times more likely to die by suicide than other Australians.
LGBTQI+ Australians also have one of the highest rates of suicide in Australia, with 20% of transgender and 16% of lesbian, gay and bisexual Australians having suicidal ideations.
"What is unknown is the rates of suicide, self-harm for Aboriginal and Torres Strait Islander LGBTQI people.
As a population group with this dual identity and experiences, we can only assume the significant risk Aboriginal and Torres Strait Islander LGBQTI people are at risk of suicide." the group said.
"The data on Aboriginal and Torres Strait Islander LGBTQI people across a range of health indicators, including homelessness, is also absent from Australia's health policy; Indigenous and LGBQTI.
"The health and well-being of Aboriginal and Torres Strait Islander LGBQTI people has never been measured before, let alone in the context of suicide prevention. As such, information across just about every health indicator remains non-existent for Aboriginal and Torres Strait Islander LGBQTI people. Black Rainbow are working toward changing that." Black Rainbow said.
Black Rainbow remains a national grassroots volunteer run platform, funded by donations only, to not only raise the issues like suicide and self harm but the challenges faced by the Aboriginal and Torres Strait Islander LGBQTI people with the Australian Health system.
The group has recently hosted a series of roundtable discussions and in partnership KPMG we will be delivering a report based on these roundtables to Prof Ian Anderson, who holds the country's most highest public servant position. Black Rainbow said the issue is bipartisan and their report will be delivered to all political parties.
Jake Gablonski who is a youth member of the Black Rainbow Leadership Group  welcomed Courtney Act's support.
"At Black Rainbow we pride ourselves on ensuring our young mob feel they matter. Having Courtney Act show her support gives us comfort in knowing that the work of Black Rainbow, and Aboriginal and Torres Strait Islander LGBTQI people, matter in the wider community. As too our mission to continue grassroots conversations, provide community initiatives and prevent Indigenous LGBTQI suicide.
"As young Aboriginal and Torres Strait Islander people, our identity is the essence of our connection to who we are and accepting the added identity of being LGBTQI can be a difficult process to navigate. However, visible support on a public scale from an Icon like Courtney is an important step towards ensuring our mob feel safe enough to be themselves, and feel supported in our isolated, remote, rural, suburban and urban communities nationwide"
Dameyon Bonson, the founder Black Rainbow said Courtney Act was a true ally.
"From all of us at Black Rainbow we'd like to thank Ms Act for her kind and generous heart, and in true sense of genuine allyship, her support not just for Black Rainbow but for the Aboriginal and Torres Strait Islander LGBQTI community as a whole." Bonson said.
Dancing with the Stars returned to Australian TV screens on Monday night. The show has moved house from Channel Seven to Channel Ten. Amanda Keller and Gold Logie winner Grant Denyer are the show's new hosts and a new panel of judges has also been assembled.
Celebrity contestants in the series include lifesaver Jett Kenny, personal trainer Michelle Bridges, chef Miguel Maestre, actors Olympia Valance and Samuel Johnson, comedian Denise Scott, children's entertainer Jimmy Rees (aka Jimmy Giggle),  cricketer Sir Curtly Ambrose, author Constance Hall, journalist Cassandra Thorburn, and Australian's favourite drag star Courtney Act.
For her first routine on the show Courtney impressed the judges with her jive skills declaring she was the one to beat in the competition. Dancing to Portugal the Man's Feel It Still Courtney and her dancing partner Josh scored a total of 23 putting her at the top of the leader board. Cassandra Thorburn and Curtly Ambrose were placed at the bottom of the ladder. Who will be leaving the show however is based on  a public phone vote.
Dancing with the Stars airs on Channel Ten on Monday nights. Missed an episode? Head to Ten Play.  
OIP Staff
---
Do you need some support?
If you are struggling with anxiety or depression, support and counselling are available from:
Lifeline: 13 11 14
Beyondblue: and www.beyondblue.org.au
QLife: and www.qlife.org.au
QLife are a counselling and referral service for Lesbian, Gay, Bisexual, Transgender and Intersex (LGBTI) people.
---