Duncan Gay Wins Golden Gloria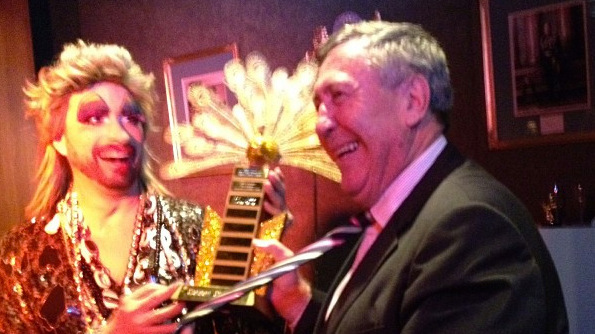 NSW Roads Minister Duncan Gay has been awarded the Golden GLORIA for tearing up Sydney's rainbow crossing at Taylor Square.
The annual GLORIA awards aim to highlight outrageous, ignorant and ridiculous comments made about GLBTI people. The awards are organised by NSW state politician Penny Sharpe.
Admirably Mr Gay actually turned up to receive his award at the ceremony. The NSW Roads Minister utilised emergency powers to remove the rainbow crosswalk from Sydney's Taylor Square in the middle of the night while community groups were lobbying to keep the feature as a tourist attraction. His action spawned the worldwide DIY chalk crossing movement.
Other winners one the night include Tess Corbett, who as a candidate for Katter's Australia Party said in an interview with community newspaper The Hamilton Spectator that she considered gay people to be in the same category as paedophiles, claiming, "Paedophiles will be next in line to be recognised in the same way as gays and lesbians and get rights."
In the International Category the award was given to John Sullivan from the United Kingdom's political party UKIP. In a series of Facebook posts Mr Sullivan said gay activists were like termites, claimed that homosexuality could be prevented by regular exercise at school and stated that although 'feminism was evil, being gay was worse.' Mr Sullivan also congratulated Russia on their banning of Gay Pride marches.
The GLORIA for the media realm was given to TV presenter and newspaper columnist Andrew Bolt for his comment, "But same-sex activists don't want marriage equality — because they already have it. A gay man is as free as a straight man to marry a woman. A lesbian is as free as any other woman to marry a man. That's equality…. And if we are to change what marriage means, we have a duty to consider not just the good such a huge change to such a critical social bond could bring, but the evil, too."
In the field of religion the award was taken out by US preacher Fred Luter, President of the Southern Baptist Convention who linked North Korea's recent threats against the USA to the debate over same sex marriage and the controversy over the Boy Scouts of the USA not to accept gay people.
Former Major League Baseball player Mark Knudson won the Sport category writing about gay players in team sports he contributed, "No one has said that gays should not be allowed to play in the NFL. What has been said is that having a gay teammate would make some players uncomfortable… Nothing that infringes on the cohesiveness of the locker room can be tolerated. If a player who is not an irreplaceable superstar becomes any sort of distraction, he's going to get released… That's why it remains the best option for any homosexual athlete in a team sport to keep his orientation private. He's doing what's best for himself by doing what's best for the team."
The awards are not limited to straight people making ridiculous comments, there is also an award for people from the LGBTIQ community. This year that award was given to singer Anthony Callea who shared why he was not interested in gay activism, "I have a great relationship, I live in normal house, I have a dog, I live a normal lifestyle, it's just part of who I am – it's not who I am. My friends and family don't treat us like that either. I think if you make something an issue, then it becomes an issue [in] society."
Since making that statement Callea has made several positive statements about the need for marriage equality while promoting his latest CD release.
OIP Staff, Image from DIY Rainbow Crossings