Global Day of Action: Equal Love WA lead Pride March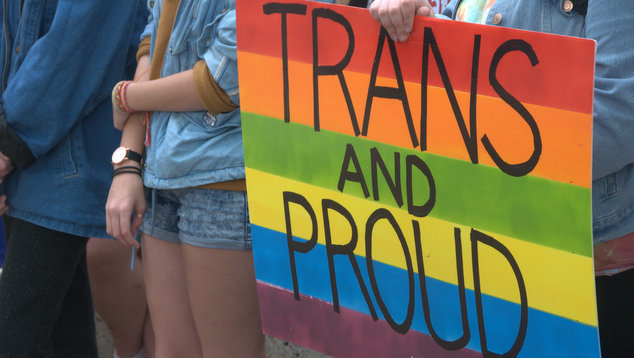 Last weekend, dozens of protesters gathered in Forrest Place in conjunction with others across the country to march against Australia's lack of marriage equality and discriminatory anti-LGBTQIA+ laws around the world.
Organised by local advocates Equal Love WA, speakers including federal Labor Senator Sue Lines, Carolyn Smith of United Voice, and My Kitchen Rules alum Jordan Bruno.
Opening the proceedings, JJ of Equal Love WA told the crowd that the rally was necessary due to our federal government's inaction on marriage equality, the uncertainty of the Safe Schools anti-bullying program in some of our states and the rise of anti-LGBTIQ politicians such as President Donald Trump.
"We're here to call on Trump, and to call on Turnbull, and to call on the pathetic mini-Trump's and Turnbull's who fill parliament to stop playing games with our lives. LGBTIQ people in Australia and across the world are sick of being treated like second class citizens."
The rally's first speaker was United Voice's Carolyn Smith, who appears frequently at such events representing Australian unions.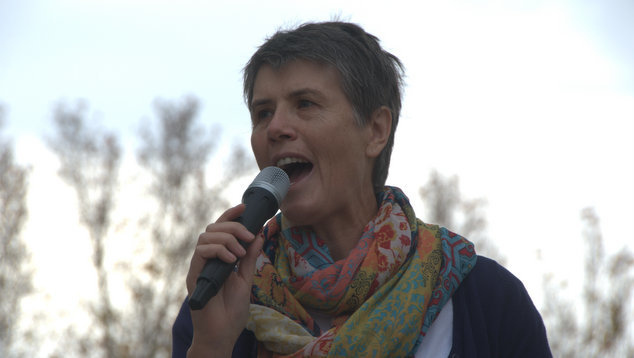 "I am here today as the Secretary of one of the largest unions in Western Australia," Ms Smith began.
"I come here with a message from the union movement. I come here with a message of solidarity with our LGBTI brothers and sisters; we are standing here alongside you in this struggle."
Smith added that of course the unions she represents have numerous queer members, and that equal rights must be a priority for all.
"When we're talking about adoption rights, when we're bargaining for parental leave and adoption leave, that our LGBTIQ members are included in those sorts of things is really really important. We'll make sure that our rainbow families are out the front and seen," Smith continued.
"We also stand up for these issues because queer rights are human rights and we need to make sure that no one gets left behind."
Next to speak was federal Labor senator for Western Australia Sue Lines, who came to speak in solidarity with the international LGBTIQ community, noting the recent events in Chechnya where gay and bi men are reportedly being imprisoned and tortured.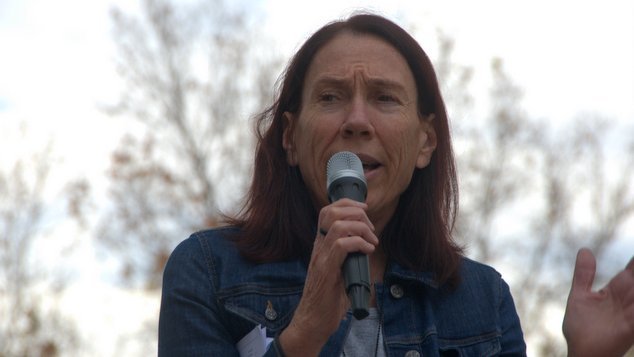 "We stand in solidarity with our LGBTI comrades in Chechnya, and indeed we as Equal Love supporters call for an end to violence to LGBTIQ people across our universe."
Senator Lines said she had chosen to speak at the rally to urge the Liberal party to take action and allow a free vote in parliament on marriage equality.
"[We] demand that the 106 Liberals that are standing in the way of marriage equality get real and recognise that people in Australia want marriage equality to happen and we want it to happen now."
Senator Lines reiterated that the federal Labor Party have committed to deliver marriage equality within 100 days of government should they be elected to power, but urged the government to let it happen sooner.
"It's not even 106 [Liberals] because we know there are Liberal members of parliament who support marriage equality, but quite frankly they are not standing up."
"They are not standing up to the handful of people in their party who are denying popular opinion, who are denying what young people are saying, who are denying what Christians are saying in this country… every single group you could belong to in this country says and demands that we have marriage equality now."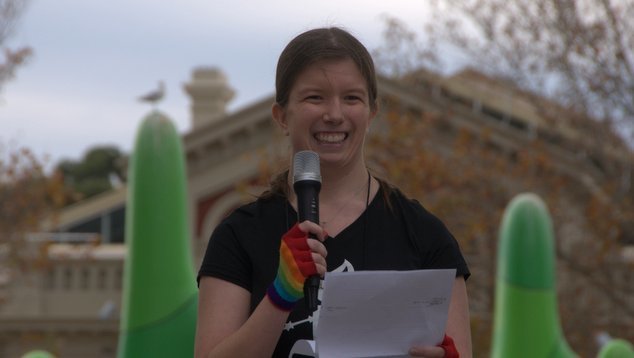 Jasmine Ruscoe of Amnesty International was next to take to the stage highlighting the importance of understanding the struggle of asylum seekers, many of whom many be running from anti-LGBTIQ regimes in their home nations.
Ruscoe also touched on the reports of anti-LGBTIQ violence in Chechnya and the importance of taking action in light of such atrocities.
Parents and Friends of Lesbians and Gays (PFLAG) representative Tracy Lilly brought the conversation back to the Safe Schools program, saying she was tired of waiting for LGBTIQ children to be properly recognised by the laws of our country.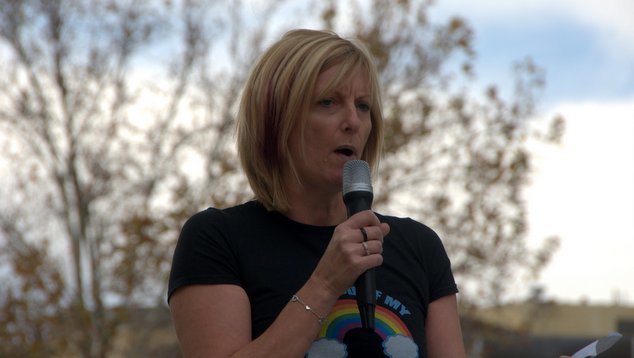 "We are not seeking for them to be given any more rights… just the same rights as other children, and that is to be safe and be able to marry," Lilly said.
"We as members of PFLAG Perth agitate to ensure that our LGBTI loved ones are not excluded nor disadvanted. Being visible and being persistent is essential. This government is constrained by its conservative wing and we need to say enough is enough."
The final speaker before the march was Jordan Bruno, who has been using his platform as a reality star to speak in support of marriage equality, Safe Schools and LGBTIQ rights since his television appearance in 2016. Bruno used his time on stage to speak of his personal experience as an out gay man, and the power of persuasion.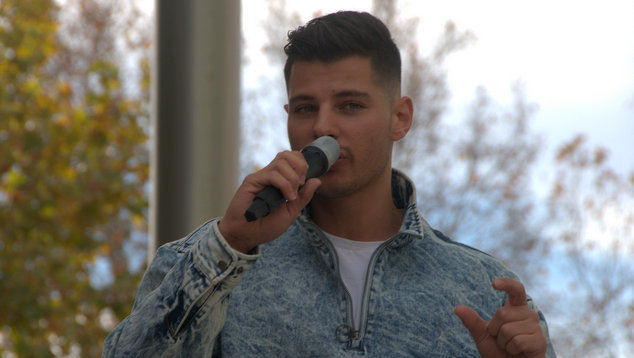 "It was really hard for me to come to terms with [being gay], and I did internalise it and it did make me depressed and I hated myself for a long time."
Bruno explained that the absence of equal marriage rights in Australia meant there was a lack of family-oriented role models for him to look up to as a young man.
"For me, I never thought it was possible. I thought my options were to escape home or get kicked out where i'd have to live a life in solitude with absolutely no friends and no family… but now I'm out and proud and I told my family and the were okay with it. That's the power of personal story… don't underestimate how influential and how powerful that can be."
The crowd then took to the streets of Perth, marching and chanting through the Murray and Hay Street Malls.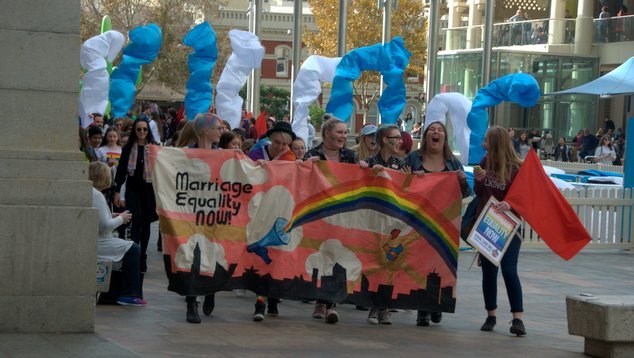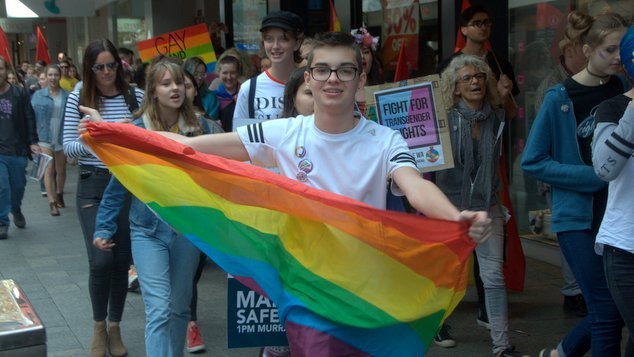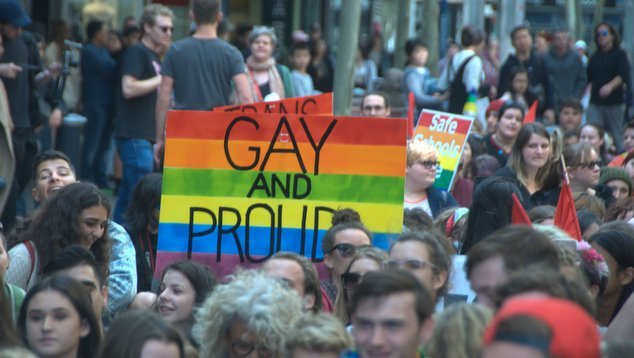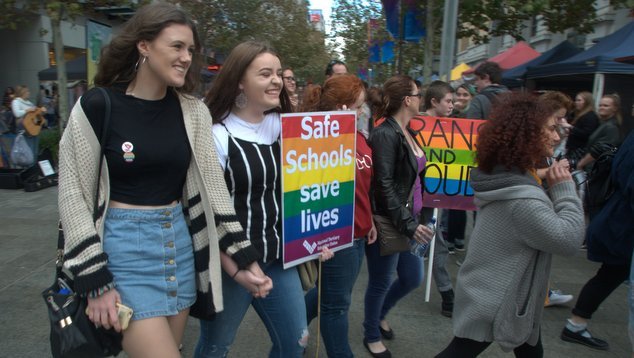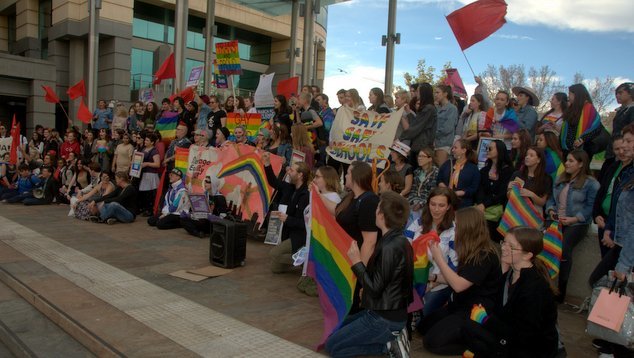 OIP Staff
---
Support OUTinPerth
Thanks for reading OUTinPerth. We can only create LGBTIQA+ focused media with your help.
If you can help support our work, please consider assisting us through a one-off contribution to our GoFundMe campaign, or a regular contribution through our Patreon appeal.