Example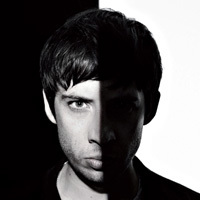 In the space of two years London dance act Example, aka Elliot Greave, has gone from being Calvin Harris' support act to a headliner himself. His music is a fierce mash of dance, dub-step, grime and rap. Hell, there's even a little grunge in there.
On the phone from Sydney, Example is more than impressed with his recent appearance in Perth.
'I'm over here on the Parklife Tour at the moment,' he explained.
'I really enjoyed the Perth crowd, so much better than Melbourne. I think the Melbourne crowd thought they were just way too cool for it all, whereas Perth… you guys really threw yourself into it and had a lot of fun. It was good to see.
'I think the people of Perth, for some reason, didn't think I was coming. I think they thought I was going to cancel for some reason. So they all seemed really excited to see me.'
Example's new album, Playing in the Shadows, is a gritty affair. It aches with a musical brilliance, a sound that is very 'now'. Yet that's not what pushes it over the edge: that comes from the cutting precision of the lyrics.
'I guess it's supposed to be dance music but I draw inspiration and the lyrics from rock music,' Example noted.
'All my concepts and melodies are grounded in grunge music but because I used to make rap, there's a signature rap in there as well. It all comes together to create bittersweet lyrics that are depressing but uplifting, like Nirvana and Pearl Jam. I try to carry that through into my music.'
The new work has some moments of sheer brilliance on it. Single Changed The Way You Kiss Me is disaffected heartache, while Natural Disaster hints at more tumultuous affairs of the bedroom.
'I wrote Playing In The Shadows over the space of 9 months and it's about everything that I've gone through in the last year. So it's everything that has affected my personal life, like relationships and how I socialise.
'It deals with temptation and commitment and maybe a fear of growing up too soon and wanting to stay young and party. Most of the songs are about excess or vices.'
Nowhere is the notion of excess more evident than Stay Awake, produced by Nero. The tweaker anthem of a new generation, this song sticks it to the club kids of the world, throwing the gauntlet down: if you don't change your ways, you're gonna end up as being some pretty messed up adults.
'That one was written while I was in Ibiza. I woke up after playing a gig and it must have been 11am and there were all these kids coming back from the night before and I just thought that if these kids didn't kill themselves from all the partying then they'll be the leaders of a messed up generation.
'There are a lot kids these days, all across the world, who are perhaps pushing it a little too far it seems with drugs and alcohol and partying and I wanted to just comment on that.'
Of course, Example has that opportunity: his star is rising, and with it the pulling power of what he can produce and make. As it stands there are already rumours of Example working on a fourth studio album with Funkagenda.
'I like working with all the best producers in the world really.'
And no doubt, knowing Example's determination, he'll achieve just that.
Playing in the Shadows is out now through Ministry of Sound.
Scott-Patrick Mitchell
***