Familiar faces among the finalists for the Archibald Prize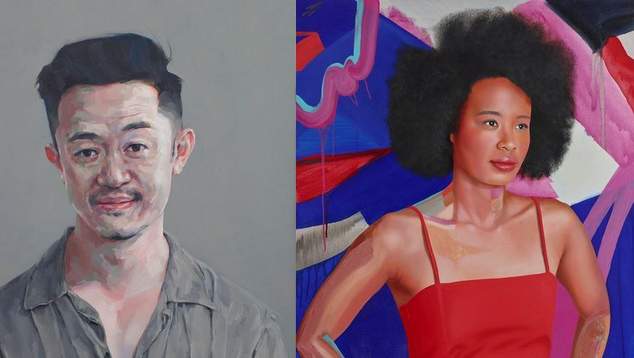 Writer Benjamin Law and TV presenter Faustina Agolley are among the many well known Australian's captured for this year's Archibald Prize.
The prize is the most competitive portrait competition in Australia and draws thousands of visitors to the Art Gallery of New South Wales each year. In 2019 a record 919 portraits were entered into the competition, with just 51 making it through to the final stage.
The subjects in portraits can range from celebrities to politicians and fellow artists. The award is for the best portrait, "preferentially of some man or woman distinguished in Art, Letters, Science or Politics". While hundreds of artists spend months working on portraits only a select few make it through to the final round.

Artist Keith Burt has made it through to the finals for the second time, this time he decided to paint author Benjamin Law.
"I've followed Benjamin Law's career ever since he worked in a bookshop in West End, Brisbane many years ago. I was thrilled when he agreed to sit for me at the end of 2018. He's articulate, experienced, opinionated and endlessly entertaining.
"As I painted Benjamin's face it was revealed as happy and sad, a reflection of someone who has confronted discrimination and injustice with a positively wicked sense of humour," Burt said of this work.
Kim Leutwyler's subject is Faustina Agolley, the Ghanaian-Chinese, openly queer actor, broadcaster, television producer, writer and DJ.
"I was instantly drawn to Faustina because of the strength of her convictions and her appetite for knowledge and self-development. She's overcome depression and anxiety stemming from trauma and homophobia to rebuild her life through her creative pursuits," says Leutwyler.
"In historical art, women of colour are often erased or, when seen, reduced to tropes as opposed to the individuals they are/were. Queer women have largely been left out altogether. Representation of queer women of colour on the walls of our cultural institutions matters."
"In this portrait of Faustina, I explore the boundaries between realism and abstraction to highlight the layers and complexity of identity. My hope is that this portrait will spark dialogue and action, and help raise the profile of women of colour in the arts by amplifying voices and diversifying representation." Leutwyler said of her submission.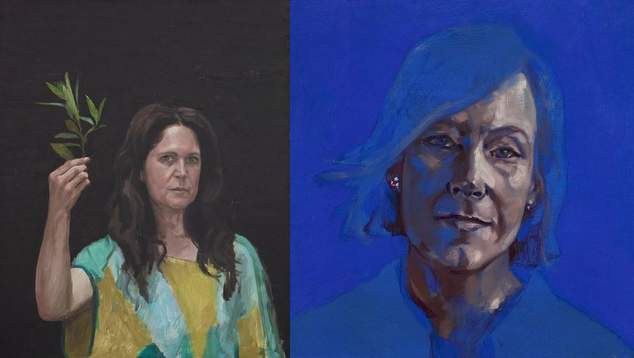 Other well known Australians depicted this year include both presenters of the podcast Looks 3, Chat 10. Artist Jordan Richardson captured Annabel Crabb, while Mirra Whale's subject was Leigh Sales.
Portraits of artists Rodney Pope and McLean Edwards, dancer Li Cunxin, business woman Sue Casto and  paralympian Dylan Alcott are also among the finalists.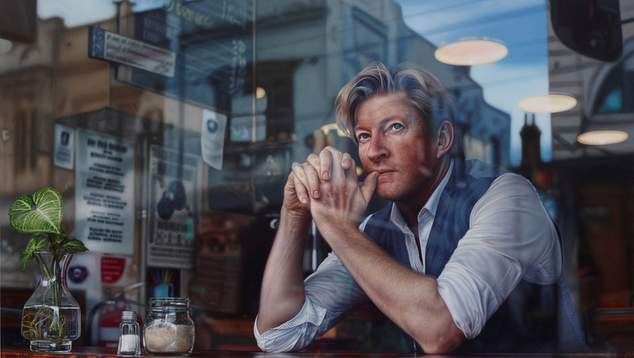 The Packer's Prize, an award decided by the head packer who supervises the unloading of hundreds of entries to competition, was given to Western Australian artist Tessa Mackay who depicted actor David Wenham at his local cafe.
Head packer Brett Cuthbertson said he has not been able to stop looking at Mackay's entry since it arrived at the gallery.
"Tessa's is a really interesting portrait – there's a lot happening in it. I've been looking at it every day since it came into the Gallery.
"I love that your eyes are drawn to the pairing of the salt and sugar, and the glass vase in the foreground. That David's in it is a bonus! Maybe that makes it Still life with David?" Cuthbertson said.
"I love the reflection of the glass and that David's in a reflective mood too. We blokes have a lot to think about these days!" Cuthbertson added.
On hearing the news that she'd won the 2019 Packing Room Prize Mackay, a newcomer finalist, said she was "thrilled".
"It took awhile for the news to properly land with me. I was still processing the fact that I was a finalist.
"Portraiture provides an opportunity for me to capture my subject's personality, drawing the viewer's empathy and curiosity.
"David's thoughtful gaze in the middle of the work is a kind of anchor. The portrait is about stepping into David's world. I like to think that his somewhat pensive eyes, lost in thought, are another kind of 'looking glass' that we're peering into," MacKay said.
"Sydney had to be part of David's portrait, but I wanted to nestle David within a figurative essence of Sydney. Painting the streetscape reflections merging into the cafe interior meant that I could depict Sydney in a more interesting and playful way and it gave me the space to capture a multi-layered and complex urban world," Mackay added.
Wenham said he felt privileged to sit for MacKay who he met through her husband, a writer/director.
"A couple of years ago Tess asked if I would consider sitting for her. After viewing her previous portraits it was clear Tess was an immensely talented artist.
"Tess's portraits are each carefully considered and not only display her supreme technical facility but also offer an insight into what fascinates or intrigues her about the subject," Wenham said.
"Aware of my fondness for sitting, people watching and general day dreaming, Tess had a very clear vision of what the look, feel and purpose of the portrait should be.
"Once the location for the portrait was locked in I couldn't really fathom how on earth Tess was going to pull the painting off. Windows within windows, multiple reflections and numerous light sources added a degree of technical difficulty that was beyond my brain processing capacity," Wenham added.
Wenham was the subject of Jordan Richardson's portrait David Wenham and hat in 2018. He was also the subject of Adam Cullen's Archibald Prize-winning Portrait of David Wenham in 2000.
The Packing Room Prize – a cash prize of $1500 for the artist – is awarded to the best entry in the Archibald Prize as judged by the gallery staff who receive, unpack and hang the entries.
Head to the Art Gallery of New South Wales to see all the finalists. 
OIP Staff
---