Five films you don't want to miss at the Revelation Film Festival
The Revelation Perth International Film Festival opens tonight at Luna Leederville. Now in it's twenty second year the festival brings a wealth of quality global indie cinema to Perth audiences.
Presenting over 150 films from 30 countries, industry masterclasses, Q+As, exhibitions, 18 world and 60 Australian premieres and 22 WA made films, Revelation is sure to have something for everyone.
Tonight's opening night screening Kursk is the latest film from renown Scandinavian director Thomas Vinterburg. Based on the true story of the ill-fated Russian submarine, this nail biting drama promises to pack a punch as it reveals the shambolic rescue attempts made to retrieve the crew from the bottom of the ocean.
We've scoured the program and found five films that we think should be at the top of your Revelation 'must see' list.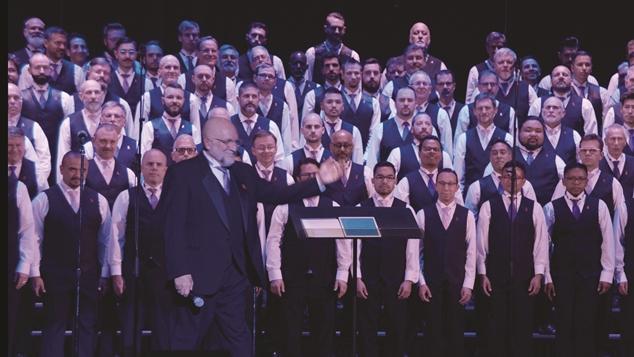 Gay Chorus Deep South
OUTinPerth is presenting this documentary about the San Francisco Gay Men's Chorus, alongside a short documentary about our own Gay and Lesbian Singers of WA. Our local choir will also be performing at the first screening on Saturday.
The film follows the San Francisco Gay Men's Chorus as they plan and undertake the Lavender Pen Tour across the southern states, with performances in Mississippi, Alabama, Carolina, and Tennessee.
The film tells the story of the singers, their friendships, and tracing their journey through the deep south, the film explores the nature of the choir and the expectations of the performers entering communities very different from San Francisco and the Bay Area.
Film reviewer Lezly Herbert awarded the documentary five stars describing it as a "heart-warming documentary is about the healing power of music."
Australian premiere screening on 4pm Saturday 6 July at Luna Leederville. Find out the details for all screenings.

Halston  
Designer Roy Halston Frowick – best known simply as Halston – was a key figure in the seventies fashion world, his unique designs instant classics. His entourage – as this documentary shows – defined a very particular aesthetic style. Through a combination of archival footage and interviews with friends and associates.
Halston went from being born in Iowa during The Great Depression to designing hats for Hollywood's most famous actresses in the 1950's before launching his full fashion range and becoming an internationally famous designer in the 1970s.
One of his most famous designers was the Pillbox hat that Jacqueline Kennedy wore to her husband's Presidential inauguration. The designer is synonymous with the wild New York nightlife of the 1970's, where he was a regular at nightclub Studio 54, and hung out with Andy Warhol and Liza Minnelli.
He made millions of dollars as a designer, and also created uniforms for Olympic teams and airline crew. By the late 1980's he had stopped designing and eventually lost control of the company that bore his name.
Director Frédéric Tcheng explores the life of Halston, a man whose career was littered with firsts not just in fashion but also in culture and business. A must for fans of fashion and great documentaries. Tcheng's previous works include Dior and I and Diana Vreeland: The Eye Must Travel. 
The first of three screenings is 6:10pm on Sunday 7th July at Luna SX in Fremantle. Find out all the screening details.

XY Chelsea
A documentary that surveys events surrounding the biggest whistleblower in US military history.
First a US Army soldier Bradley Manning then a military analyst, in 2013 Manning was sentenced to 35 years in prison for leaking 750,000 classified documents to Wikileaks – the biggest leak of classified documents in history. In August of 2013, Manning announced that she was in fact a woman with the name of Chelsea and what was already a sensational case become that much more unusual.
This excellent and acclaimed film looks at Manning's life and is there at some of the defining moments of her legal struggle and ultimate release. In capturing these moments, director Tim Travers Hawkins also captures some deep and quiet personal observations as Manning adjusts to freedom and life on the outside in literally a new body.
This film delves into Manning's past and her life since being released from prison.
The first screening is at Luna Leederville at 6:30pm on Friday 5th July. See all the screening times. 

Letters to Paul Morrissey
Aficionados of the world of Andy Warhol will be intrigued by director Armand Rovira's Letters to Paul Morrissey. 
The film is a series of cinematic letters to the director who worked closely with Warhol, including one voiced by Joe Dallesandro.
These confessional celluloid letters cover various subjects ranging from relationships to drugs, from an actress ageing to aural sensitivities, and there's a keen sensibility throughout that makes Letters To Paul Morrissey a pleasure to watch.
Catch the first of three screenings at Luna Leederville at 8:30pm on Saturday 6th July. Find out all the screening details. 

Get Your Shorts On
This annual event is a great way to see the work of local up-and-coming filmmakers. The program is a selection of 8 short films made in WA that cover a wide range of topics.
There's documentaries about women in football, a study of one of Perth's last remaining video stores, stories of asylum seekers, boxing, sex positive radio shows, aliens and drug rehab.
Don't miss this one off event on Thursday 11th July. 
The Revelation International Film Festival runs from today Thursday 4th July through to 17th July.  
OIP Staff
---