Folk singer Luka Bloom announces Australian tour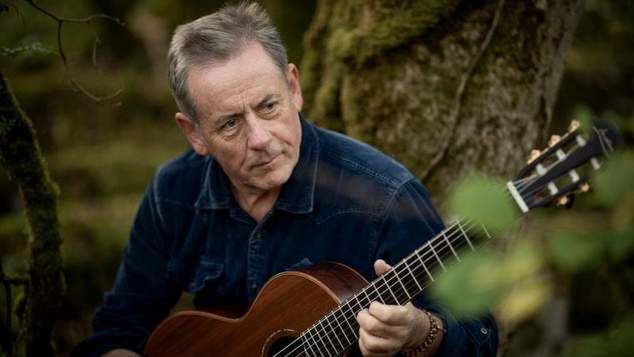 Irish folk singer Luka Bloom is set to tour Australia in support of his latest album Refuge. The new album tackles a diverse range of topics from homelessness to war and climate change.
For 40 years, Luka Bloom has been making records and travelling the world singing his songs. Since 1992, Luka has toured Australia 12 times. This February and March Bloom will take his 13th tour of Australia across the country.
"I did my first Australian show at a packed Enmore Theatre in 1992. Although this was my first ever concert in Australia, already it felt like a homecoming. I knew I instantly loved this country and hoped I would return many times. Apart from Ireland, Australia is a country I actually miss when I am away too long.
"Like Ireland, Australia is clearly not a perfect place, nowhere is. But it is a home away from home for me. I miss my friends there, I love the shows and the festivals. But that is a given. I love my job and I am utterly blessed that my songs bring me back to Australia again and again to sing with people I love to see." Bloom said.
The 17 date tour will wind it's way from Queensland, through New South Wales and Victoria before heading to Adelaide and a final show in Perth at the Charles Hotel on Friday 5th April.
Luka Bloom was born in Ireland in 1955, at first he recorded under his birth name Barry Moore, his older brother is well known singer Christy Moore. In the late 1980's he began performing as Luka Bloom – taking his first name from Suzanne Vega's song Luka, and his surname from James Joyce's Ulysses.
His breakthrough came in 1992 with his album The Acoustic Motorbike which included Luka's take on the LL Cool J song I Need Love – a hip-hop tune was a n unconventional choice for a folk singer and it got people's attention. Since then Bloom has released over a dozen albums.
Tour Dates
NOOSA THE J WEDNESDAY 27 FEBRUARY
Book at Box Office 5329 6560 www.thej.com.au
SUNSHINE COAST VENUE 114 FRIDAY 1 MARCH
Book at Box Office 5413 1400 www.venue114.com.au
BRISBANE PRINCESS THEATRE SATURDAY 2 MARCH
Book at www.trybooking.com
BYRON BAY BYRON THEATRE TUESDAY 5 MARCH
Book at Box Office 6685 6807 www.byroncentre.com.au
PORT MACQUARIE GLASSHOUSE WEDNESDAY 6 MARCH
Book at Box Office 6581 8888 www.glasshouse.org.au
NEWCASTLE LIZOTTE'S THURSDAY 7 MARCH
Book at Venue 4956 2066 www.lizottes.com.au
PORT FAIRY PORT FAIRY FOLK FESTIVAL 9 & 10 MARCH
Book at Box Office 5568 2227 www.portfairyfolkfestival.com.au
CANBERRA THE BASEMENT TUESDAY 12 MARCH
Book at Oztix 1300 762 545 www.oztix.com.au
KATOOMBA BLUE MOUNTAINS MUSIC FESTIVAL 16 & 17 MARCH
Book at Box Office 1800 651 322 www.bmff.org.au
SYDNEY FACTORY THEATRE WEDNESDAY 20 MARCH
Book at Ticketek 132 849 www.ticketek.com.au or Factory Box Office 9550 3666
MILTON MILTON THEATRE FRIDAY 22 MARCH
Book at Box Office 4455 3056 www.miltontheatre.com.au
MEENIYAN MEENIYAN TOWN HALL SUNDAY 24 MARCH
Book at Box Office 0400 117 754 www.lyrebirdartscouncil.com.au
MELBOURNE THE SPOTTED MALLARD WEDNESDAY 27 MARCH
Book at www.spottedmallard.com or www.moshtix.com
MELBOURNE CARAVAN MUSIC CLUB MARCH 28 & 29
Book at www.caravanmusic.com.au
MELBOURNE MEMO MUSIC HALL SATURDAY 30 MARCH
Book at Box Office 9534 3556 www.memomusichall.com.au
ADELAIDE THE GOV WEDNESDAY 3 APRIL
Book at Box Office 8340 0744 www.thegov.com.au
PERTH THE CHARLES HOTEL FRIDAY 5 APRIL
Book at Ticketmaster 136 100 www.ticketmaster.com.au
---