Sophie Joske on How to be a Fully Functional Adult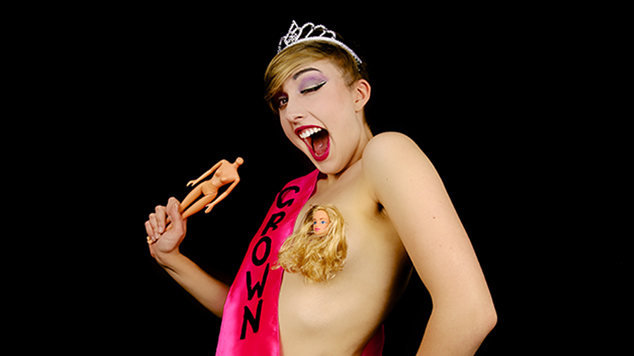 Amongst the many theatrical delights at Fringe World is a show from OUTinPerth's own Sophie Joske. In between conducting interviews about all the other shows we sat Sophie down and posed a few questions.
Tell me about your new show?
'Become a Functional Adult in Forty-Five Minutes' is a one-woman show about whether it's possible to ever truly feel like you've grown up. In it, I'll be playing a character who is desperately trying to prove that she's a grown up by sharing all of her adult knowledge with the audience. There's a creepy machine that grades her performance. It's kind of like an infomercial, but weirder.

In the promotional images for the show you seem to have turned Barbie into a nipple pastie. What did Barbie do to deserve this?
Barbie has been promoting unhealthy and unattainable beauty standards for decades, promoting an image that is harmful and- Ok, to be honest with you, myself and my director Catherine Bonny basically just thought it'd be funny. On the day of the shoot we were messing around with objects that promote ideas of what is grown up and what is childlike and this seemed like a perverse way to mash up the two. Plus I was hoping that we'd sell more tickets if I got my boob out.
Is there a time when society expects us to have become a fully functioning adult?
I think when you start approaching your mid twenties, as I am, people start asking you when you're going to move out and you start feeling like you should get your shit together. Although I think that age of having 'grown up' seems to be being pushed back later and later. People my age aren't often buying houses and getting married at the same age their parents were. So I think we're all stumbling around in the dark, really.
Your name Joske is an anagram of 'jokes' – has comedy always been in your blood?
Actually, I come from a long line of doctors. I'm a deep disappointment to my family. Not really, they're very supportive. I think most of my family are hilarious, but I'm not sure they're aware of it.
If you were to run away with circus what role would you be taking on?
Well I'm not great with heights or horses, so that disqualifies me from the roles with the best outfits. I'd quite enjoy being a clown. I can already do a few balloon animals.
'Become a Functional Adult in Forty Five Minutes' is on at Fringe World at The Blue Room Theatre as part of the Summer Nights program from February 3rd to 7th. Get tickets at www.fringeworld.com