Gaynor Argues GG Resignation Offer Proves Marriage is not a State Issue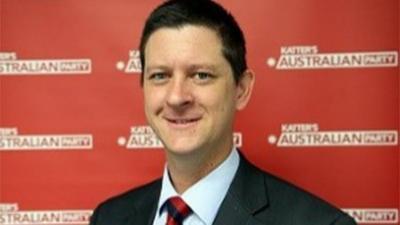 Bernard Gaynor, the right wing blogger who was dropped from Katter's Australia Party after his anti-gay outburst, has put forward his argument on why the Governor Generals' resignation offer proves that marriage is not an issue for the government to make decisions about.
Yesterday it was revealed that the Governor General Quentin Bryce had offered to resign from her position due to her son in law being appointed the Leader of the Opposition. The Prime Minister refused her resignation and has asked her to continue in the role until the end of her term next year.
In his latest blog post Mr Gaynor argues that the Governor General's decision to offer her resignation is not about her ethics but the power of marriage.
"It is all about marriage and nothing to do with her personal conduct," Mr Gaynor said.
Mr Gaynor argues that the alternative was that Mr Shorten could have easily divorced his wife to protect the Governor General's job. The fact that this option was not considered shows that marriage is more powerful than the state.
Mr Gaynor' outlines his belief that many people in government believe that the state is more powerful than marriage.
"Many in government now believe that the roles are flipped: that the state is more important than the marital contract. It will not be long before really crazy ideas are suggested and gain traction.
The army reservist continues on presenting a belief that the government has no power to marry people, nor change the traditional definition of what marriage is.
"It is important for all politicians to remember this: laws about marriage do not mean that the government makes marriages, or that the government controls them. Nor can the state legislate to call non-marital relationships a marriage. Marriage has and will continue to exist, regardless of the government and its laws. And marriage occurs when a man and woman wed for life, to the exclusion of all others and with the intention of raising children. It does not occur because they get a certificate with the Commonwealth coat of arms in the mail."
Mr Gaynor has called for Governor General to resign from her position.
OIP Staff