Government rushes to introduce laws to govern campaign materials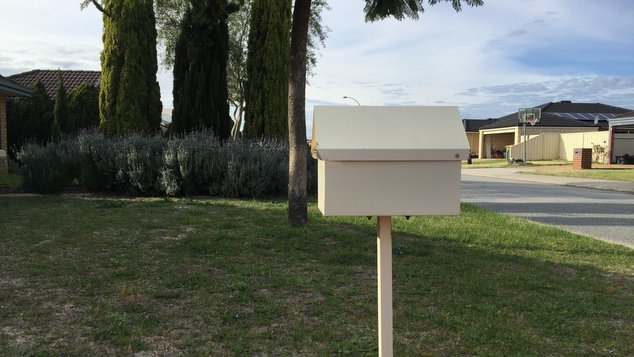 As the debate over whether Australia will allow same-sex couples the right to wed, the simple act of opening the letter box has become a confronting proposition for LGBTI people and their families.
Will there be a new round of pamphlets challenging the legitimacy of our relationships? A suggestion that we're not suitable parents? An accusation that we are all mentally ill? Letters filled with false information and insulting claims about our lives.
In Sydney a pamphlet aimed at the Chinese community timed to coincide with New South Wales local government elections suggested that supporting Labor candidates would lead to children becoming homosexuals, and that children would have 63 different genders.
The pamphlet also claimed that children would learn to "sponke their monkey's". The contorted take on "spank the monkey", slang for masturbation, will undoubtedly remain in the zeitgeist for sometime,
In Melbourne homes received pamphlets that compared same-sex relationships to seat-belts, the flyer illustrating that you need a male and female end to make the connection.
Here in Perth simple photocopied letters claim that gay couples do not deserve to be married have been appearing in mailboxes.
The letter argues that gay people have poor health, shorter life spans, greater levels of depression, high levels of sexually transmitted diseases, and are more likely to be subjected to domestic violence.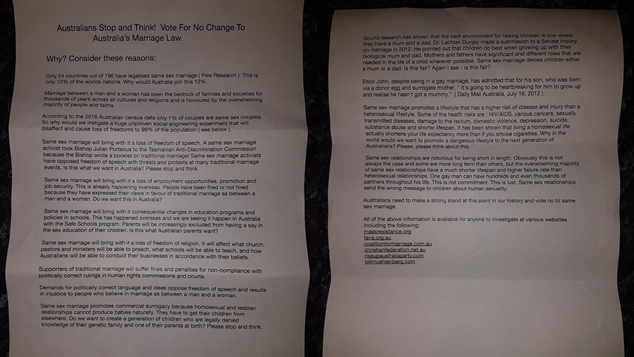 The two page letter claims that gay men are rarely able to maintain long-term relationships, and are likely to have thousands of sexual partners.
There is no indication who the letter is from, but readers and encouraged to visit the websites of the Coalition for Marriage, the far-right Rise Up Australia Party, US group Mass Resistance – which has been designated as a hate group by the Southern Poverty Law Centre – as well as Family Voice Australia, the Christian Federation, and the website of blogger Bill Muehlenberg.
For Kealan Devaney who lives in Woodvale in Perth's northern suburbs receiving the letter provoked a range of emotions.
"I felt a mix of many emotions from anger to disappointment, whoever sent this is clearly gutless because they haven't signed off with which religious or political party they represent.
"We only moved into the property in the last two weeks, so I'm presuming everybody else in the suburb got the same letter. I'm presuming that it wasn't targeted us."
"Its scaremongering, the whole letter is filled with mis-truths and preconceptions, and just lies basically." Kealan said.
While finding the whole letter "disgusting", Kealan said it was frustrating that someone would send out a document that made so many claims about LGBTI people without backing them up with an sources for the purported facts.
The 31 year old, who is engaged to be married, said he's seen the effect marriage equality has had on his native Ireland and the changes have been positive ones.
Kealan's lived in Australia for the past three years, but on a trip back to Ireland he noticed that after the country brought in marriage equality there was a noticeable difference.
"The culture seems different, people seems different, there a lot more a relaxed vibe. you see guys, and lesbians, holding hands now."

Usually campaign materials in an election would be covered by the Australian Electoral Act which requires political parties and interest groups to declare who published material, but because the marriage postal survey is being run by the Australian Bureau of Statistics none of the regular laws apply.
Additionally the Australian Advertising Standards Bureau has declared that it is unlikely to respond to concerns about advertisements put out during the campaign because they will not fall within the parameters of their guidelines either.
Over the weekend the Turnbull government has been negotiating with The Greens and Labor about rushing in emergency legislation to give some limitations to what can be published during the two month long debate.
The government has argued that the only requirements are those that would usually apply in an election process, rules that stop misleading information about process of voting, as well as stopping fraud, intimidation and bribery.
The opposition parties have suggested that because this debate is about people , their families and relationships the legislation will need to be stricter, incorporating clauses that will stop LGBTI people and their  families from being vilified.
Veteran gay rights campaigner Rodney Croome, from just.equal has suggested that the guidelines should also include a provision that campaign materials should be truthful.
That proposal is unlikely to get support from politicians however, because regular election campaigns don't have any requirement for political party's to tell the truth, bringing it for the postal survey might have some unintended repercussions for future electoral processes.
Its a point that Assistant Treasurer Kelly O'Dwyer wasn't keen on answering when she appeared on Sky News Karvelas program on Sunday night.
Asked about Rodney Croome's call for truth in advertising campaigns and rules against vilification, O'Dwyer said it was disappointing that people who had argued against the plebiscite were now asking for protections that an electoral process would have provided.
O'Dwyer said the government was open to providing the protections that would normally be in place for an election ballot including authorisation of materials.
"Labor of course, are playing politics with this important issue, which I think is very upsetting for a lot of Australians." O'Dwyer said of calls for anti-vilification protections.
"They chose not to support the legislation in parliament, and now they are coming up with another reason to actually impede the Australian people from having a say on this issue."
Asked for a third time if she's support protections, O'Dwyer said the current anti-discrimination laws were sufficient and argued that it was important to protect people's freedom of speech.
"We have anti-discrimination laws in place right now, we've got electoral protections that apply to any other election, I'm not sure why it is that people would want to see freedom of speech impeded beyond what would normally exist in an electoral campaign."
O'Dwyer said people should be respectful during the debate and that unsuitable comments would face condemnation from fellow Australians.
Graeme Watson
---
Do you need some support?
If you are struggling with anxiety or depression, support and counselling are available from:
Lifeline: 13 11 14
Beyondblue: and www.beyondblue.org.au
QLife: and www.qlife.org.au
QLife are a counselling and referral service for Lesbian, Gay, Bisexual, Transgender and Intersex (LGBTI) people.
---
Support OUTinPerth
Thanks for reading OUTinPerth. We can only create LGBTIQA+ focused media with your help.
If you can help support our work, please consider assisting us through a one-off contribution to our GoFundMe campaign, or a regular contribution through our Patreon appeal.