'HAIR' announce Australian cast on anniversary of 1969 Sydney premiere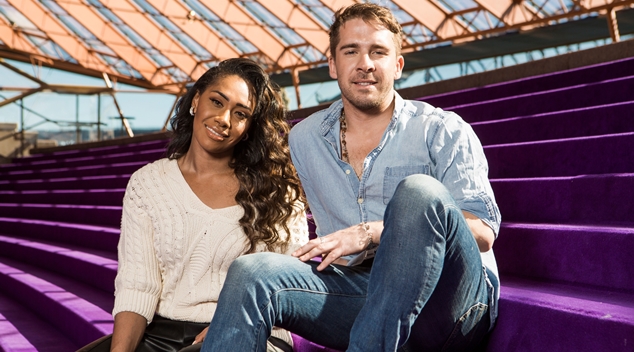 The sensational star of The Voice, Prinnie Stevens and a talented tribe of emerging Australian musical theatre stars join the brand new Australian production of HAIR, performing nationally alongside the four-time Logie award winning TV and theatre star, Hugh Sheridan, and two time ARIA Award winning Paulini.
Today is the 50th anniversary of the opening of HAIR at The Metro Theatre in Kings Cross in 1969. The 60s were divisive, with young people passionate about issues like the environment, free-love and peace, and rebelling against the conservative mainstream. The arts pushed the boundaries, and HAIR was revolutionary concept, complete with bell-bottoms, trippy tunes and the infamous nude scene.
The original production launched the careers of some of our finest artists. Reg Livermore played Berger, John Waters played Claude and Marcia Hines was imported from the USA to play the role of Jeanie (and never left). HAIR also launched the career of one of our most respected directors Jim Sharman. HAIR was the first of a trio of hugely successful rock musicals he directed for the late Harry M. Miller. Read about the 1969 opening night on Sydney Opera House Backstage.
Commencing in August, the new production will tour to Perth, Geelong, Wyong, Wollongong, Sydney and the Gold Coast, with Prinnie Stevens (The Voice) performing the role of Sheila, and the exciting new actor Matthew Manahan in the role of Claude. Angelique Cassimatis (Priscilla/Saturday Night Fever) is playing our oxygen-conscious Jeanie, and direct from Broadway Harris M Turner (Summer) will play Hud, our king of kool. Stefanie Caccamo (Beautiful/Once) is our sweet Crissy, still waiting for Frank Mills, and Callan Purcell (Jaspar Jones) will sow his seeds as Woof.
Also joining the tribe are Emma Hawthorne (Mamma Mia!), Luke Jarvis (West Side Story), Joe Kalou (In The Heights), Julian Kuo (American Psycho), Louis Luciente (Jersey Boys), Sun Park (Hi-5) and Monique Sallé (Mamma Mia!).
---
PERTH  His Majesty's Theatre
Dates:  Thursday, 22 August – Sunday, 1 September
Times:  Thursday 7.30pm (Preview 1), Friday 7.30pm, Saturday 2.00pm and
7.30pm, Sunday 5.00pm, Wednesday 6.30pm, Thursday 7.30pm,
2nd Sunday 3.00pm
Bookings:  ptt.wa.gov.au/hair
GEELONG  Geelong Performing Arts Centre
Dates:  Wednesday, 4 September – Sunday, 8 September
Times:   Wednesday 1.30pm (Preview) and 7.30pm, Thursday 7.30pm,
Friday 7.30pm, Saturday 1.30pm and 7.30pm, Sunday 3.00pm
Bookings:  gpac.org.au
WYONG  The Art House, Wyong
Dates:  Thursday, 19 September – Saturday 21 September
Times:   Thursday 7.30pm, Friday 7.30pm, Saturday 2.00pm and 7.30pm
Bookings:   thearthousewyong.com.au/whats-on/hair
WOLLONGONG Illawarra Performing Arts Centre
Dates:  Wednesday, 25 September – Sunday 29 September
Times:   Wednesday 7.30pm, Thursday 6.30pm, Friday 1.30 pm and 7.30pm,
Saturday 1.30 pm and 7.30pm, Sunday 5.00pm
Bookings:   merrigong.com.au/shows/hair/
SYDNEY  Sydney Opera House
Dates:  Thursday, 3 October – Sunday, 6 October
Times:   Thursday 8pm, Friday 8pm, Saturday 2.00pm and 8.00pm,
 Sunday 2.00pm and 7.00pm
Bookings:   sydneyoperahouse.com/events/whats-on/musical-theatre/2019/hair
GOLD COAST Home of the Arts
Dates:   Friday, 11 October – Saturday, 12 October
Times:   7.00pm both nights
Bookings:  hota.com.au/theatre/hair/
Source:- Media release
---