Harsh Words with Josh Thomas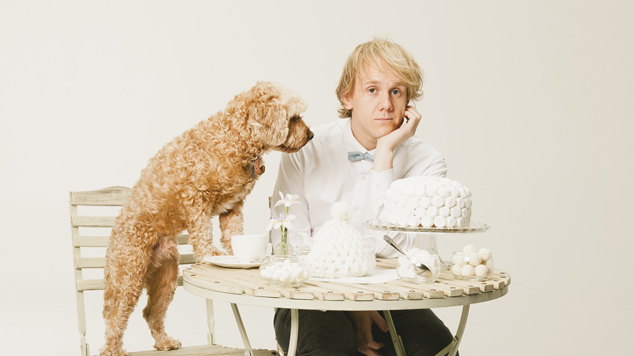 Josh Thomas is sick with a cold and hiding under his doona. We agree that this is a perfect time in life to have a small bell to ring and someone on hand to fetch things for you, but alas the comedian is home alone. "I'd have to play both roles" suggests Thomas.
The last year has been a busy period for Thomas. His semi-autobiographical series 'Please Like Me' has been on televised on ABC2, he popped up briefly on Chanel Nine's 'Celebrity Splash' and took part in a celebrity edition of 'Come Dine With Me' for Foxtel. Soon he's heading back out on the road returning to the world of stand up comedy with his new show 'Douchebag'.
For Thomas the title of the new show is just a warning sign for the uninitiated who have never seen his live performance, those who expect him to just be the cheeky guy from the Generation Y team of 'Talkin' 'Bout Your Generation'.
"People see you on TV at 7:30pm," says Thomas, "I don't say anything mean or rude or swear because it's illegal at 7:30pm at night, and then they come to my live show and they bring children and they're angry. So I thought if I put a rude word in the title…'
As insulting titles goes, 'Douchebag' at first appears quite light-weight, but as Thomas points out, "It's a harsh rude word when you know what it means."
The success of the semi-autobiographical show 'Please Like Me' has had an effect on the comedians live performances,
"It was a semi-fictional show, so now when I refer to my Mum or my Dad people now think about the characters on the TV show," says Thomas, "So now I just talk about me, it's all about me." 
Thomas most recent television appearance has been on the reality diving show 'Celebrity Splash'.
"I got out in the first round," says Thomas. "The whole thing is pretty high, but I was only there for the first week, I did a three metre dive, which is like jumping off your house!"
Thomas explains that the show was no easy undertaking. Prior to filming began all the celebrity contestents spent six week training for the show.
"I thought we were sort of joking, because it sounds like the stupidest thing in the world. When I got to training everyone took it very seriously and quite earnest."
While he might not have put the full effort into learning about diving, he did throw himself whole heartedly into the 'Come Dine With Me' experience. Thomas competed with socialite Prue McGowan, actress Chloe Maxwell and Danni Minogue's ex, model Kris Smith, to host the best dinner party.
"Kris Smith gave me a six!" exclaims Thomas, "You know what Kris Smith said about me…when the menu was revealed, he saw I was making Beef Bourginion. Which is a crazy difficult French dish, it's one of Julia Stiles signature dishes, and it's in that movie 'Julie and Julia'. When it was revealed he said 'it sounds like a pub meal to me.' Then when I get to his house, he made bangers and mash."
Josh Thomas 'Douchebag' is at The Octagon Theatre from June 20-23
Graeme Watson