Hi Visibility, Bi Visibility: This week is all about the B in LGBTI+
On Saturday 23 September, Bi Visibility Day will be celebrated all over the world. First observed in 1999, it is an international call for the bisexual+ community, their friends, and supporters to recognise and celebrate bisexual+ history, community, and culture.
Is a dedicated day still necessary? We asked the Perth Bisexual+ Community, and they answered with a resounding "yes".
Despite recent statistics showing that bisexual / pansexual people make up at least half of the LGBTIQ community, they experience poorer health in comparison to the gay and lesbian populations, with fewer targeted services to address them.

In addition to the discrimination they face from the general community, they are often misunderstood within the LGBTIQ community.
"There is a nuance to our love that gets buried in all of the arguments and explanations and metaphors. I love being this way, I love that there are things I see in people that others seem not to." ~ Kate
"I'm sick and tired of gay, lesbian and straight people assuming my sexuality [is] based only on what they see, erasing the feelings, desires and relationships they don't know about." ~ Natalya
"Bi Visibility is important to me as a queer woman in a relationship with a man. I feel like my identity is erased unless I scream it, and doubted even when I do. It's not a stage, it's not for attention, it's me." ~ Stacey
But the bisexual+ community is resilient.
It has evolved over time to incorporate a more sophisticated understanding of sexuality and gender; one that recognises more than just two genders. Bisexual+ people have been on the front line of the LGBTIQ rights movement through history, and yet continue to look out for members that may be struggling.
"Bi Visibility is important for the mental health of young people who may be feeling multi gender attraction, so that they know there is a community of people with the same sexuality where they can find support." ~ Jenine
"I am a straight-looking guy in a long term relationship with a straight lady but I am still part of the LGBTQI community. I am celebrating because I have teen daughters who identify as bi and I want them to know that it's ok to be who they are." ~ Justin
"Being bisexual has caused me to be shunned by heterosexuals and homosexuals alike. For those who are finding themselves in this obstacle course – others may not see you, but we do. Keep on shining and don't let either side dull that sparkle." ~ Kelly
"Bi Visibility is important to me because I spent too long not knowing whether I was allowed to be myself and stand up in my identity. Everything gets easier when you can see other people standing proudly in theirs." ~ Hen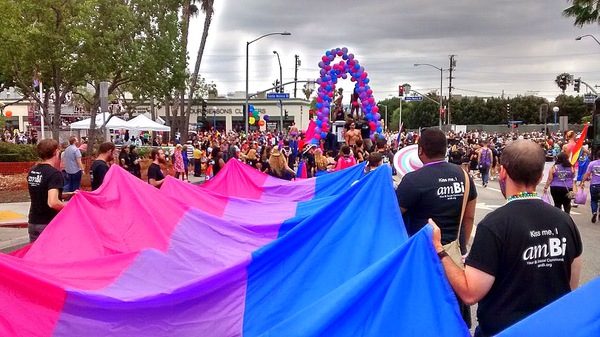 Bisexual+ people just want to be acknowledged and included.
Bisexual+ people are an important part of the LGBTIQ community. How can we forget about that big "B" right in the middle of the acronym?
"When people chant, 'we're here, we're queer,' the word queer shouldn't be a synonym for gay and lesbian. Bi+ people are part of the community and we should feel part of the community, too." ~ Duc
"Celebrating Bi Visibility Day is super important to me. I don't want people to beat themselves up because they don't really feel like they fit in anywhere. I want bi+ people to feel validated and supported wherever they go. I want the whole community to see us, and to celebrate along with us." ~ Misty
BISEXUAL+ COMMUNITY PERTH is a safe place for people who are not gay or straight (we use "bisexual" as an umbrella term for that) to engage in respectful discussion, connect with people, and form community online. There are also regular opportunities to connect in person, including events for Bi Visibility Day (23/9) and the Pride Parade (25/11).
You can join the Bisexual+ Community Perth group by going directly to www.facebook.com/groups/bicommperth
---
Support OUTinPerth
Thanks for reading OUTinPerth. We can only create LGBTIQA+ focused media with your help.
If you can help support our work, please consider assisting us through a one-off contribution to our GoFundMe campaign, or a regular contribution through our Patreon appeal.