'Hir' is confronting, comedic and aggressively unforgiving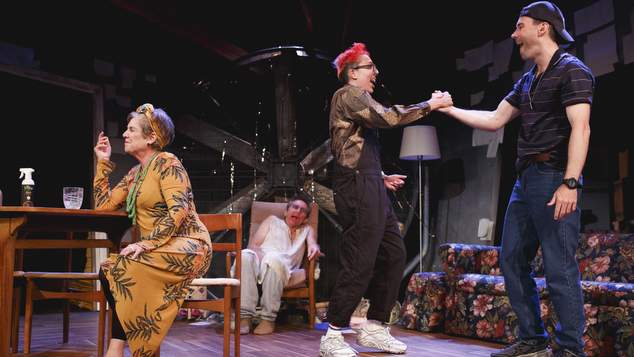 Hir | State Theatre Centre | Until 27 May | ★ ★ ★ ★ ★ 
This 21st century story of a family tackling issues of toxic masculinity, gender fluidity, independence, domestic violence and roles expectations goes full throttle from start to end. It's zooms like a bullet train, unstoppable, powerful and driven.
Isaac Connor returns from three years of military service in Afghanistan to find his childhood home in disarray. The front door has been boarded up, mountains of junk, rubbish and clothes have piled up like small mountain ranges around the home.
He's been told his father recently had a minor stroke, but he finds Arnold dressed in women's clothes with makeup smudged across his face. His speech is slurred and he's severely debilitated.
His mother arrives, and announces that much has changed while he's been away. A new world order has descended on on the household. Paige is no longer 'keeping house', there are many new rules to observe, new traditions to follow and a bundle of new ideas to engage with.
Paige gives Isaac a quick lesson in how he must now interact with his sibling Max. Issac's sister is now his brother, She is now Ze rather than He, They are now Hir, pronounced 'here'. It takes a while to get used to, Paige comments, but recommends just using ze's name as an easy option.
Stunned by the chaos and change Issac tries to work out what has happened while he's been away, but as we progress we discover the roots of what is going on, are well established in the families past. While his father, mother and sibling have all changed, who Issac really is will be also be revealed.
This play is confronting, it's loud, angry and violent. It's not a politically correct play, there are no trigger warnings, it charges unforgiving through an ideological and emotional minefield.
Cleverly, it promotes many ideals that socially progressive activists cherish, while simultaneously questioning and challenging them. Depending on your own views, your experience of this production, could be completely different to the person sitting next to you.
The only disappointing element of this work lies in Mac's script, sadly one comedic device is overused throughout the story line – making it's meaning open to misinterpretation. It shows an odd lack of creativity from a playwright is renown for inventiveness and originality.
Will O'Mahony is brilliant as Issac, we've seen him perform countless roles over the five years but from the moment he made his entrance he embodied the role. Toni Scanlan delivers a huge performance as Paige – her voice and presence fills the theatre.
Jack Palit's portrayal of a teenager is filled with a balance of awkwardness and bravado, while Igor Sas magnificently takes on the challenge of a role that is light on dialogue but filled with the challenge of using just beady-eyed looks, body language and posture.
Director Zoe Pepper makes an impressive debut with Black Swan after making her mark on Perth independent theatre scene.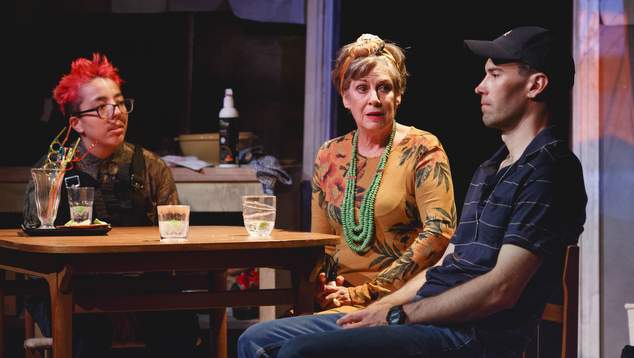 This year Black Swan State Theatre Company has presented their program as a series of conversations, programming plays that share similar themes as companion pieces.
Hir is presented alongside the Australian classic Summer of the Seventeenth Doll  –  which is currently playing in the Health Leger Theatre directly above the Studio Underground where Hir is residing.
While gender non-conforming Taylor Mac and respected Australian playwright Ray Lawler couldn't be more different, their work distinctly different works share many similarities.
Both feature men returning to a household after a period of being away only to encounter big changes that have occurred in their absence. There two works, more than fifty years apart in both setting and writing, both raise comments about masculinity, the male psyche, and violent outcomes. See them both ad compare and contrast their different approaches.
Tickets to see Hir are available via Black Swan State Theatre Company.
Graeme Watson, images: Daniel James Grant