Michael Kirby:Older and Bolder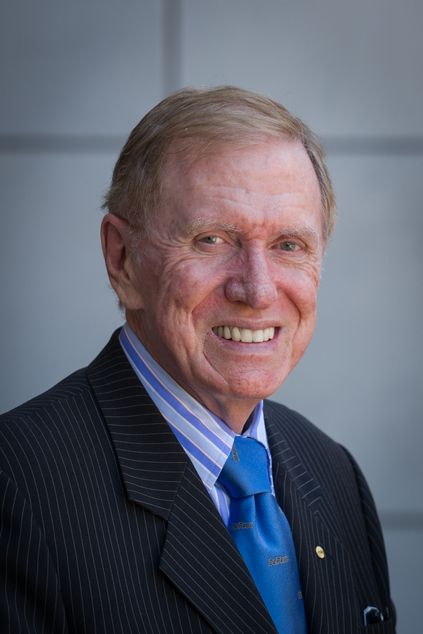 Former High Court Judge The Hon Michael Kirby has been keeping himself busy since stepping down from the bench in 2009.
As well as leading an United Nations Human Rights Council inquiry into human rights abuses in North Korea, he also appearing at a multitude of speaking engagements. Graeme Watson caught up with Kirby ahead of his upcoming talks in Perth.
Kirby visits many universities to share his wisdom with the public.
"This morning in Sydney I took part in the raising of the rainbow flag at the University of New South Wales. The same thing will happen tomorrow at the university of Sydney, for the first time in both universities, but for many years when I've come over the Perth, the rainbow flag has been flying outside the University of Western Australia so that in this sense we're catching up over here on the east coast with the west coast in that respect." Kirby shared.
Universities, one hopes, are at the forefront of thinking when it comes to human rights. But can students expect the same standards once they enter the working world?
"There is already law in place for many activities in society to provide regress against discrimination on the grounds of sexual orientation, gender identity, and increasingly intersex status in federal legislation. In fact the reference to intersex status in federal legislation in Australia, is, I think a first in the world. But getting the provisions in legislation and getting respect and equality for people in all forms of employment and in society is sometimes a bridge too far for some people, and that's where education, and discussion and media attention and ultimately legal decisions become important." Kirby said.
However, not all countries have legal protections in place for LGBTI people. Kirby has expertise on the state of legal protections in the Asia-Pacific region. He explained that many of the anti-gay laws currently in place are remnants of British-colonial law, something which many nations are proud to have as a part of their history. "There's a lot to be proud of the colonial and British legal system and tradition. For example the very strong tradition of uncorrupted judges is something that countries of the British empire, and now the Commonwealth have inherited and this is not a matter of condemning every aspect of the legal system, but one aspect of the British legal system which was exported to each and every country over which the Union Jack ever flew, was the provision of the anti-gay criminal law. In India it's section 377 of the Indian penal code, in Singapore it's section 377 capital A, and likewise in Malaysia and this reinforcement of social stigma and sometimes of religious attitudes by actual legal provisions which can be misused oppressively is a leftover from the colonial era. The British got rid of such laws themselves in 1969, but they linger on in many other countries. In fact in 42 of the 54 countries of the Commonwealth of nations, the criminal law is still heavily discriminating against gay people."
At Curtin University, Kirby will be discussing the rights of older LGBTI Australians, a social issue that is rarely given priority in public discussion.
"One of the issues in this area relating to older people is that a proportion of older people are going to be gay people, LGBT people and they are going to begin entering and have already started entering aged facilities, and homes and care and community living and they will not be silent as earlier generations have been about their sexuality. They will take openness as a natural part of their living. This will cause concern in some places, in some aged care facilities which are religious there may be difficulties, although I have to say in Australia, that has not been a major issue and most aged facilities, religious or secular have been supportive of the federal government's guidelines of LGBTI citizens in aged care facilities.
"So we just have to address the issue of sexuality and sexual expression and affection in aged care facilities given that the cohort of people who are coming into them are going to be after the generations that kept all that matter to themselves and were silent about it." Kirby said.
Social isolation can be an issue for older LGBTI people, as well as in the straight community. "Old age is sometimes a lonely journey and if you don't have a partner, there's no doubt that old age is a harder journey. Until now in Australia, the law, society and conventions have been loaded against LGBT people and that is why even for those people who don't see an urgent need to get married. Marriage equality is a fundamental human rights issue."
Kirby himself recently celebrated an anniversary with his long term partner. "Last week I celebrated 46 years with my partner Johan Van Vloten, and I hope to indicate a message to young LGBT people that it is perfectly possible, with a bit of luck and hard work in life in Australia to make a success of it, and that one should never accept being put down because of sexual orientation or gender identity."
---
Michael Kirby is speaking at a lecture entitled 'Older and Bolder, Transforming the Rights and Well-Being of Older LGBTI Australians' presented in conjunction with GRAI (GLBTI Rights in Aging) at UWA at the Business School on Hackett Drive, on Thursday March 26th at 6pm.
Further information available at www.grai.org.au
---
Mr Kirby will also delivering a presentation at Curtin University's Centre for Human Rights Education. In his talk Mr Kirby will discuss the origins of legal opression of LGBTI people in Austraia and our region.
6pm Friday 27th March at the Tim Winton Lecture Theatre. As seating is limited please RSVP by Monday March 23rd to 08 9266 2563 or email [email protected].
---
OIP Staff
Previously titled 'Hon. Michael Kirby Speaks'