Hundreds protest Chechnya's gay purge in London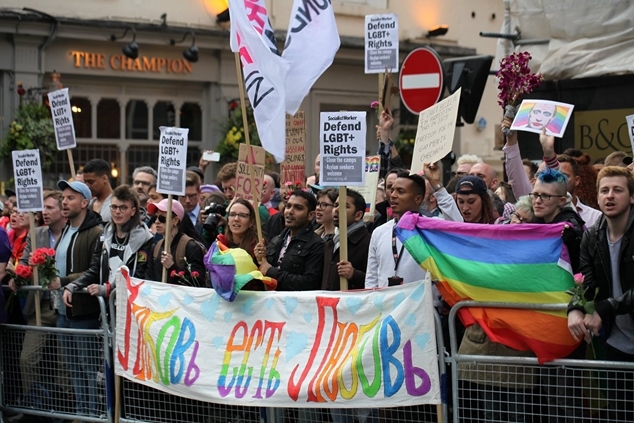 Protesters gathered at London's Russian Embassy today to speak out against reports of gay 'concentration camps' in Chechnya.
The reports from Russian media have revealed allegations of gay men being targeted by Chechen officials, being herded into camps, tortured and killed.
It it said that approximately 100 men have been affected by the purge so far, and there have been at least three deaths.
Activists at the Russian Embassy in London bore rainbows and chanted "close the camps" outside of the building.
Pride in London Deputy Director Steve Taylor told crowds they were "here this evening because gay men, and presumably other LBT+ people, are being oppressed in Chechnya."
"We're here because our brothers and sisters are being rounded up, tortured, imprisoned and killed. We're here because LGBT people in Chechnya are facing erasure by a President who denies their existence. We're here because LGBT people in this country have faced similar oppression, and we have come through it."
"We're here because we are proud of London, proud of our status as one of the best LGBT+ cities in the world, and because we're proud to show that we care and that we value and honour human rights."
"But we're also here because the world needs to know about these atrocities. We're here because we want the broadcast media to take note, and shine a light on what's going on. We're here because none of us are free if one of us are chained."
Russia's LGBT Network hare said to have been reaching out to men who are afraid of being targeted, and there are reports that they have been helping people escape detention.
UK's Minister for Foreign and Commonwealth Affairs Baroness Anelay of St Johns has spoken out against the alleged concentration camps.
"The detention and ill-treatment of over 100 gay men in Chechnya is extremely concerning," Baroness Anelay said.
"We expect the Russian government to fulfill its obligations to this end, and to uphold the rule of law."
Officials from the US and the European Union have also raised their concern. Australia's Foreign Minister Julie Bishop is yet to comment on the reports.
OIP Staff
Image:- Linda Mason