iTedE: David Strassman can't bear technology in his new show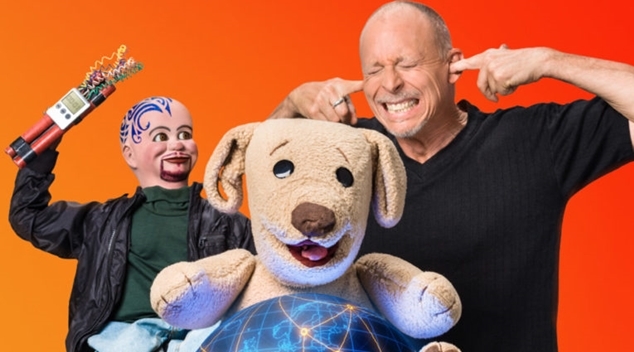 David Strassman has been practising his brand of "safe ventriloquism" since 1972, and is bringing his fractured psyche and eclectic troupe of iconic puppets to the Regal Theatre in October with a new show iTedE.
I had the privilege to engage in what can only be described as a phone fourgy with David and his two most famous creations, the delightfully evil 12 year old Chuck Wood and the most beloved bear outside of West Hollywood, Mr Ted E Bare.
We got down to the digital nuts and bolts of surfing screens, misappropriated NASA technology, and the corrupting influence of Redtube.
You've had a long standing popularity as a live act in Australia, is there something in particular about the Australian audience that responds to your comedy?
Well number one – I'm a grown man who plays with dolls and people like that, I started my career on Hey Hey It's Saturday in the 90's and I was in everybody's living room but Ted E Bare is the cutest, most cuddliest, mentally challenged teddy bear around and I think that's resonated not just in Australia, but actually in the British Commonwealth. All of you are Ted E Bareophiles.
You've been credited with reinventing ventriloquism by using NASA technology to incorporate robotics into your act, how does the new show iTedE explore modern society's addiction to technology?
David: Well…
Ted E: Hey that's my iPad!
David: Hold on a sec, Chuck give him back his iPad!
Chuck: Piss off!
David: You guys, I'm on the phone!
Ted E: He said a naughty word!
David: That's it out of the room and you watch your mouth Chuck…
Sorry. Basically my new show is about how I can't get my puppets off their screens and it's not just them it's all of us, we're addicted to our screens, whether it's Instagram, Snapchat, Twitter, Facebook, emails, text messages, emojis or bitmojis, everybody's on their screens. I'm guilty of it too.
If I have a spare minute, I'll whip out my phone to see if somebody liked my post or how many friends saw that. I love it in one sense but I hate it in another because I think it's keeping us from using our imaginations and experiencing the real world.
My show takes a hilarious look at social media but I do it through the puppets experience. Which is obviously not real and doesn't exist, but it does and it doesn't exist… but it does.
Chuck: I heard that Strasso… I'm fucking real!
David: Watch your mouth Chuck! I'm on a telephone call.
Chuck: I love Pauline Hanson.
David: Quiet Chuck, shut up and get out of here… sorry about that… I'm pretty sure that Pauline Hanson is Donald Trump in drag, they have the same ideas.
Do Ted E and Chuck get competitive over who has the most followers on Twitter?
David: Well the puppet world pretty much only exists onstage but the great thing about the relationship between Chuck and Ted E is the sibling rivalry. Ted E loves Chuck because he feels like he's a brother, Chuck loves Ted E but would never admit it. He would never admit that he has feelings, I'm sure you know men like that. So he can't stand the fact that Ted E gets more likes and it eats at him and that's why he acts so evil, but that's what we like, we like to watch someone be evil.
Absolutely! So does…
Ted E: Dave can I have some chocolates?
David: In a minute Ted E…
Ted E: I want teddy bear biscuits!
David: Yeah in a minute I'm on the phone…
Chuck tweeted recently that he was planning on breaking Bundy Bear, the Bundaberg Rum mascot out of his display case for a night on the town, did he succeed?
David: I didn't see the follow up to that tweet but with Chuck anything to do with drugs or liquor he'll be a part of.
During your act Chuck mentions his fondness for Redtube, yet Ted E remains oblivious to what that is… does Chuck ever threaten to end Ted E's innocence in such things?
David: When you have a character they have parameters and you don't want to cross those and be untrue to the character. Even if Chuck were to show Ted E porn he would probably just see the couch in the background.
How are you incorporating new technology into the iTedE show?
David: Well this show breaks all the laws of puppet physics, in the first act I operate my five characters Grandpa Fred, Ted E, Chuck Wood, Sid Beaverman and Kevin the Alien manually, it's traditional hand up the bum ventriloquism, and yes I do wear a rubber glove so I practice safe ventriloquism, because you never know in this day and age.
But I make these puppets look so alive you'll think they are living breathing entities. In the second act I decide to give a TED talk where I put each puppet in their own chair and I operate them robotically, so I have a handheld device which operates the mouth of each puppet and I throw my voice into those puppets in a six way argument/discussion for 20 minutes, it's not pre-recorded, I'm operating them live and its never been done in the history of ventriloquism or in any theatrical performance that I know of.
How much rehearsal time goes into a six way like that?
David: Most shows take three or four months, this took me an entire year to tool up and get it up and running. The good news is I've done about 180 performances so its going to be really polished by the time I bring it to Perth. I have to say that Perth is the jewel of my touring career, we tour all over the world, mostly in the British Commonwealth, all over Australia from Esperance to Echuka and Brisbane to Bunbury but I get to spend two weeks with no travel, just doing the shows in Subiaco at the Regal Theatre.
After three decades of performing some of these characters is it the evolving technology that keeps it fresh for you?
David: The technology always upgrades for every tour, but with each new show the puppets grow in character, in neurosis and foibles, hopes, dreams and fears which adds another layer in how they relate to the world. Chuck and Ted E were very one dimentional when I first started but they've grown exponentially over the decades. There's no one else on the stage, it's just me and my material and I get to improvise every night. Whether it's a new joke or hanging shit on Pauline Hanson, whatever I want to do I can do that. I get to change my material and go with the flow and be topical and that's what I love about my show. Plus as I said before I play with dolls for a living.
Speaking of keeping things topical, the plebiscite votes will be tallying as you tour the country, where do Chuck and Ted E stand on marriage equality?
David: Before I ask them one thing I love about Australia is the quality of life and the laid back attitude of she'll be right. Its always been very progressive so I just hope it passes so you guys can set an example for the rest of this archaic male heterosexually dominated planet… Ted E?
Ted E: What?
David: Ted E what do you think about the vote for marriage equality in Australia?
Ted E: Uuuum…what is that?
David: Okay never mind, Chuck what about you?
Chuck: I'm trisexual.
David: Trisexual what is that?
Chuck: If its sexual I'll try it, I'm for it.
David: What a great example to set for the rest of the world, that's what I think about it.
iTedE is playing at the Regal Theatre October 17 – 29. Tickets are available from ticketek.com.au
Clinton Little
---
Support OUTinPerth
Thanks for reading OUTinPerth. We can only create LGBTIQA+ focused media with your help.
If you can help support our work, please consider assisting us through a one-off contribution to our GoFundMe campaign, or a regular contribution through our Patreon appeal.