Josh Thomas: Award Winning Awkward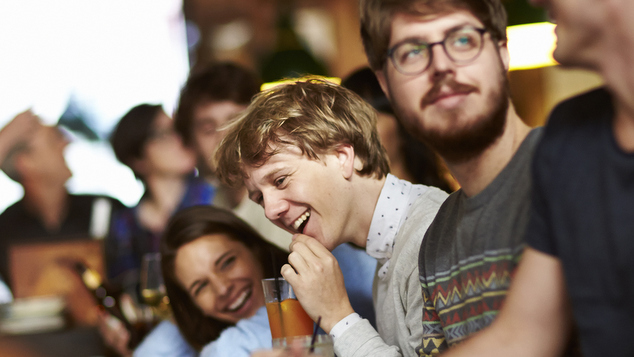 'Please Like Me' returns to our screens this month. The show has been so popular in the USA that before they've even finished filming the second season a third has already been commissioned. It's a rare development in television but Josh Thomas jokes that a least he knows that he's employed for a while.
As soon as the first episode of the new series starts you notice something has changed, a few characters have moved on but new equally interesting people fill their space. The show has also gained some impressive opening titles.
"Last year it was just me in the kitchen," Thomas said, "this time we thought we'd mix it up, I thought it might get exhausting after ten episodes, I don't know how much people want to watch me bake. The ones for episode one are pretty impressive, each episode the titles are different and there are lot of different ideas."

The first episode of the new series sees Thomas spend much of the first episode in a towel as the comedian doesn't hold back from mining his own body issues for laughs.
"I was in the towel pretty much for a whole day," said Thomas recalling the filming of the episode. "I have to take my clothes off a lot more in this series, I really don't want to but it seemed quite restrictive that Josh [the character] never took his clothes off in season one. I hate it, I never want anyone to see my body ever at any point. I was wearing the towel up around my chest like a lady would wear it. The Director and the Producer were like 'Josh I don't think anyone would wear their towel like that.' My best friend who was on-set said "Oh no, that's how he wears a towel, that's how he's worn one forever – since we were twelve.'"
Joining Thomas in the series are some familiar faces including Denise Drysdale and Hannah Gadsby who alongside well-known actors including Debra Lawrance and David Roberts, who play Josh's parents. Noting that the casting including a lot of actors that Australian audiences have a lot of affection for Thomas agreed that the casting was a crucial part of the show.
"It is primarily a show about the characters," Thomas said, "I hate plot, I hate that we have to do it, for me it's all about the characters."
'Please Like Me' returns to ABC2 on Tuesday August 12 at 9:30pm
Graeme Watson