Review | Kaki King was unexpected & exhilarating at the Rosemount Hotel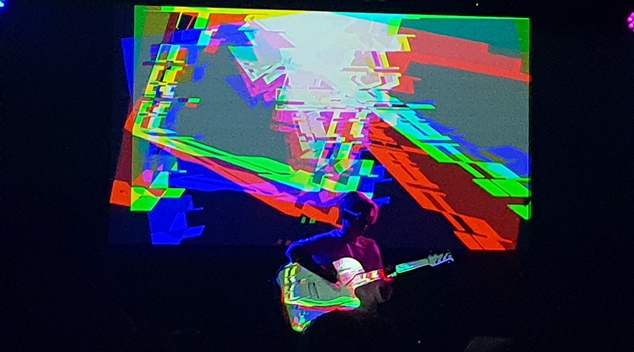 I had intentionally not listened to any of her music before I attended American guitarist Kaki King's The Neck is a Bridge to the Body at The Rosemount Hotel on Sunday night. Usually, I'd give new artists a bit of a listen on Spotify before a gig, but after reading a few reviews, and not being able to derive from that what to expect, I made the conscious decision to go along with no pre-conceived ideas. There were rows of chairs set up, which I hadn't expected, which indicated this would be more than just a gig, but a theatrical performance. Just the right number of audience members were in attendance. The ideal level of intimacy had been achieved.
We were met with neon coloured planetary visuals on a screen behind a white acoustic guitar on a stand, it too illuminated in neon yellow. It was immediately clear we were meant to understand that the guitar itself is the star of this show. To emphasis this point, a good few minutes were allowed to pass before King herself made an appearance. She didn't greet the audience, which I liked, but simply put on a pair of retro white plastic sunglasses, gazed off intensely into the distance and took the guitar in hand before sitting. She was like a slightly older, more petite Ruby Rose, with a blonde fringe flicking up in a way that right away established her coolness. With the psychedelic visuals behind her, it was reminiscent of the opening of a Chemical Brothers set. It put me in the mood to hear some techno, which I hope was King's aim. Right away this was ticking boxes for me, my inner raver beginning to buzz with nostalgia and anticipation.  
King was immediately captivating. You could hear a pin drop as she smashed through the opener. It quickly became clear that this was like nothing I had seen before. By track two, King was showcasing her skills in thumbing and scratching. And by the third and fourth tracks in the hour-long performance, I was getting Massive Attack vibes, but more ethereal. As King tapped on the guitar, her fingers illuminated the instrument in neon colours to match the hectic visuals behind her. The guitar then began to pull out the stops, lighting up with images of roller-coasters, seniors, schools of fish, penguins. By this time, I'm tapping my foot, enjoying the building intensity and feeling like I'm on a dancefloor.

After a fairly psychedelic 20 minutes, the mood suddenly changed as the visual performance behind King switched from animated, trippy moving shapes and colours, to real life footage of tunnels and bridges, a yellow school bus, street signs and other scenes that suggested New York. Subtitles appeared and King's guitar is introducing itself, saying it wants to tell a story. This would be a thoughtful, tongue-in-cheek way of delivering a taste of King's own background and life story. To animations reminiscent of the hot-dog advert at the drive-in movie in Grease, the guitar makes its way through its life lamenting that all of the other guitars misunderstand it. It feels rejected because no one gets its music. After trying in vain to find acceptance, the guitar decides just playing the music is enough to keep it happy. That is what it will do. The deviation changed the whole tone of the show. It was refreshing and offered some comic relief.
Reverting back to the familiar set up of darkness, neon lights, white suit and guitar and heaps of random visuals, King goes complete rock in the second half of the show. Like, stadium rock. For a while, she completely lets loose. It's suddenly reminding me of early 70s Kraftwerk, and probably having the same effect it did on audiences then – people had no idea what to expect. King showed at this point that she absolutely didn't give a fuck and, true to her guitar's word, she was going to play the music she loved and screw the consequences. Her hands moved at breathtaking speed, drawing whistles from the crowd. She seemed so at home on a guitar, so intimately familiar with and comfortable with the guitar. You could tell King had most likely been playing since she was a child. Musician and instrument were as one. So intense in its delivery it spurred me to filming on my phone. I love when I get that urge. I only film at gigs if I feel I'd like to share this experience with others.
Towards the end, the tempo was lowered again. The final tracks were chilled and featured flowery, girly imagery. Perhaps a tribute to King's young daughter? Then she introduces her videographer Max Berstein, and the audience gives him the credit he is due. To my surprise, King removed her sunnies and starting chatting casually to the audience in her American twang about how jetlagged she was and how much she enjoys Perth. I admit I was initially dismayed by what initially appeared to ne the compromising of King's mysterious image when she didn't just leave the stage and let that be it. But her personality was bubbly in a way I hadn't expected from the intensity of her work. She was endearing. I enjoyed her banter. And her encore even more.
King presents audiences with a completely new way of watching someone play guitar. Then she mashes it up with this crazy and excellent experimental, progressive, psychedelic electronica. The Neck is a Bridge to the Body was like a whole journey, climbing in intensity to reach its climax, then gradually guiding you through the come-down. At various points throughout, I said into my friend's ear, 'I can't believe all these sounds are coming from a guitar.' I'd heard the word 'jazz' used to describe elements of King's music, but it didn't feel like jazz to me. Kaki King has effectively created her own genre. It was acurious, unexpected, and exhilarating experience. I was totally down with it. 
Arran Morton
Photos:- Arran Morton