Katy Perry charms Perth audiences with the first show of her Aussie tour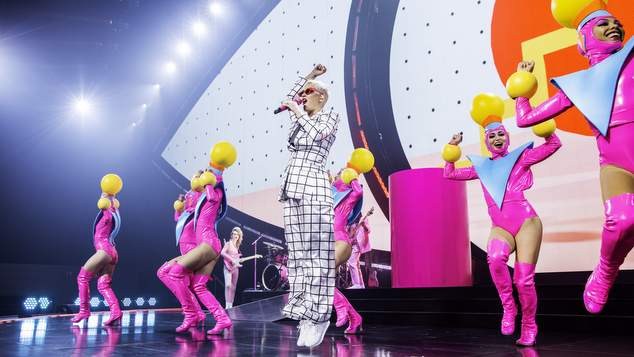 Katy Perry Witness Tour | Perth Arena | Until 25th July | ★ ★ ★ ★
As the crowds poured into Perth Arena it was immediately clear that Katy Perry has a very distinct audience, aside from a smattering of gay boys throughout the crowd, this audience was primarily made up of two groups; 12 year old girls and their forty year old parents. 
While Lady Gaga has her 'Little Monsters', and Kylie talks to all her 'Lovers', Perry's dedicated fans are the Katy Kats, and they appeared throughout the crowd wearing flashing pink and purple cats ears.
With Pink having just played four nights at the same venue just a week ago, Perry's tour may have suffered being within the same pay week as another major pop star. In recent days there's been a last minute buzz about the show as discounted ticket became available, and there are still tickets available for tonight's second show.
Some of the tickets may have been sold off at a cheap price – but it paid off for the performer who played to a full house on Tuesday night. 
Ahead of Perry taking to the stage Australian singer Starley entertained the audience playing songs from her debut album. Starley performed her cover of Tracey Chapman's Fast Car and proudly declared her queerness before launching into Love is Love.
"I'm queer" Starley proclaimed before saying; "I think we all differences, we are all unique, but we're really just here to accept and love one another. We're all human beings, that's what we have in common." Starley's set came to a climax with her hit tune Call on Me.
While the crowd waited for Katy Perry her giant video wall came to life, with a giant eye ball looking out over the crowd. Anticipation built as the DJ stopped playing '80s classics and dropped Mr C The Slide Man's 2009 track Cha Cha Slide.
The show got off to an energetic start, the giant eyeball opened and Katy Perry appeared high in the air in a metallic gold outfit that just screamed 'Mrs c3PO'. Within minutes there were pyrotechnics, confetti and lasers firing, the spectacle that other artists close their shows with was there for the very first song.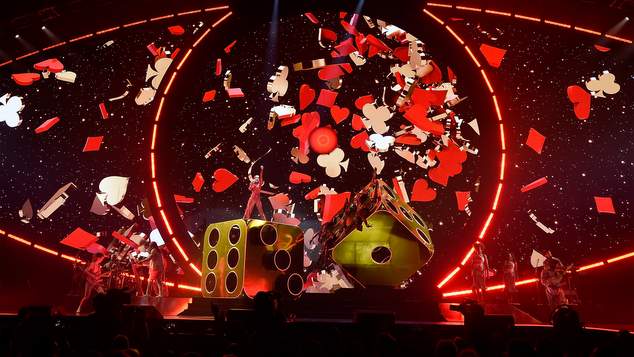 After opening with Witness, Perry launched straight into Roulette as she climbed upon two giant dice, while backing dancers leapt out of the numbers and performed parkour inspired moves. Dark Horse followed as Perry traversed the serpentine catwalk that extended out into the crowd.
Chained to the Rhythm surprisingly had a somewhat lackluster delivery considering it was a popular single of her most recent album. The stage was forever changing with each tune and two giant puppets joined Perry on stage.
Throughout the show things never stopped moving, and the costuming and staging was mind blowing. From enormous flamingos, to giant Venus fly traps, cascading solar systems and flower filled gardens, things never stopped moving.
The second section of the show saw Perry appear in a LED bustier proclaiming the words 'Hot' and 'Cold' signalling a move into her oldest material. Teenage Dream, Hot n Cold, and Last Friday Night TGIF were quickly worked through as Perry goofed around her backing dancers who appeared in hot pink PVC outfits.
Left Shark, Perry's rogue backing dancer from her Superbowl appearance made an extended appearance joining the singer to play on a giant foot piano inspired by the film Big. The fun interaction allowed Perry's fun personality to shine through as she bantered with the crowd.
Breakout hit I Kissed a Girl was first presented as an electro-tinged rework before flipping back to a guitar heavy rock presentation. A surprise rendition of Janet Jackson's What Have You Done for Me Lately was also included in the show.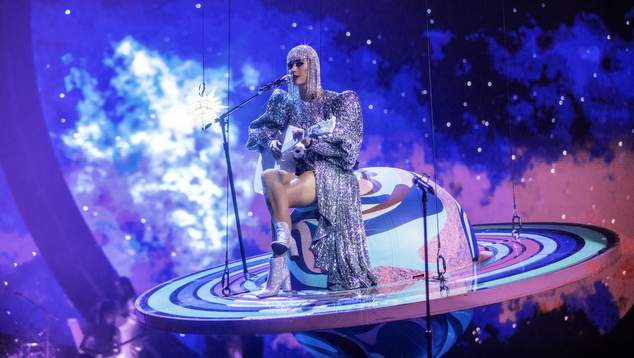 Later in the presentation Perry appeared high in the air on the planet Saturn which slowly flew across the auditorium. A galaxy of planets descended from the roof of the arena, and the thousand of pink and purple lights of the Katy Kats ears, combined with mobile phone lights, created a galaxy backdrop.
Perry descended to a small island stage in the middle of the standing area and got close with her fans as she sung Wide Awake.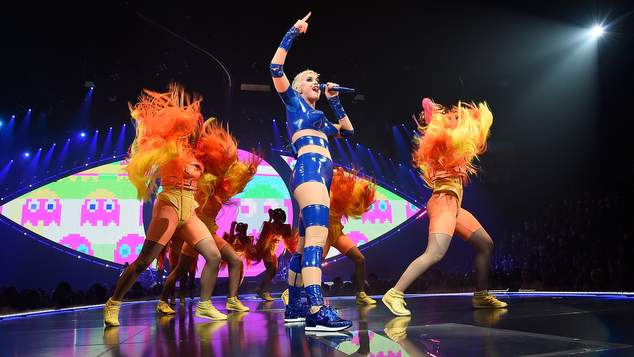 The shows final section was set on a basket ball court as Perry returned to the stage in a tight blue outfit. After working through Power and Part of Me Perry launched into Swish Swish – which sounded so much better live.
Perry pulled a man out of the crowd to join her on stage to play a game of basketball. She hilariously rejected the first candidate when he revealed he was not an Australian, eventually inviting middle aged dad Wayne onto the stage for a shoot off with giant basketballs. He won 2-1.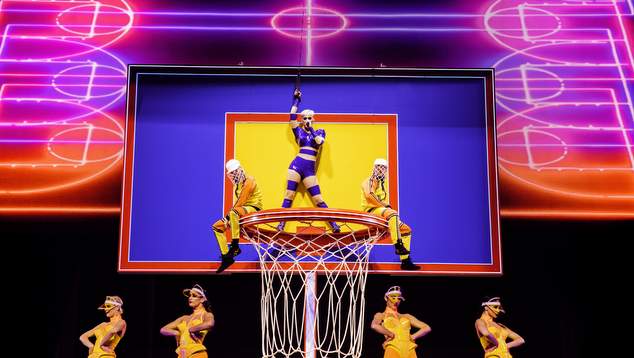 The encore saw Perry appear on a giant clock to perform Pendulum once again traversing through the air across the auditorium. Finally she was lowered into a giant hand at the front of the stage to sing Firework as the show reached it's peak.
The performance may have had a few lulls in its journey, but the staging was impressive, the costumes were brilliant and through it all we got to know Katy Perry – a singer who just wants to have a lot of fun and take you on a journey of enjoyment.
Katy Perry's Witness Tour has a second show at the Perth Arena tonight, final tickets are on sale from Ticketek.
Graeme Watson, images from ealier shows in Katy Perry's Witness World Tour
---