Kellie-Jay Keen pulls out of returning to New Zealand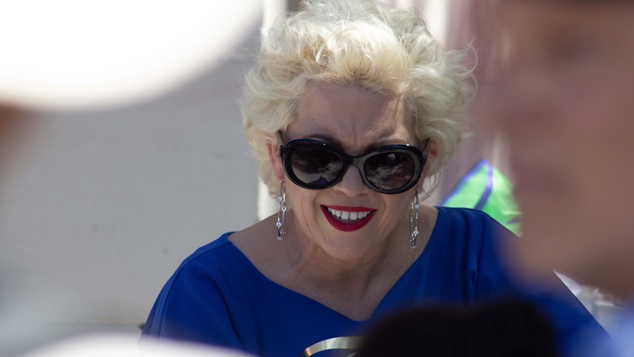 Anti-transgender campaigner Kellie-Jay Keen has pulled out of her planned return visit to New Zealand.
Warning: This story has details of comments which might be distressing to some readers. For 24-hour crisis support and suicide prevention call Lifeline on 13 11 14. For Australia-wide LGBTQI peer support call QLife on 1800 184 527 or webchat.
In a live video stream Keen said she's decided not to return to New Zealand citing concern over whether authorities would allow her into the country and whether police would provide the required level of security protection.

"I don't think they're going to let me in." Keen told her online followers, noting New Zealand officials had already made public comments noting that people entering the country need to be of good character.
"I don't think I'll be able to get in the country, and even if I do, I don't think the police at all are going to protect us." Keen said sharing her family had also asked her to pull out of the return trip.
"I think it's just impossible to go. It's would cost just obscene amounts of sacrifice for me to be able to do it." Keen said before labeling the country's politicians, border force officers and police as being corrupt.
Keen, who appears online using the moniker Posie Parker, toured Australia earlier this year with her Let Women Speak open-mike event. Keen describes her event as providing a space for women to speak about their concerns. At each stop of her Australian tour, she faced large crowds of protesters opposed to her anti-transgender messages.
At her Melbourne event a group of neo-Nazi protesters appeared adjacent to her event and held up derogatory signs aimed at the LGBTIQA+ communities and performed Nazi salutes at the protesters.
When the tour moved on to New Zealand her appearance was overrun by protesters in a violent clash that saw the British provocateur dowsed with tomato juice and huddled out of the event and escorted to safety by the police.
Since returning to Britain Keen has announced her plans to create her own political party for women that will operate at a global level. The activist said she still plans to return to New Zealand for a launch of a local branch of her Party of Women.
Keen says Nazi's were against homosexuals but not all trans people 
In her latest video Keen also argues that it's wrong to compare her group's views on transgender people to the Nazi movement.
"Nazis didn't mind transvestites." Keen proclaims in her video. "In fact, they quite liked them."
"What we all know about Nazis is that they hated gay men… but if you were a transvestite, as long as you didn't have a homosexual relationship, Nazis were absolutely fine with you." Keen proclaimed saying Nazis often dressed as women for fun.
In 2022 the Regional Court of Cologne ruled that denying trans people were the victims of the Nazis qualifies as "a denial of Nazi crimes".
While there has been significant research from historians about the Nazi persecution of gay men and lesbian women, there has been less investigation of how transgender people were treated. In an article at The Conversation historian Laurie Marhoefer shares that transgender people were targeted and victims of the Holocaust.
New Zealand media authority finds media coverage of Keen's visit did not break guidelines
This week Media Council and Broadcast Standards Authority in New Zealand dismissed a slew of complaints filed by Keen's supporters over the way she had been described in reports.
Keen's supporters argue that she should be described as women's rights activist and not referred to as an anti-transgender campaigner.
The media authority however rules that descriptors including "anti-trans" and "trans-exclusionary" were accurate.
"It is not unfair or inaccurate to describe Parker as an 'anti-trans' activist, based on her rhetoric toward transgender people and issues, and particularly statements denying the very existence of transgender and gender-diverse people," the authority said.
They also found that it was fair to describe neo-Nazi's as having attended Keen's Melbourne event.
"They (neo-Nazi members of the National Socialist Network) were clearly not counter‑protesters, and they carried large anti-trans signage, indicating support of, or alignment with, Parker's anti-trans rhetoric. Largely, their presence and actions at the Melbourne event were stated as fact, demonstrated in the accompanying footage for viewers to see for themselves." the authority ruled.
In the wake of Keen's appearance in Melbourne, legal representatives for the Australian group supporting her tour threated Australian media outlets with legal action for making similar observations.
OIP Staff
---
Do you need some support?
If you are struggling with anxiety or depression, support and counselling are available from:
QLife: 1800 184 527 / qlife.org.au (Webchat 3pm – midnight)
QLife are a counselling and referral service for LGBTQIA+ people.
DISCHARGED: [email protected] / discharged.asn.au
Discharged is a trans-led support service with peer support groups for trans and gender diverse folks.
Lifeline: 13 11 14 / lifeline.org.au
Beyondblue: 1300 22 4636 / www.beyondblue.org.au
---

You can support our work by subscribing to our Patreon
or contributing to our GoFundMe campaign.