Kellie-Jay Keen announces she's creating her own political party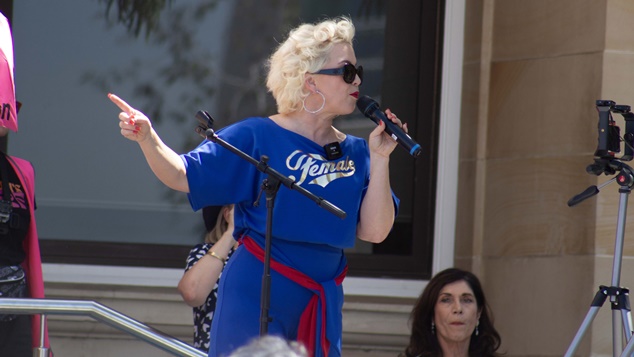 Anti-transgender activist Kellie Jay Keen, aka Posie Parker, has announced she's creating her own political party and plans to stand against British Labour leader Keir Starmer at the next election.
Appearing on GB News Keen told host Dan Wooton that her new political party would be called The Party of Women.
"I will run against Keir Starmer and we've got some big plans, but obviously there's some legal stuff to get done," Parker said. "I will run against him and force him to answer questions."
Starmer represents the London electorate of Holborn and St Pancras. Starmer won the seat at the last election with 64% of the vote, at the previous election he attractedover 70 per cent of the votes.
Keen, a self-described "women's rights" activist just toured Australia where at each of her seven stops around the country her supporters were outnumbered by protesters.
At her Melbourne event a neo-Nazi group appeared at the event. Days after the event Keen denounced their presence, but initially she suggested that they might have been organised by the Victorian Police or by those who were protesting against her.
When the tour headed to New Zealand her Auckland appearance was overrun by protesters. Keen was doused with tomato juice, and she was forced to flee before she was able to set up her open mike speaking event. She cancelled her remaining appearances in the country and headed back to England.
Since returning to the UK Keen has been undertaking a large number of interviews with conservative media outlets, where she's described the protesters as "terrorists" and claimed that the crowd was trying to kill her.
"I think they're terrorists," Parker told Wootton. "The way that mob behaved, I genuinely did feel like I was going to be crushed to death, or if I was on the floor I'd never get up, I just thought I was going to be stomped."
Following Keen's visit, the Melbourne mental health organisations have reported huge spikes in transgender people seeking assistance. Mind's LGBTIQ+ suicide prevention service Aftercare received a month's worth of referrals in two days.
Mind's Senor Manager of Diversity and Inclusion, Katie Larsen, said the growing level of anti-transgender commentary was increasing discrimination.
"This virulent anti-trans commentary exacerbates the multiple everyday discrimination and at times, violence, trans-people experience, including systemic discrimination, such as expensive affirmative healthcare or not being taken seriously when reporting family violence, or policies that do not recognise trans-people.
"The hate-filled commentary that we have seen in recent times across Australia attacking the rights of the LGBTIQ+ community to simply exist, has demonstrated the importance of the Aftercare program." Laresen said.
"We know that there is a direct link to psychological distress and suicidality from these public discussions, particularly among young people.
"Mind Australia is proud to deliver the Aftercare program, which provides valuable recovery-focused support for LGBTIQ+ people who are having thoughts or intentions of suicide. It's inclusive, it's affirming and it's saving lives."
On Wednesday the Victorian government announced that Mind would be one of eight organisations receiving part of an emergency grant of $900,000 to assist them in delivering their services.
"Trans people routinely endure abuse, violence, and discrimination in the name of free speech, and the past week has caused further trauma for an already vulnerable group. Trans people deserve better, and this funding will help organisations to provide crucial support, safety, and care." said Mnister for Equality Harriet Shing.
OIP Staff
---
Do you need some support?
If you are struggling with anxiety or depression, support and counselling are available from:
QLife: 1800 184 527 / qlife.org.au (Webchat 3pm – midnight)
QLife are a counselling and referral service for LGBTQIA+ people.
DISCHARGED: [email protected] / discharged.org.au
Discharged is a trans-led support service with peer support groups for trans and gender diverse folks.
Lifeline: 13 11 14 / lifeline.org.au
Beyondblue: 1300 22 4636 / www.beyondblue.org.au
---

You can support our work by subscribing to our Patreon
or contributing to our GoFundMe campaign.