Kim Wilde Talks Pop, Parenthood and PVC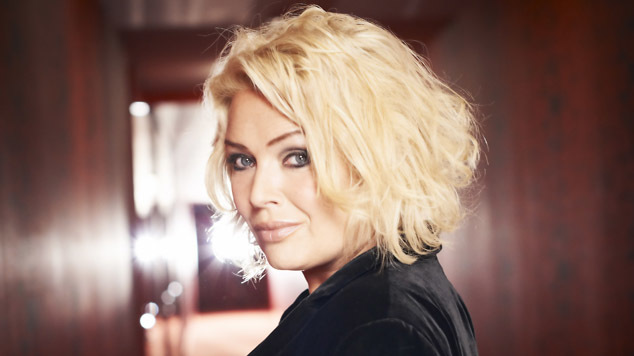 Kim Wilde is back on the road bringing her full show, and fellow 80's star Nik Kershaw, to The Astor Theatre in October.
In the middle of the 1990's, Kim Wilde put out a new album and for the first time in her 15 year long career, it really didn't sell. Since exploding onto the music scene with 'Kids in America' in 1981, Wilde had enjoyed a huge string of hits including 'Chequered Love', 'Cambodia', 'View from A Bridge' and a humungous hit with a Hi-NRG version of the Supreme's song 'You Keep Me Hanging On'. She'd toured with Michael Jackson and stayed in the charts with 'You Came', 'Never Trust a Stranger' and 'Love is Holy'.
The album 'Now and Forever' was different to her previous works, an RnB flavoured collection of tunes that drew critical acclaim but didn't find an audience. Looking back on that time the singer says she made one of the best decisions of her life, she got out of the music business.
Wilde acknowledges that it's hard for established singers to break out into different styles of music.
"I think certainly as my career progressed through the 80's people weren't so willing to go in some of the directions that I wanted to go in," said Wilde, "In the end it created a situation where I thought I really was best out of the music business, which coincided with me meeting my husband. The timing was perfect really. We were ready to start a family and we made that our priority. It was one of the best decisions I've made in my life."
Outside of the music business Wilde found a new love in gardening, she authored several books, appeared in a series of television programs and even won a medal at the prestigious Chelsea Flower show.
In 2001 though she made a return to music, taking part in the 'Here and Now' revival tours that featured a host of '80s acts, like close friend Nik Kershaw, Banararama, Spandau Ballet's Tony Hadley and Belinda Carlisle. Now Kim and Nik are joining forces to bring their full show to Australia.
Wilde shares that she has a special affection for Australia, having first come here as a child, accompanying her musician father when he was on tour, and then later spending some time backpacking around Australia after the end of one of her tours.
"I've done a bit of backpacking, I did a tour and as soon as the band left from the airport I buggered off with a mate of mine, and we grabbed a backpack. We ended up on Magnetic Island and a few other enticing places."
It seems unthinkable that at the height of her fame Kim Wilde could just go off backpacking around Australia, but the singer says hardly anyone recognised her.
"Most people didn't because I didn't have the lipstick on, and the hair was swept back and I was hidden under a rucksack and very au naturelle," explains Wilde, "Sometime people would give me a second glace, but then think 'Kim Wilde wouldn't be here in a youth hostel backpacking!'".
This time in Australia joining Wilde and Kershaw on stage will be her brother Ricky Wilde, who wrote and produced many of her hits, and her niece Scarlett Wilde will be on backing vocals.
Wilde's family all have musical careers, her father is 50's rocker Marty Wilde, while her mother Joyce was a singer and dancer, while sister Roxy was last in Perth as part of Kylie Minogue's 'Les Follies Aphrodite Tour'. Given this musical pedigree it's surprising to hear Wilde say that her teenage ambition was to work in the local record shop.
" I was really into art and went to art college just before 'Kids in America' became successful  and I had applied to try and work in the local record shop which I was really excited about, of course those were the days when you went out and bought a vinyl 7 inch," said Wilde.
Wilde says all she really ever hoped to achieve in a music career was to be a successful session singer.
"Realistically what I really wanted to do was to be a session singer and work with lots of different artists because my tastes are so varied. I thought I'd be a session singer. I knew I could cut it as a singer and stylistically it would afford me the opportunity to sing lots of different kinds of styles.
When 'Kids in America' came along I didn't have big plans of being a world superstar. I simply wanted a job in music. I had very modest ambitions."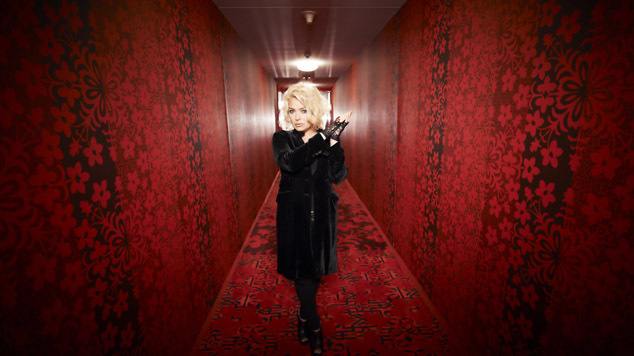 Now Wilde's career is busier than ever. She's been releasing albums in Europe that having been getting a great reception and has a host of new projects in the works. Recently she's been collaborating with the British Electric Foundation, creating the third volume of the 'Music of Quality and Distinction'. The project created by Martin Ware from Heaven 17 and The Human League sees singers creating dark electronic versions of songs that are best known for being more upbeat.
For the project Wilde takes on a song penned by Stevie Wonder, 'Every time I See You Baby I Go Wild' and says she's "over the moon" to be part of the project alongside singers including Boy George, Scritti Politti's Green Gartside and one of her own heroes, Sandie Shaw.
Wilde laughs when I suggest she looks like she's having a lot of fun in the song's Gothic vampire themed video.
"There is nothing fun about spending the whole day wrapped in black PVC, with twelve inch Gucci heels and a killer corset so you can't breathe. Nothing fun about that at all!
Wilde admits she needed a little coaxing to go along with the proposal, "When they told me what they wanted to do for the video I just said, 'Are you really sure, are you really sure that you want a middle aged Hertfordshire housewife dressed in PVC and doing all that to zombies? Are you really sure?'
Now the video is finished Wilde concedes it was a pretty good vision, and admits she got to fulfill some of her own fantasies.
"I got to live out my Lara Croft ambitions and pull out a gun and kill a zombie. It was really good fun." The singer is also excited about several other projects she has coming up. One of her most popular albums 'Close' is about to be reissued having been digitally remastered and the new version is set to include a stack of remixes and bonus tracks and before the end of the year she plans to fulfill a long term goal of releasing a festive album.
"This Christmas I'm going to be releasing an album that I've recorded already. I started writing and recording straight after last Christmas. I've always wanted to make a Christmas album and I'm really excited about it. There are twelve songs, six originals and six traditional or well known songs."
Being a huge fan of the Christmas period Wilde says writing Christmas songs came very easily.
"It's not hard to write a Christmas song, I had them all inside me, I love Christmas. All these songs were just waiting to be born. It's a very personal album. It doesn't really go into the realm of religion, it's focuses more on what Christmas is about to me which is family and friends and humanity."
Although her music career is busier than ever, family is still the biggest priority for Wilde, and she says being a Mum to two teenagers is the most important thing in her life.
"There's nothing straight forward about being a Mum to teenagers. You go down some lonely roads with teenagers sometimes and I think that any mother or father will know exactly what I'm talking about. Bringing up teenagers in this day and age can sometime be more than challenging."
Gardening, tours, Christmas albums, re-releases, raising teenagers and an album of new material coming out in the new year –Wilde is certainly got a lot on her plate.
"There's a lot of plate spinning going on," said Wilde, "and I just take it head on."
Kim Wilde is playing the Astor Theatre on October 20th, tickets available from www.showticketing.com.au
Take a look at some of our favourite Kim Wilde video's below.
Graeme Watson