Lady Bunny keeps it filthy in her upcoming show, Trans-Jester!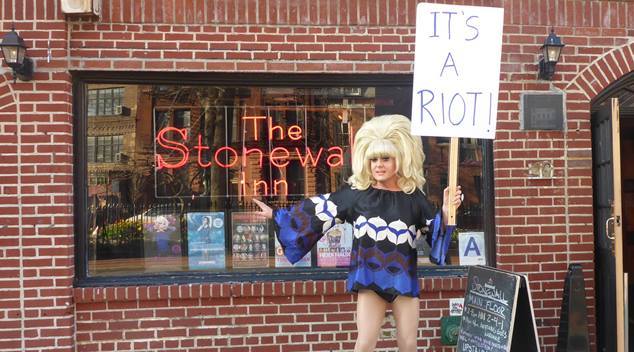 NYC drag icon and queer pioneer Lady Bunny is returning to Perth this month for one big night of laughs, music, debauchery and vulgarity and Connections Nightclub.
Bunny's name is readily recognised in the an(n)als of drag history along with Leigh Bowery, Divine and RuPaul, and her trademark hair and filthy mouth will not be ignored!

We caught up with Bunny to talk about drag, politics, reality TV and what to expect from the Trans-Jester.
First up, a question from one of our readers! Tell us about your first time in drag and where your name came from.
I pretty much lived in drag as a kid – with long hair, feminine features and long t-shirts which covered my short shorts – so I was always very androgynous. The bizarre thing is that not too many people questioned it. As a teen I was always experimenting with makeup, but it was more a new wave thing than actual drag with wigs, falsies and heels.
That full drag started in 1982, when I moved to Atlanta and hooked up with RuPaul. But we were dirt poor and the looks were whatever we could find in thrift shops. Because many of the pageant queens in Atlanta were dead serious pageant queens who were very polished, they often called themselves things like Lady Dubois or Lady Chablis. I assume those names were to make them seem fancier. We were so far from fancy that adding Lady to my name was a bit of an in joke. The established queens tolerated Ru and I with eye rolls, but we were the club kid booger drag to them.
The name Bunny came from an late 1960s comic book called Bunny, Queen Of The In Crowd. She was a psychedelic, blonde model!
You've been in the game for a minute. How have you seen drag evolve, or devolve?
I see more emphasis now on looks than on talent, which ain't my cup of tea. Drag Race emphasizes challenges like selling RuPaul's chocolate bar, which I find very bizarre, over actual performances. Some of the queens from Drag Race are extremely talented. But when a queen like Valentina on Season 9 refuses to lip-synch, clearly the emphasis has shifted to looks. What I thought was telling is that her elimination was seen as controversial – a word often repeated in the press when describing her final episode.
Controversial? What a joke! If you go on American Idol or The Voice and don't sing, you lose. It ain't rocket science. To elevate queens who may look good but can't perform is a real slap in the face to those of us who have spent years developing an act. But then there are truly gifted queens from the show like Bianca, Shangela and Latrice. Jinkx also blows me away. She's not yet 30 and has 3 or 4 fully realized one "woman" shows. She excels at singing and comedy. I'm drawn to talent, so I'm sometimes at odds with Drag Race fans, who are drawn to hype, branding and mindless catchphrases.
So you've seen a change in drag since youngsters started getting into it through Drag Race and social media?
Yes, I've seen a lot of "experts" who think they know everything about drag because they've watched a few YouTube tutorials on makeup and hip pads. They constantly judge and follow these imagined rules. But rules can stifle creativity. I'm more interested in breaking rules. And while there are some Drag Race queens with extraordinary make-up, some of them can't walk to a beat or perform to save their lives. They get booked out of town for huge fees. Then you see them perform and think "Wow, the local queens in my city have more talent than this." So why is Ru booking so many queens with little talent? Your hip pads can be perfect, but if you lack stage presence then forget it! Did Dame Edna, Divine or Conchita Wurst follow rules?
You're also very active on social media, often about politics. How do you respond to those who pull up your dark humour as "politically incorrect"?
I ask them if their political correctness and their desire to shut me down over language is in keeping with the correctness of their own politics. Please don't complain to me about words which some perceive as insensitive if 1/2 of your tax dollars go to bomb people in countries which never attacked the US and you have nothing to say against that. Mass bombings would in places like Iraq are more important to stop than whatever word they are calling Will Smith's son today. A jackass like Trump is now our president. This is not the times to mince words and be prissy, or stifle discussions which we clearly need to have. Messy and uncomfortable conversations.
But the real news is that the Democrats have failed as a party and offered a rotten candidate like Hillary Clinton who actually lost to Trump – who has never held elected office and has insulted over 1/2 the country. I've been a Democrat all my life from a family of Democrats, yet I was forced to vote Independent in the last election because I could not stomach Hillary's dishonesty, flip-flopping on issues, ties to big banks which crashed our economy and the war machine. I think it's time for a 3rd party in the US which represents working Americans and helping the people of our country, not destroying other countries for sketchy reasons.
Trans-Jester! asks tough questions some about our newfound obsession with pronouns. I'm sure I fall within one of these new terms: genderqueer, non-binary or genderfluid. (Although I think gender fluid refers to when I am in drag and have diarrhea.) The funny thing to me is, I don't exactly take off my drag and magically become some alpha male gym queen. I've experimented with gender for my entire life. I'm just not precious about the terms, which younger people seem to take solace in. As I sing in the show, "My generation fought for medicine for AIDS, now we fight over silly names." Coming up in my generation, I was more concerned with not getting hit than what you called me. Sticks and stones…
Your banter with Bianca Del Rio at the Chicago premiere of Season 8 of RuPaul's Drag Race is one of my favourite go-to's on YouTube – how did the two of you meet?
In New Orleans, where I just happened across her emceeing bingo at 3pm for a very hungover crowd. She somehow still made bingo super fun and later that night she came to my show. Soon after, she moved to NYC after Hurricane Katrina and we got to work together a lot. She's an absolute scream and one of the funniest emcees ever. She's not at all worried about being PC and I see audiences begging to be humiliated by her.
This isn't your first time in Oz – what do you think of the Aussie drag scene?
I'm senile and honestly can barely remember. And I'm always so jet-lagged when I'm there. I do always note your queens' elaborate costumes, and the Priscilla vibe which is quite outrageous and draggy – yet it's even worn by some transgender performers. Definitely a lot of effort is put into it and there was some fab drag shopping in Sydney.
What kind of characters do you usually see in Bunny's audience?
Often a very young crowd, who know me from mentions on Drag Race, Bianca impersonating me on her show or my YouTube videos. But in the states, many know me as the organizer of Wigstock – an annual drag festival which ran in NYC from 1984 through the next 20 years.
Your poster warns the show is not for the easily offended – what should Perth expect?

Smutty song parodies of everyone from Adele to Bruno Mars to show tunes, wicked one liners, fart jokes and my usual madness. I've been surprised that many reviewers have commented on me having a lot of energy. I guess I'm from the old school where you perform. Getting the look together is step one. What you do in that look is what interests me. But this show also challenges the (what I consider to be) the overly PC crowd, so it hopefully makes them think in addition to laughing. While I love performing dirty material, I actually don't like to offend. But if you enjoy offensive humor, you will probably love this show!
Lady Bunny's Trans-Jester will be at Connections Nightclub on Wednesday September 27th at 7pm. Tickets available at eventbrite.com.au.
Lady Bunny made a hilarious appearance on Channel Seven's The Morning Show.
Leigh Andrew Hill
---
Support OUTinPerth
Thanks for reading OUTinPerth. We can only create LGBTIQA+ focused media with your help.
If you can help support our work, please consider assisting us through a one-off contribution to our GoFundMe campaign, or a regular contribution through our Patreon appeal.