Lesbian Cartoonist Alison Bechdel Awarded MacArthur Fellowship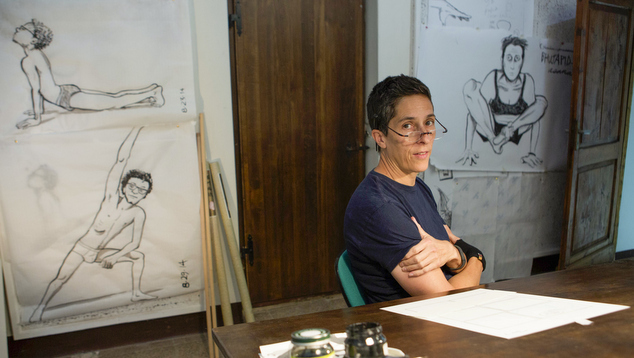 Alison Bechdel, creator of 'Dykes to Watch Out For' and author of the graphic memoirs 'Fun Home' and 'Are You My Mother?' has been awarded a MacArthur Genius Fellowship.
Bechdel's comic strip 'Dykes to Watch Out For' ran for 25 years and won a diverse and devoted following for its exploration of sexuality and witty commentary on current events. The strip also become known for introducing what became known as 'The Bechdel Test', which developed out of a rule that one character uses to see films. The character said she would only see a film if it met the following criteria:
"I only go to a movie if it satisfies three basic requirements. One, it has to have at least two women in it…who, two, talk to each other about, three, something besides a man. "
Although the strip in question was published in 1985, the Bechdel Test remains a  useful tool for gauging the level of female representation in film when the number of female-centered films being released remains a widely contested topic. Cinemas in Sweden have even adopted a ratings system based on the Bechdel Test.
Bechdel's 2006 graphic memoir 'Fun Home' won a number of awards and spent two weeks on the New York Times Bestseller List. The book chronicles Bechdel's her childhood in rural Pennsylvania to her early adulthood focusing on relationship with her father, who she discovers has had relationships with men soon after she has come to terms with her own identity as a lesbian. 'Fun Home' has been adapted into a musical which won the New York Critic's Circle Award for Best Musical and is set to have a season on Broadway next April.
The MacArthur Foundation aims to support creative people committing to building a more just and peaceful world. The MacArthur Fellowship, also known as the 'Genius Grant' awards its winners with $625, 000 US to encourage them to continue and develop their work, as well as recognize their existing contributions to their chosen field. Some of this year's other MacArthur fellows include civil rights lawyer Mary L. Bonuato, whose long term legal strategies have lead to historic progress towards marriage equality and human rights for same sex couples.
Bechdel yesterday tweeted her delight at the news:
You can watch Alison Bechdel's interview about her Fellowship below, and see all 21 of this year's MacArthur Fellows here.
Sophie Joske
Image courtesy of the MacArthur Foundation.