Let Le1f Rule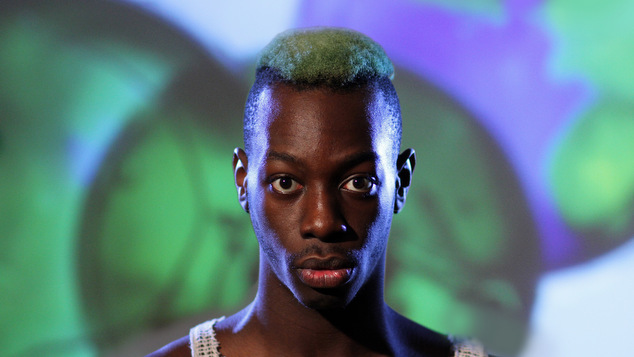 Le1f is without doubt one of the most intriguing artists making music today.
Openly gay, connected to some of the most interesting visual artists, with a background in ballet and a creator of the most distinctive electronic music available Le1f
is so much more than any of the pigeon holes people try to put him into.
While rap music has links to some of America's toughest neighbourhoods Le1f's background is a long way from the ghetto. He grew up in Manhattan and was surrounded by culture. Speaking to OUTinPerth from NYC Le1f described his Big Apple upbringing as a lot of fun.
"I guess when I was a little kid it was a privilege because I got to see so much," Le1f said, "My Mum took me to see lots of arts and crafts and Broadway shows and lots of ballet dancers. Then I went away for high school and college and it's only now that I'm returning to the city after college."

Born Khalif Diouf, the artist grew up near Times Square in the centre of New York City. He got an early start in music, producing the underground sensation 'Combination Pizza Hut and Taco Bell' for Das Racist when he was just seventeen years old.
To date most of Le1f's music has been in the form of mix tapes, free albums which can be downloaded off the internet.
The rapper has put out three acclaimed collections in the last 18 months. The first collection 'Dark York' featured the popular song 'Wut' with its 'out and proud' dance video, the second collection 'Fly Zone' was released in January this year and most recently a third collection 'Tree House' has dropped.
Le1f giggles when I ask him if he plans to release music the traditional way in the near future.
"My first record will come soon and you'll get to give me some money," he laughs, "I'm working on a real record now, my first real record. It's going to be my version of pop music and radio music; it'll be something worth paying for."
While releasing his earliest music Le1f was at studying at Wesleyan University in Connecticut.
"I studied ballet for fourteen years, and then modern in high school, of course ballet continues. I studied post modern choreography in college."
The rapper has been quite forward with his frustration with the media who have been quick to pigeonhole his work as ghetto rap and an extension of the queer ballroom scene. The day after we chat on the phone Le1f tweets;
"If you say I'm part of the vogue/ballroom culture, you're homophobic and ignorant. If you say I'm from Brooklyn or Harlem, you're racist."
Le1f tells us that his own performance style is constantly evolving and he still considers it to be in its infancy.
"I'm finding it out now," he said,  "I think I want to be more mixed media because that's my background, I really studied interactive media art alongside song and dance. I want to start investigating that more in my work.
"As I make more music I think it'll be more constructed and performed, and way more visceral, less about rap, even though I'm a rapper, it'll be more about the concept and the production and the overall whole performance of it."
"I'm not a model, so I just pull out dance poses," is how the rapper describes his captivating look on camera.  He showcases his dance moves in his most recent artistic project, a video for one of the tracks off 'Tree House'.
"The video for 'Hush Bb' was a collaboration with Alex Da Corte, who is one of my favourite artists working right now. He put it all together, we really bonded over metallic axe body wash, it was really crazy. We also shared a love of coloured cigarettes."
Da Corte is a rising star in the art world, his work was featured on the cover to Spank Rock's most recent album 'Everyone is Boring and Everyone is a Fucking Liar' – an album which Le1f has a production credit.
Da Corte is not the only visual artist Le1f has a close connection with. Fellow Wesleyan graduate and friend Don Christian has received critical acclaim for his mural paintings and has also recently released a mix tape which Le1f produced some tracks on and film director Sam Jones was behind the lens for the 'Wut' video. The close association between rap music, art, movement, filmmaking and academia is a central reason that Le1f and his contemporaries work is standing out.
Le1f is looking forward to his first trip to the West Coast of Australia, having visited the east side of the country twice already this year.
"I'm kind of jealous that I don't get to go the outback when I'm in Australia. That was my whole plan, go to the outback this time. It's my third trip to Australia in a year and I really wanted to fly to the outback, but that's what happens to plans."
Asked what he made of his first trips to Australia the rapper laughs and shares his take on Australian fauna.
"I saw a bat for the first time, it wasn't behind glass or anything, and I swear it looked just like a Pokemon! You have lots of Pokémon's down there, running around."
Le1f is appearing in Perth on December 7th at the Slanted and Enchanted Festival alongside Deerhunter, Jon Hopkins, Metz, Cave, Fabulous Diamonds, Kelpe and more. Tickets are available from lifeisnoise.com
Graeme Watson
Read More
26-10-2013   Le1f releases video for 'Hush Bb'
23-10-2013   Le1f releases new mixtape
03-09-2013   Le1f locked in for 'Slanted and Enchanted'