As You Like It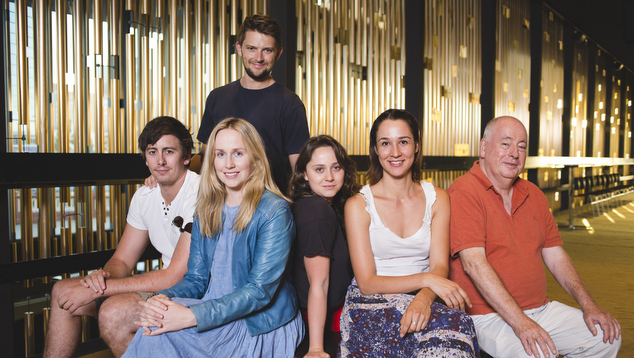 Recent WAAPA Graduates with Director Roger Hodgman     Credit: Daniel Grant
"I am a massive Shakespeare lover!" declares actress Grace Smibert (seated in blue jacket). "Every time you work on a Shakespeare play you rediscover how amazing he is. He's so good – that's why Shakespeare is loved by everyone."
The WAAPA graduate is thrilled to hit the ground running by being cast in the Black Swan State Theatre Company's latest production. Smibert is set to take on the role of Celia and she's relishing the opportunity to hit the ground running after her recent graduation.

"It's such a great play; the female characters in it are fantastic. They're so active and they're the ones who are calling the shots in it and their playing all the games on the men which is fun." Smibert said.
Smibert is not alone, appearing alongside her are four other recent WAAPA graduates who have been embraced by the company.
The actress also highlights the gender bending nature of the play. "In Shakespeare's time the main character Rosalind would have been played by a boy, but it's a story about a girl who disguises herself as a boy in order to run away, but ends up playing a girl. So it would have been a guy playing a girl, playing a guy, playing a girl – which is just ridiculous!"
The Black Swan Theatre Company's Production of 'As You Like It' runs from May 17 to June 1 at the State Theatre Centre.