REVIEW: Loaded: a double hit of drama from Black Swan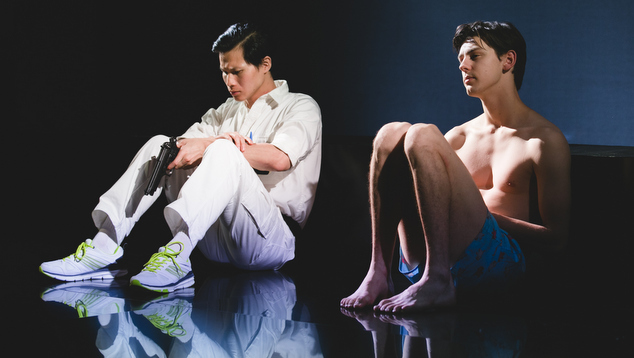 Loaded: A Double Bill of New Plays
Black Swan State Theatre Company | Studio Underground | Until Feb 7th
Girl Shut Your Mouth  ★ ★ ★
Tonsils + Tweezers  ★ ★ ★ ★ ★
Black Swan State Theatre Company begin the year with two fresh new plays developed by their emerging writers program.
Gita Bezard's 'Girl Shut Your Mouth' is directed by Jeffrey Jay Fowler, while Will O'Mahony directs his own play 'Tonsils and Tweezers'. Both are dramatic and stylish but Mahony's offering is a far more accessible work.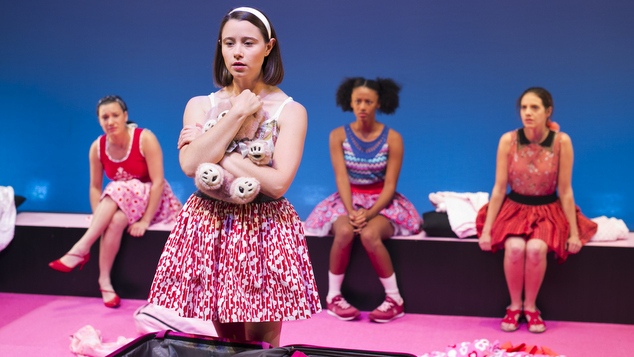 Four girls take to a stage filled with suitcases and scattered clothing. They are dressed in shades of red and pink and the floor is also a bright pink hue.
We're not really sure where Grace, Darcy, Mia and Katie are, but they clearly live in a very violent world. Their discussions about violence are oddly casual. They compare scars from the violence they have encountered and are dismissive of people who haven't been hurt to the same level as they have.
Playwright Gita Berzard has said that the play drew inspiration from a wide variety of sources where violence has occurred against women and the play is not really set in a particular place.
It's a little about refugees and Malala Yousafzai , it draws inspiration from US school shootings and the case of Elliot Rodgers, but it's not specially about any of those things.
This abstraction is challenging, watching the play I spent a lot of time wondering where the characters were, and trying to make sense of what's was going on. I never managed to crack it, and that made the play become more like a collection of well acted scenes that a structured narrative.
I found myself asking "What's Going On?" in a very practical sense, rather than the philosophical questions that the play was clearly trying to raise.
The performances from Shalom Brune-Franklin, Brittany Morel, Stephanie Panozzo and Jessica Paterson are delivered well, and Lawrie Cullen-Tait has once again delivered a fanstastic set.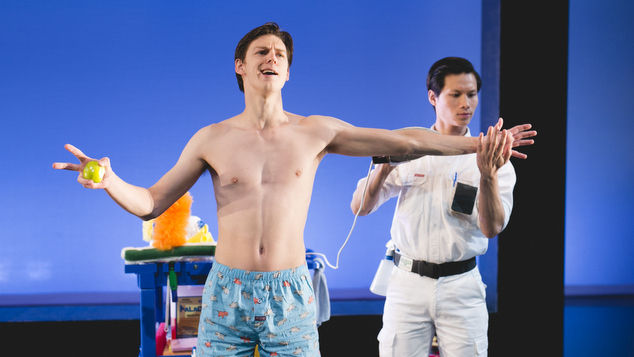 Will O'Mahony's play 'Tonsils + Tweezers' is a theatrical roller coaster filled with thrills and spills.
Lincoln  Vickery is Tonsils, and his best mate is Lewis, aka Tweezers (Hoa Xuande). Together the two of them have been knocking about and having adventures together. They've had their fair share of shenanigans and wild times.
Now as their 10th High School reunion approaches thing begin to change as old faces reappear and old memories are brought to the surface.
Vickery and Xuande bounce lines back and forth at break neck speed. The character of Tweezers often breaks the fourth wall updating the audience on why things have happened, and warning them about key moments coming up.
The dialogue in this play is fast and sharp, it zooms along at break-neck speed taking the audience on a joyful ride.
Adam Sollis plays Max, a guy from High School how used to bully Tonsils and Tweezers, while Megan Wilding plays a variety of peripheral characters.
Both Wilding and Sollis make the most of every moment their on stage, and deliver some outstandingly brilliant moments.
The story also has it's darker moments as the fractures in the lead characters long standing friendship are revealed. For a play that makes you laugh for 45 minutes, suddenly it has you wiping your eyes as well.
'Tonsils + Tweezers' follows on from O'Mahony's successful Blue Room production 'Great White'. With two clever and engaging productions from him in recent years we're eagerly awaiting his next creation.
'Loaded' is playing at the State Theatre Centre's Studio Underground until February 4th as part of Fringe World. Tickets available from Ticketek.
Graeme Watson, Images: Daniel James Grant