Looking for Australia's Next Top Model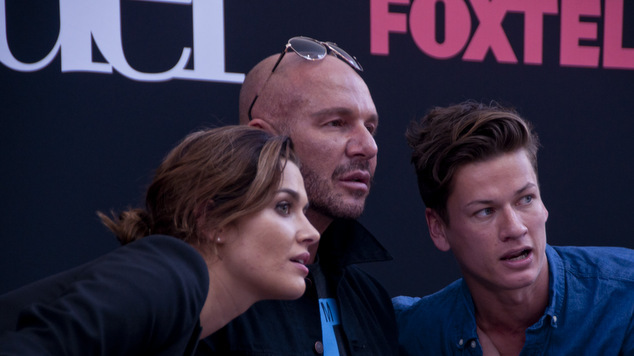 It's 10am on a Friday morning at Garden City Shopping Centre and a sea of attractive girls are lining up, getting their height recorded and registering to strut the catwalk with the hope of becoming Australia's next top model.
The line quickly grows longer and longer as more girls and women and arrive and add their name to the list. Friends, mothers and supporters gather around the stage to show their support for loved ones dipping their toe into the modeling world for the first time. Young men walking by suddenly stop to watch as the register the ratio of attractive girls around them is extraordinarily high.
Backstage, judge Alex Perry is getting ready to head out on stage. He sits with his jacket off, his massive guns on display. Fellow judge Cheyenne Tozzi sits nearby, looking surprisingly different with her new chocolate brown hair.
This season of the show, which will air in 2016, is the show's tenth outing. While the hosts, mentors, and judges have changed over the years Perry has been with the show from the beginning. Perry tells us that what the judges look for doesn't change from one year to the next, what makes a good model is always the same.
"Your always looking for the same thing really. Someone who is tall beautiful, athletic body, someone who is photogenic. It's just the shape of it, what that face is changes. I think what we look for is a constant, it's always the same level of beauty." Perry said.
The large majority of participants in today's auditions won't make it through, Perry said he had no problem breaking the bad news to the hopeful contestants.
"It's not hard for us, but it must be difficult for them. It takes courage and confidence to get up and put yourself out there. But I figure, by the same token, if you're confident enough to get up and walk back and forth in front of all these people down a runway, then your sense of self must be fairly strong." Perry said, "You should be able to take the 'no', which is in life is something we all have to face whatever our field is."
Perry said that many of the contestants try more than once to get  onto the show, returning year after year.
"We saw a girl in Sydney and I said 'I've seen you before haven't I?', and she replied 'Yeah, four times!' The reality is that if we've already said no four times, the chances are we're going to say no again. It's not like all of a sudden you're going to genetically morph into something different, if it's not there – it's not there." Perry said bluntly.
The fashion designer said modeling is not for everyone.
"There are girls who really want to do it, and there are people today that say 'Keep going for it, don't take no for an answer', 'Follow and chase your dream'. I understand that, I believe that in my work but when it comes to beauty – you're either genetically blessed or your not." Perry said.
Ten years into the journey Perry said his enthusiasm for the show hasn't waned.
"I love what it is, I've loved it from the beginning. I beleive in what can happen to a girl that does have that talent. We've had some incredible successes with the girls who have won, and some of the girls who have not won – have also gone on to have great careers." Perry said. "It's fun for me, it's not my day job, I have fun and I love it!"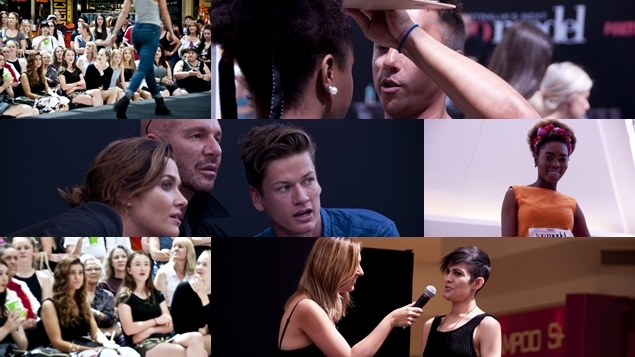 Soon the audition process begins. 96FM's Carmen Braidwood hosts the proceedings, introducing Perry, Tozzi and a representative from Priscilla's Model Management who will be on this mornings panel.
In the queue waiting to walk the catwalk is a familiar face. Trish Cheetham, one of the co-owners of The Sparrow's Nest in Victoria Park. Cheetham admits to feeling nervous as she waits her turn.
"I'm excited, but nervous" Cheetham said. "I haven't done any modelling since I was a kid and I just thought I'd come down and give it a go"
Cheetham said she was prepared for the rejection; "I'm kind of expecting to not get through, so I just thought I'd come and give it a go. I think in the past I've been in a place where I didn't have a lot of confidence and recently I've had a confidence boost, so I thought I'd just come out and give it a go."
One by one the girls take to the catwalk, telling Braidwood a little about themselves before walking down the catwalk in front of the judges, who quickly huddle together to share their thoughts on each potential contestant.
One after the other the girls are thanked and asked to leave the stage, ten or fifteen girls pass by the judges eyes, nobody has that special something they're looking for.
Suddenly the judges spot someone they like, they've found their first qualifier from the Perth auditions. A young girl smiles as she's lead down the stairs on the opposite side of the stage to chat to the producers.
More and more girls walk up and down the catwalk. One young girl is asked to walk the catwalk a second time… she's caught their attention, will she make the cut? Nope, so close.
One model is incredibly confident, she speaks clearly, and gives it some extra oomph on the runway, when she heads down the the judges table she stands tall and confident, posed. But no – she hasn't got that special something.
Cheetham's turn comes, she tells Braidwood about her cafe with the 96FM host admitting it's one of her favourite hangouts. Then she walks down the runway. Cheetham looks different to the vast majority of the models taking part. Will her shorter hair and clear confidence stand her apart from the competition?
She looks confident walking the runway and heads down the catwalk to chat to the judges.
It's a no.
Later she tells me the experience was a fun one, "and I got to tell lots of people about our cafe!" Cheetham said.
Australia's Next Top Model returns to Foxtel in 2016, tune in then to see how many Perth contestants made the cut. 
Graeme Watson