Looking Good in Heels!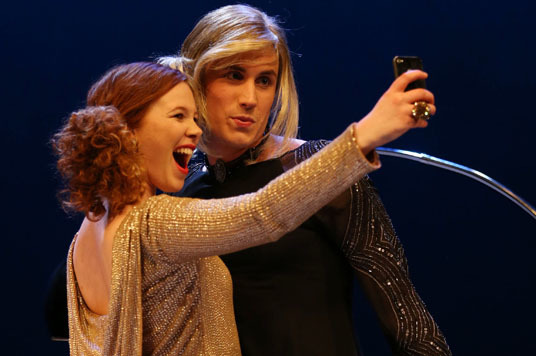 Ahhhh, footy. The short shorts. The muddy knees. Biceps like branches. The mateship. A propensity toward dressing up in women's clothing…?
Funnily enough, while footy is all about the bloke, it has a strange undercurrent of car crash drag, more so than any other Aussie sport. Needless to say, footy boys in full slap is synonymous with the sport, especially thanks to The Footy Show.
But Managing Carmen, which opens at the Heath Ledger Theatre this November and is written by iconic Australian playwright David Williamson, takes footy's inherent fascination with drag one step further: what if a rising star actually had a secret passion for cross-dressing?

'It's about an AFL footballer, Brent Lyall, who is at the top of his game and his manager is trying to make as much money out of him as possible, but one problem is that once he gets in front of the cameras he just snaps shut,' said Timothy Dashwood, who plays Lyall, of this production which just had its world premiere in Queensland.
'So his manager hires an acting coach to work out whatever is troubling him in front of the camera, and it comes out that he likes to dress up in women's clothes. Naturally, there's then some pesky journalists they have to stop from finding out Brent's secret.'
Dashwood describes the play as 'a riot', full of non-stop laughs and general craziness. But don't expect a Les Girls kinda transformation on stage when Dashwood's Lyall dons the frocks and feather boas. With a pace akin to a Grand Final game, Dashwood stresses that the dressing up takes place – at most – in under 90 seconds. That's everything, including makeup.
'It's been heaps of fun and a little bit of a dream come true,' Dashwood said of his involvement in the show. 'I love AFL and was never gonna be able to play it professionally so now I can pretend I can play it professionally. And then I also get to dress up in frocks and heels and be as pretty as I possibly can, which is fantastic.
'But I guess the main focus of it is accepting people for who we are. We're never just masculine or feminine – there's so much more that makes up who we are, and we should all be big enough to accept that across the board.'
So the hardest part about appearing in a Williamson play?
'Just making sure I look like a girl! The heels, surprisingly, are fine. I'm getting a lot of good comments about how well I'm walking in heels, which is nice. In fact I think I've taken to the heels a bit too easily!'
Managing Carmen by David Williamson, presented by Black Swan State Theatre Company, will run from 10 November – 2 December 2012 at the Heath Ledger Theatre at State Theatre Centre.
Scott-Patrick Mitchell, images Rob Maccoll