Louise Stewart is up for the challenge of representing Curtin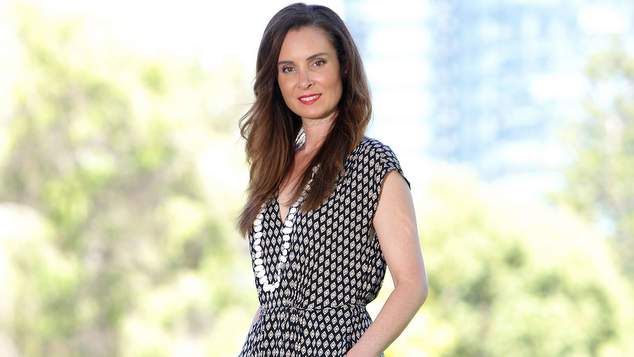 In an office along Stirling Highway sits a series of unoccupied desks, only a few people are in the space, and there's no signage on the outside to explain what is going on within.
But within a few weeks the desks will be filled with volunteers and the space will be a hub of activity as business woman Louise Stewart makes her bid to enter the world of politics.
Stewart is running as an independent in the seat of Curtin – the seat currently held by retiring Liberal Julie Bishop, and she's quietly confident she's got what it takes to go all the way to Canberra.
Stewart says she's not a politician, but she's developed an interest in stepping into the political realm through her business experience.
"My first business was a health technology platform, so I worked a lot with the Commonwealth government at the time, which was a Labor government – Nicola Roxon was the Health Minister – and I was working with Mathias Cormann in opposition – that was to get medicare funding for nurse practitioners." Stewart explains over a coffee in her campaign office.
"I had to be really across the political environment to get that reform through in 2010, that was quite fundamental in the sense that it actually gave medicare funding to nurse practitioners to work independently to solve the gap where there's a shortage of GPs."
After she sold her business, Stewart worked alongside her husband in his construction business, before being asked to join the board of the Australian Subcontractors Association. Now she found herself working with state governments around the nation, and the federal government, to get new laws to protect payments to subcontractors in the building industry.
Having won that battle, with Western Australian Attorney General John Quigley recently agreeing to introduce a new raft of laws, Stewart found the perfect opening to launch a political career.
With Julie Bishop stepping down in the Blue Ribbon Liberal seat of Curtin, Stewart decided to make her bid to represent her local community, arguing that the candidate put up by the Liberals will struggle to appeal to the socially progressive residents of Curtin.
Following the success of independent MP Cathy McGowan in the seat of Indi, Dr Kerryn Phelps campaign for Wentworth, and the high profile battle between Zali Steggall and Tony Abbott in Warringah, it's undeniable that there is a rise of woman running as independents – free from the party machine of mainstream political parties.
"I think there's a movement towards independents because the two party is system is broken. I think the parties are being taken over by powerbrokers, and people in the east in our case, who are really dictating what the party line has to be.
"I have no interest in that, I want to be employed by the people that live in Curtin and advocate what is important to us and will make an impact to our lives." Stewart says making her pitch for votes.
"There are less women making it in to parliament, and that's what I find myself talking about as I visit a lot of the girls' schools in the local area. We need to be encouraging our girls that politics should be a career option for them, because we are over 50% of the population, and the parliament should represent that."
"Women don't want to play the games that these predominantly male power-brokers like to play, by being independents we're outside of that." Stewart said.
The Division of Curtin has only had five representatives since it was created in 1949. From Sir Paul Hasluck to Julie Bishop, all have entered the parliament under the umbrella of the Liberal party.
In 1996 sitting Liberal member Alan Rocher lost his preselection to Ken Court, the brother of them Western Australian premier Richard Court. Rocher successfully stood as an independent holding the seat, but the Liberals won it back at the next election with Julie Bishop on the ballot. Bishop has been the member for Curtin for the last 20 years.
Stewart is confident that an independent can win the seat.
"People are sick of the games, the back stabbing and a lot of people are unhappy with how Julie Bishop was treated, and I don't think they've really chosen the appropriate candidate for the electorate either."
After a competitive pre-selection process the Liberal's replacement for Julie Bishop is Celia Hammond, the former Vice Chancellor of Notre Dame University.
During her time at the University Hammond was opposed to rainbow stickers being displayed on campus, saying for many people they were a symbol of division, and she has been described as holding more right wing views than the popular retiring member.
"She's definitely not the best candidate that was put forward, I think there's a general consensus of that, despite the message the Liberal party tries to push in the media." Stewart says suggesting that Hammond only came to be in place after a series of power broker games and deals.
"The Liberal party are losing all their moderates, this is really concerning for people in Curtin. The moderates are not continuing in politics and we're having these extreme conservatives taking control of the party. It's not the Liberal party we all know anymore, it's really not, and I think that's what worrying people."
"The Liberal party have chosen a 16th century candidate in the 21st century, that's a very big problem. I think it's shocking that they chose someone who has publicly said that she's an anti-feminist, who doesn't believe in contraception before marriage." Stewart says of her opponent.
"People need to know who they're voting for, but she won't say what her position is on marriage equality. I think we need to know whether or not she supported to royal commission into child sexual abuse in the Catholic Church. We need to know these things, because these are important matters that help people make a judgement when they vote."
Stewart says the Division of Curtin is often misunderstood, with people thinking of the mansions at on one side of the electorate and discounting the more suburban areas it also covers.
"There's a lot of young people in this electorate and their voices are just not getting heard. We're seeing young people rallying about climate change and politicians just aren't listening to them, that makes them angry. They feel like their voices don't matter, but they do – and they're the voices I'm listening to." Stewart said.
Stewart has highlighted her long standing support of marriage equality as something that makes her very different to her Liberal counterpart. Stewart says she has clear view on issues relating to sexuality.
"I believe in equality and freedom of rights. I don't think anyone should face any discrimination or prejudice whether  it's the colour of their skin, the gender or their sexual preferences.
"We need to protect young people in schools from bullying and abuse because of who they are as an individual. Everyone is an individual, everybody has the right to be heard and be appreciated for their unique talents.
When it comes to the debate over whether school children and school teachers at religious schools should be able to be expelled or fired, its something Stewart describes as a "can of worms" but her views are clear-cut.
"I don't think anyone should be able to discriminate just based on their religion, it's just not acceptable. Teachers should be protected, everyone should be protected to make their own personal choices in terms of who they want to be." Stewart declared.
While the hours put in by a federal politician are daunting and the job comes with a gruelling travel schedule, Stewart says her business life has her well primed for the undertaking.
"I've started two businesses from nothing…you don't achieve that by working 8:30 – 5:30, the hours are crazy and the bucks stops with you. I think I've got the points on the board and shown that I'm tough.
"The workload doesn't daunt me at all, I'm very lucky that I have a husband who is a stay-at-home Dad. That enables me to do what I do."
Since we chatted at the start of the campaign, the Labor party announced that high profile former member Melissa Parke would be their candidate, only to see her withdraw from the race a week later after comments she'd made about Israel and Palestine came to light.
Over the weekend Stewart's campaign released the results of a Reachtel poll they commissioned  showing that Stewart is likely to attract 23.9 per cent of the primary vote, which would mean the Liberal's could only hold the seat if a majority of preferences flowed to them.
The poll of 819 voters has been described as signs of a "blue-ribbon blood bath" which would see a potential swing of 20% against the government.
With the government needing to gain two seats in the election to govern in a majority, and several marginal seats held by the Liberals under attack, the news that a safe seat could fall is not the news the Liberal party would have wanted to be hearing.
The campaign's poll showed that 81% per cent of those surveyed thought an independent candidate could represent them in Canberra. With Labor and The Greens likely to direct preferences towards Stewart, Curtin is suddenly looking like a government seat that could fall.
Update: Today The West Australian has published a report saying the Reachtel poll put forward by the Stewart campaign is not legitimate. The campaign has responded saying the poll was supplied by a third party and they are investigating further.

Graeme Watson
---