Love Letters: Ralph and Rob will be married again
The opponents of marriage equality have claimed that the survey on marriage equality is about everything from education programs, to freedom of speech, to fighting political correctness.
We know that the call for equality is simply just recognising the love between two people, and their desire the formalise that commitment before their friends and families.
As we fight for the right to be able to get married to our loved ones, we're sharing stories of LGBTI couples, and we want you to send us your story, like many couples have already done.
Meet Ralph and Rob.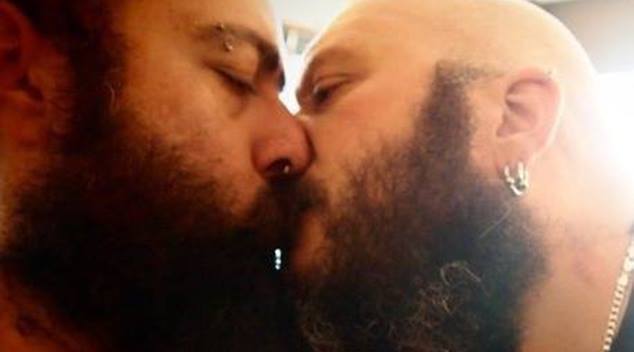 Rob and I met through common friends on Facebook, while living in different countries – him in Australia, me in New Zealand. After 9 months of friendship online we met for coffee in Melbourne and a week later we were in a relationship. That was 8 years ago.
He moved to Christchurch because my sister was terminal and my family needed me there to support them, and he arrived two weeks before the earthquakes that ripped apart my home town. My mother and sister accepted him with open arms, and we got engaged two years into our relationship. My sister often said she would like to see us married, but she died a few months after we got engaged and my mother died just six weeks later, neither getting to see us married.
When New Zealand introduced Marriage Equality we were finally able to start planning our wedding, and a year after it was made legal in New Zealand we were married by my mother's best friend, a celebrant who had also taken my little sister's funeral. It was a wonderful day and it gave us a lot of joy for her to be able to conduct a ceremony for our family that was based in love and not sadness. In every sense of the word it was a wonderful family day.  Six short months later we moved to Perth to help look after Rob's mother, who was getting older and his family needed our help to look after.
And we were no longer legally married.
I challenge the people who say that they're protecting family values by opposing Marriage Equality to tell me that Rob and I don't have family values. We have cared for a terminal sister, an ailing mother, we've supported each other through funerals and earthquakes, emotional and physical upheaval. We parented a grieving teenager when she lost two of the three most important people in her life. We have moved countries to support each other and our families. We have been there for both of our families when they needed us and will always be there for them. Together, as a couple. Our love is every bit as worthy and valuable as any other married couple. We share the same family values they do.
Begging for the right to be married again in Australia demeans those same family values the opposers to Equality claim to espouse, but here we are being forced to ask the whole of Australia to validate our commitment. I trust that Australians are better people than the government of the country gives them credit for. I wish the government trusted them as much, and would just have the vote in Parliament without what is bound to be a bruising and hate filled campaign. But out family is strong and we will survive it. And we will be married again, in both of our homes.
If you want to send us your Love Letter, click here and get writing, and read other stories in this series.
---
Support OUTinPerth
Thanks for reading OUTinPerth. We can only create LGBTIQA+ focused media with your help.
If you can help support our work, please consider assisting us through a one-off contribution to our GoFundMe campaign, or a regular contribution through our Patreon appeal.