Making it official: Lynn MacLaren and Sarah Holt-Foreman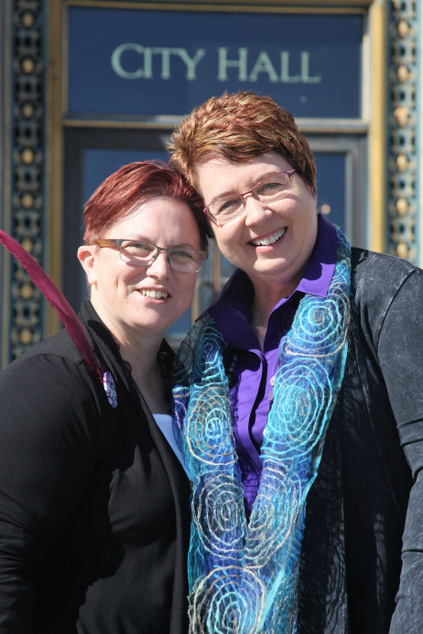 South Metro MLC, Lynn MacLaren and her wife Sarah Holt-Foreman can't wait to throw a big party and invite all their friends around to celebrate the couple's recent nuptials.
The politician and her partner recently flew to San Francisco to wed. For a few weeks, only a few close friends knew the happy news. MacLaren admits she was a little nervous about how the news would be treated by the mainstream media.
"We were a bit worried about how it will come out and how it would be treated by the mainstream press. You just never know which tack their going to take – we do live in interesting times." MacLaren said.

After revealing their news in an exclusive interview with The Sunday Times the couple have spoken to many outlets about their decision to get married, and thankfully the response has been overwhelmingly positive.
The couple shared their news at a recent cross-party Pride event held at parliament house where MacLaren shared how being married had made her feel very different.
"I do feel different, it's hard for me to put into words. As I said at the event at parliament, I'm a fifty-something lesbian, I never rated it very highly. I've had wonderful relationship which have not had the added formalisation of marriage, but in our partnership, we wanted to do it. I do feel different, it has grounded me, it feels great." MacLaren said.
"It hasn't changed the everyday" Holt-Foreman said, "But it has changed the way people are responding to us, and seeing that pure excitement people have when they find out you've gotten married is the real difference. It's like you've transcended to another level. I didn't anticipate that."

Holt-Foreman reveals that MacLaren didn't accept her first two proposals, describing them as ranging from impulsive moments to more structured presentations.
"Third times a charm" Holt-Foreman laughed as we caught up for coffee in Fremantle. She quickly stressed though that is perfectly fine to tell your partner that you're not ready to get married yet.
"I think each time you're coming from a place of love and expressing your commitment to another person and indicating that you're ready to shift to another level.
"I think it's OK to ask and its OK for the other person to say that they're not ready to take that next step, I think sometimes we rush into things too quickly. I think it's respectful to the other person to wait until you're both ready.
When Holt-Foreman asked for the third time, things were different for the couple. Five years ago, she discovered she had breast cancer and underwent treatment. She had been free of cancer for two years, but a recent test showed the cancer had returned and this time it was in her bones.
In the wake of the disappointing news, Holt-Foreman made her pitch, and this time MacLaren accepted.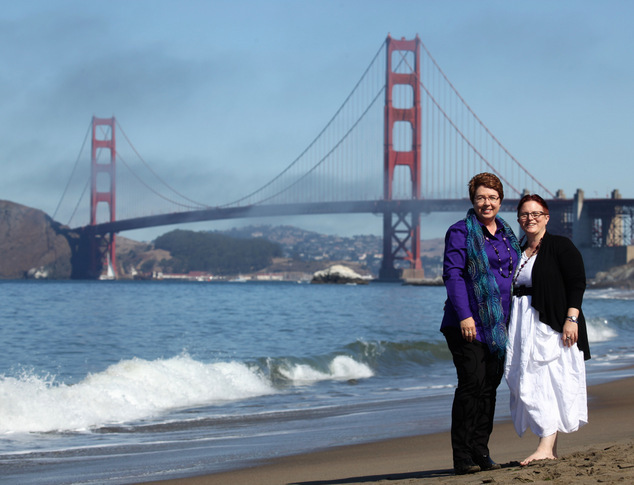 Once the couple had decided to get married, their next question was where they would go to make it official. San Francisco was chosen, and the pair had just a few days to run around like crazy and prepare for the ceremony.
Holt-Foreman said although they had a joyous ceremony, it was also tinged with the melancholic awareness that once they returned home to Australia their marriage would no longer be recognised.
"It's a weird experience – not being recognised – but it is recognised by all your friends. It's an interesting dichotomy." Holt-Foreman said.
The couple said they chose San Francisco as a place to get married because of the city's rich gay history and because it's a place where LGBTIQ people feel very safe.
"It does make a difference, in a city like San Francisco, and in particular if you go to the Castro district, where LGBTIQ relationships are celebrated, where people of significance are honoured by markers in the pavement, where businesses put queer friendly signs up. It does make you feel more relaxed and less guarded." MacLaren said. "Then you realise how guarded you are normally."
MacLaren reflected on how different it felt to be comfortable holding your partner's hand in the street, something she admits she wouldn't always be comfortable doing in Perth.
"I'm one hundred percent confident, but still there are times that I don't feel comfortable holding Sarah's hand. Those are the things we need to change in society." MacLaren said.  "Those are the kind of invisible barriers that a thing like having the right to marry – is going to be so powerful in eliminating."
The couple said they hope the situation in Australia will change soon and everyone will get access marriage, an important rite of passage.
"It's something that is denied to us, explicitly because of our sexuality. No other factor. Just because we're same sex attracted we're denied this right and it's pervasive throughout society. You don't see it until it's gone." MacLaren said.
MacLaren said the marriage debate in Australia really highlights the places where LGBTIQ people don't feel accepted, but is hopeful that a political solution will be found to the roundabout of plebiscite and election promises.
The couple said they can't wait until Australia resolves the issue of marriage equality and everyone can experience what they're experiencing.
"There will be a lot of big gay weddings to attend in our future" Holt-Foreman said.
Graeme Watson