Tim Brown Takes Us Behind The Scenes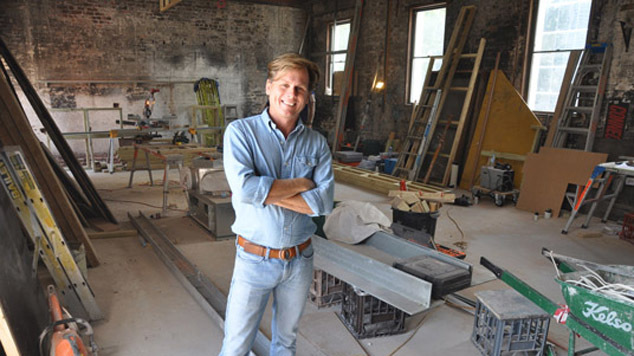 In the middle of Connections Nightclub's biggest ever renovation we caught up with owner Tim Brown to get an insight into what the venue is hoping to achieve at the end of it's dramatic rebuilding.
Entering the club during the day it's hard to image that the venue still opens most nights to the public. The familiar main room which is usually filled with house tunes, flashing lights and a proliferation of drag queens is filled with tradesmen, sawdust and the sounds of serious construction. Deprived of their office, which is being turned into the venue's new lounge, Connection's 'behind the scenes' staff work on laptops at the bar in the midst of the mayhem.
Asked how long the ideas behind this renovation have been building in his mind Brown laughs and declares decades of pondering.
'This is the biggest renovation we've ever had, the biggest job we've ever done,' he explains.
Brown notes that when most clubs have a major make-over, it's almost always a case of the club closing and a newly named and re-vamped venue opening in its place.
'When nightclub's have big changes they often close down, they become something else, they get a new name, usually a new crowd and it's the nature of nightclubs that crowds move from room to room – this may be the house club, this may be the breaks club, then with a renovation, all the crowd moves on one spot.  But Connections is not like that,' argues Brown.
'I've always seen it as a work in progress,' he says, 'I think that's part of the reason for its longevity. It's never had huge big multi-million dollar refits, but it had lots of attention over the years at different levels. I kind of like that, it's really nice to do a great big thing but when you do a great big thing – you then want to stick with it. So it lasts for a long time, but also you have to get your money's worth out of it.'
Keeping things interesting, is one of the elements that Brown thinks is integral to the venues longevity, highlighting that you have to keep changing things around to keep clients attention. As the club approaches it's thirty seventh year of operation Brown acknowledges that it enjoys a good reputation around the world, with celebrities often remembering previous trips to the venue.
'We can all be proud of that,' says Brown. 'It's been through hard times. It probably should have closed a couple of times over, but it didn't and we held on because it does mean something to all of us. We've struggle to work out where our community sits in the wider community now, and then we struggle to understand where our venues sit within that, at this point in time.'
In technical terms Brown describes the aim of the renovation as a broadening of the venue's product offering, but expands the idea by describing the different needs of the clubs broad demographic.
'We have grown up,' says Brown. 'We are more sophisticated, and we want more things. But that doesn't mean that we don't want clubs and dancing and loud music and that party atmosphere that Connections is…We've been exposed to small bars, more causal laid back environments where there are more places to sit, where you can have a conversation. There'll still be music but it isn't the primary focus, it's not dominating.
To achieve this aim the area that used to be the team's offices and storage space is being transformed into a large lounge area that will flow through out onto an expanded terrace space. Brown highlights that one of the great outcomes of the renovation is a second toilet block being incorporated into the lounge so that patrons will no longer have to queue to return to the outside area after going to the bathroom. The new lounge expands upon the successful philosophy the club follows for its popular outdoor space.
Brown offers a simple description of the new lounge area, 'what happens outside, inside,'says Brown. 'It's lounges, furniture, it's the same music. The DJ from the terrace will move into the new bar.  And that music will run though those both spaces, there's lots of places to get comfortable there's some chairs and tables. It's more sophisticated but still a low key easy comfortable sociable space.'
Another part of the renovations will be a new entrance way for the club, incorporating a lift which will dramatically improve access for members of the community who have a disability. Also on the plans are noticeable redevelopments of the outside of the building which will give the venue considerably greater prominence on the street.
Brown admits that the renovation process is extremely stressful process, and is full of praise for the clubs professional team who are working through all the challenges. The club owner is confident though that the renovations will be completed by the middle of January. Brown also reveals that in 2013 Connections will be a venue for the city's highly successful Fringeworld festival.
With the recent closure of Honey Lounge, Perth returns to having just two dedicated LGBTIQ venues. While some might question if our local community has the numbers to support additional venues Brown thinks the answer is considerably more complex.
'I think it's a strange mix of the market not being offered the right things and the market not really knowing what they want,' says Brown, 'They sort of want all of those things that they get when they go to Sydney and Melbourne and Berlin, but they just sort of all want them to be there. I actually think Perth would be best served if six small bars opened next year, all at once. That were all very directional…allowing you to go to a Bear Bar, a Twink Bar full of Lady Gaga fans, a Women's Bar, three types of women's bars! I think that would be a very valuable thing.'
Further down the track of Connections renovation process is the development of a small bar that will be separate to Connection's operations. The proposed venue called X-Large will be accessible from Nick's Lane which is one of the first of Northbrige's laneways marked for redevelopment by the City of Perth.
'It'll be a very small bar,' Brown explains. 'It'll only be licensed for 100 people, very simple, very raw in its fitout. It's all recycled timber and concrete, it's got a pool table, it's got tap beer, it's basically what you call a Front Bar, which you would have found in Europe as a neighborhood bar. Somewhere to have quiet beer, play some pool and meet some people… It's going to have a stronger focus on a more mature, gay man, but it's not going to be exclusive, which is going to make some people happy, and some people really angry, but that's what it is.'
Brown notes that the building of X-Large is still a fair way down the track, but with long term plans in place Connections looks set to continue its long reign at the top of Perth's nightlife scene. Surprisingly Brown reveals that there was a time that Connections considered moving out of Northbridge.
'I'm so glad that didn't happen,' says Brown. 'Because we'd look at it now and go "oh no that's where we're supposed to be!", and I think it's where gays and lesbians are supposed to be, our community is really entrenched in this area. It's a really important part of who we are… we have a history here, it belongs to us.'
Connections Nightclub celebrates their 37th birthday on Saturday December 15.
Graeme Watson