Marcella Detroit collaborates with local fashion label Hoodedwept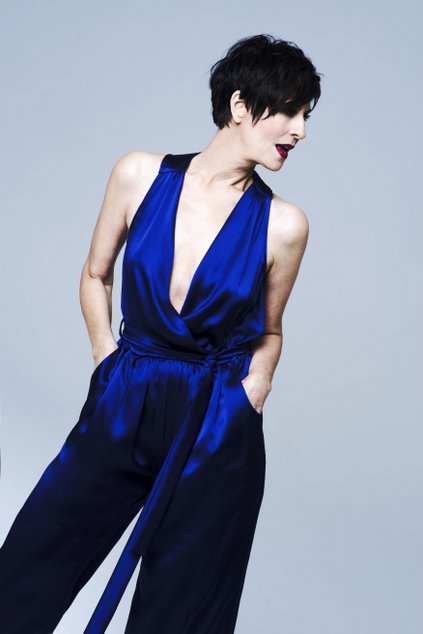 Local fashion designer Neil Sheriff struck up a friendship with musician Marcella Detroit many years ago when he lived in London.
He tells us that during his first meeting with Detroit, who was one half of much loved 90's duo Shakespears Sister, he tried really hard to keep his cool, but the moment he left the room he had a fan-girl moment.
Since that initial pairing the two have remained friends, and through his label Hoodedwept, the two recently collaborated, with Detroit creating a capsule collection, her first foray into fashion.
Detroit spoke to OUTinPerth from her home in Los Angeles and shared what it was like to explore a new creative outlet.
"When I was child, about eleven or twelve, I was hit by the fashion bug. I used spend hours drawing things, just outfits, lots of different clothes and things that I wanted to make and things that I was inspired by."
Learning a few basic sewing skills in High School allowed Detroit to have her first fashion making experience. She dismantled a raincoat and created a new outfit to wear to a concert.
"I really liked the look of the lining, and I made a pretty horrible dress, but I've always had great appreciation for fashion."
Detroit said the opportunity to work with Sheriff on a capsule collection was a "dream come true" experience, noting that she has her finger on the fashion pulse.
"It's always what I've wanted to do. When I go out shopping I always have something in my mind, but I can never see it. Then within six months to a year I see my ideas out there."
Detroit relished the chance to create fashion and quickly found a style that encompassed her taste, but stayed within Hoodedwept's established style.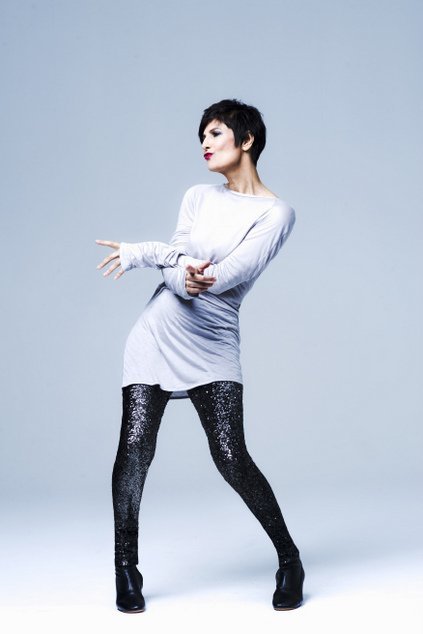 "I was also inspired I was just like a kid at Christmas time!" Detroit said of the experience. One item in the collection that captures everyone's eye is a bold blue jumpsuit.
"He told me we needed three of everything, 'I need three trousers, three tops, three dresses', I said, 'How about jumpsuits, because I'm crazy about jumpsuits?"
While Sheriff's work is usually monochromatic, he also agreed to make Detroit's jumpsuit bright blue, "That deep blue, cobalt blue is just one of my favourites."
Embracing her new pathway into fashion Detroit says she's started learning to sew so she can take the next step.
While most people recognise Detroit from her two albums as half of Shakespears Sister, her career in music is much more expansive.
Earlier on in her career she went by the name Marcy Levy. Hailing from Detroit, Michigan she hit the road when rocker Bob Seger selected a band she was in to join his tour of the USA.
Soon afterwards she was working with musician Leon Russell, and then joined Eric Clapton's band. As Marcy Levy she was involved in writing several songs Clapton recorded, most notably his 1977 hit Lay Down Sally.
Becoming a much sought after backing vocalist and songwriter, she worked with a range of artists including Chaka Khan, Belinda Carlisle, Burt Bacharach and Aretha Franklin. Her first solo album was released in 1982 but didn't find any success, and while she had a great career, Detroit said she always wanted to be making her own music.
"I always wanted to be the one in front, I always wanted to do my own music. I've been writing songs since I was twelve, and poetry from when I was really young.
"I always wanted to do my own music, it just so happened that it took me through writing with lots of different people, and then performing, and doing a lot of session work…it just kind of went that way, but I was always creating music for myself."
In 1988 she was introduced to Siobhan Fahey, who had just left Bananarama to begin a solo career. After some successful songwriting sessions, Dave Stewart from the Eurythmics, who was Fahey's husband at the time, suggested the pair work as a group. Fahey also suggested that her new collaborator take on a new name to kick start her creative renewal, and so Marcella Detroit was born.
While Shakespears Sister found success on the charts with songs like Stay, Your History, I Don't Care and Dirty Mind, but their working relationship was always challenging. The duo broke up acrimoniously 1993 and Detroit went to find solo success.
Read about how Marcella was inspired by Australia drag star Courtney Act
While Fahey has recently rejoined Bananarama, 29 years after she quit the group, Detroit says a Shakespears Sister reunion is very unlikely.
"I highly, highly doubt it." Detroit said "Only because she and I did not end on very amicable terms. I have reached out to her many times.
"It was not a great time for either of us" Detroit says of the duo's time together. "I'm cool with it, and I wish her all the very best in the world."
"We were very different people, we became very close as far as being in a band together, its like a marriage, but those things don't always work out.
While Fahey appears to have no desire to "bury the hatchet" with Detroit, the singer says she's very happy that her former partner in crime is back with her original band.
"I think it's great, I think that's wonderful for her, and I'm very happy for her and all of them that they're reunited."
Detroit said she'd "never say never", but thinks the chances of a reunion are very unlikely.
"You never know, but I wouldn't hold your breath."
Detroit's latest musical venture is a new project called The Nasty Housewives.
After years of living in Suburbia, Detroit and her husband found themselves as empty-nesters after their son headed off to college.
"After he grew up and left for college we said to ourselves 'Let's get out of here!' It was very suburban, and very straight, and very conservative, which was nothing like us."
Relocated to downtown Los Angeles, Detroit started making a bunch of new friends, and she reveals Donald Trump played a big part in her new project.
While working out at the gym Detroit noticed the Republican candidate on the television, and having been exhausted by the long US election campaign, she began audibly complaining about what Trump was saying.
When a woman approached her to check that she was okay, Detroit blurted out that she just couldn't stand listening to Trump pontificate any longer.
The woman was Hope Juber, wife of former Wings guitarist Laurence Juber, and the two struck up and immediate friendship.
Teaming up with musician Roberta Freeman, they They decided to channel their frustration with America's new president into making music. The band have just released their first album RESisters, and it features a songs including Overrated, Not My President and Alternative Facts.
Detroit has also been working on a new album of solo material that she hopes to record soon.
Check out Marcella's collection at hoodedwept.com and listen to her latest project on iTunes
Graeme Watson, images: Jordan Drysdale
---
Support OUTinPerth
Thanks for reading OUTinPerth. We can only create LGBTIQA+ focused media with your help.
If you can help support our work, please consider assisting us through a one-off contribution to our GoFundMe campaign, or a regular contribution through our Patreon appeal.