Mardi Gras Sparkles in Sydney
The official figures aren't in yet but it's estimated that a crowd of 0ver 200,000 people watched 145 floats and 10,000 marchers take part in Sydney's Gay and Lesbian Mardi Gras last night.
Celebrating it's 37th year the festival focused on the theme of 'passion' as community groups were celebrated and a light shone on LGBTIQ rights.
The parade had a particular focus on homophobia in sport, the upcoming marriage equality referendum in Ireland, and many other causes.
Michael Rolik, the CEO of Sydney Gay and Lesbian Mardi Gras highlighted the focus on sport, the Cheifs of the parade and the invovlement of the defence force.
"The combined efforts of everyone involved delivered a real stand out Parade. The attention to detail and enthusiasm of all the parade participants ensured there was a sea of smiling faces from the crowd." Rolik said.
"Aside from all the fabulous colour and excitement there were some wonderfully touching moments in the Parade. Seeing some of Australia's top sports personalities standing together to put an end to homophobia in sport was truly inspirational. We were also honored to have Dame Marie Bashir accompanied by her husband Sir Nicholas Shehadie as this year's Chiefs of Parade. I feel I speak for the LGBTQI community when I say we appreciate their continued support and friendship.
"We also had a first for Mardi Gras! Three of Australia's highest ranking officials walked the Parade route with the Australian Defence Forces float. Their involvement has helped spread the message of acceptance, equality and support throughout the armed forces and the entire Australian community."
The massive parade last just over two hours and stretched over 5 kilometres along Sydney's Oxford Street. Among the parade participants were a host of celebrities including singer Mary Kiani, drag superstars Courtney Act and Panti Bliss and Olympian Mathew Mitcham.
Photo Galleries
Behind the Scenes at the Parade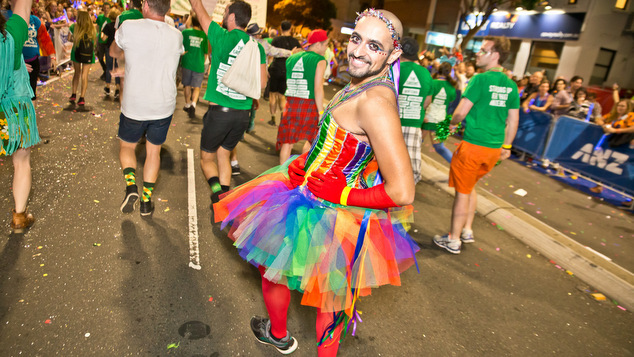 OIP Staff, Images: Hamid Mousa