Margaret Court says people are bullying her over her beliefs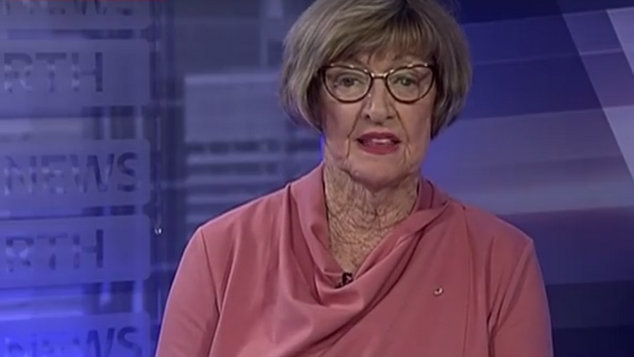 News Corp columnist and SKY News presenter Andrew Bolt has accused marriage equality activists of declaring "a war" on church leader Margaret Court over her views about marriage.
The leader of Perth's Victory life church was a guest on Bolt's SKY News program on Monday night.
On The Bolt Report the host said marriage equality activists were guilty of hate speech in their criticism of the former tennis player.
"Same sex marriage activists said we can't have a public vote on same sex marriage because too many people out there were bigots who'd argue the wrong way, and Labor agreed." Bolt said.
"Same sex marriage activists claimed that hate speech would come from their opponents, in fact most of it, and the bullying, and the suing and all that has come from them."
Bolt accused The Project of abusing and belittling the church leader, before playing a heavily edited clip of her appearance on the Channel Ten program.
Bolt said Fairfax columnist Peter FitzSimons was a bigot for suggesting that the Tennis stars name should be removed from Melbourne's Margaret Court Arena.
Reverend Court said it would be wrong to remove her name from the arena and accused marriage equality activists of trying to bring her past into the debate.
The reverend made the claim, even though the letter she penned which sparked the debate used her career as a tennis player as her grounds for being an authority on the subject.
Reverend Court said it was very sad that people were bringing her tennis career and accolades in to the debate.
"Its something that I deserve, I love representing my nation, playing for my nation." Reverend Court said noting that representing Australia today was something she was very fond of doing.
"I still love representing my nation, and going away and speaking on behalf of my nation and being an ambassador for my nation."
"I've earned those honours and accolades and awards." Reverend Court said.
The church leader said her believed that marriage could only be between a man and a woman, and it was something she had been brought up with, before oddly talking about being a tomboy in her youth.
"I was very much a tom-boy, I could kick a football better than anybody, play cricket better than anybody, but I always knew I was a little girl, and and I respect that. I was brought up knowing who I was."
Reverend Court repeated that she has nothing against gay people and noted that she even has some in her church.
"We even have them in our church, and I help them" Court said. "But I don't think that way. I look at the first two chapter [of the bible] and God made man for woman, and woman for man, and then he said 'husband leave your mother and father and cleave to your wife and go multiply the earth."
The Reverend said same sex couples were not able to multiply, and while they were allowed to lead their lives as they pleased they should respect that Australia is a Judaeo-christian nation.
Reverend Court said people should respect the natural laws and the spiritual laws, "We need to honour the reverential fear of God, the awesomeness of God."
"All they are after is the mind of a child" said Reverend Court who has previously outlined her belief that thinking about same sex relationship can potentially turn people gay.
---

---
Andrew Bolt said Australia needed to be able to conduct debates on the topic without screaming, abuse or character assassination.
Bolt said it was hypocritical for marriage equality advocates to call for Margaret Court's name to be stripped off the tennis arena, unless they were also prepared to call for Etihad airlines name to be taken off the Melbourne Cup and Etihad Stadium.
The outspoken host suggested this should of concern to marriage equality advocates because the airline was based in the United Arab Emirates where homosexuality was a considered to be a crime.
Reverend Court responded by saying she felt that she was be bullied.
"I think it's bullying, they always said that we were bullying them but I think there's a lot of bullying going on, intimidation."
Reverend Court said she didn't believe large companies had a right to speak on the issue, and the backlash to her letter and not quelled her desire to speak out the topic.
"I'm not intimidated, I know who I am. I love family and i just stand up for righteousness and truth, and I think in this nation we have to do that or we're lowering ourselves."
Debate over the issue continues days after the Reverend's letter was published
Debate over marriage equality and Australia's never-ending discussion on the topic shows no signs of slowing down days after church leader's letter was published by The West Australian.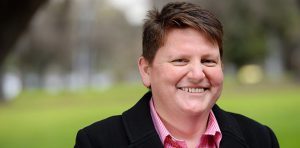 Ro Allen, Victoria's Gender and Sexuality Commissioner (pictured), said it was more important that people like Margaret Court were educated about the need for marriage equality than dragged down by the debate.
"She's entitled to her opinion, I don't agree with it, but it is my job to change it and not try and drag her down." Commissioner Allen said at an event in Warrnambool on Monday night.
Allen said that Reverend Court's views were homophobic.
Andrew Barr, the ACT's Chief Minister, has said the idea of removing Court's name from tennis facility is worthy of public debate.
"I agree with Peter FitzSimons' statement that tennis is an inclusive game, and ever more inclusive in the 21st century. Does Melbourne Park really want to have an arena named after someone who stands so firmly against such inclusiveness, who is becoming a byword for bigot?" Mr Barr said.
Tennis player Richel Hogenkamp has joined the calls for the Tennis Australian to rename the arena, saying player's might not want to play the Australian Open.
"Obviously, she has all the right to think her own way, everybody has," Hogenkamp said at the French Open earlier today.
"But for me, to be in this kind of position, I don't think you should be that outspoken. I have a girlfriend myself, so I don't agree with what she's saying.
"I think it would be a good thing to see if the Australian Open can maybe change the name of the stadium, because maybe some players won't feel so comfortable playing in a stadium named after Margaret Court." The Dutch player said.
On Sunday netball hero Liz Ellis said Reverend Court's statements marginalised some families and removing her name from the tennis facility might be a good idea.
"Imagine being in a family where the parents are gay and the kids say 'who is Margaret Court?'" Ellis said on Channel Nine's Sports Sunday program.
News Corp columnist Miranda Devine labeled the LGBTIQA community as "rainbow fascists" over the criticism, while former Victorian Premier John Cain said the arena was named in Court's honour because of her sporting achievements.
"This is about the home of tennis. We have arguably the best the facility in the world and it should be celebrated by the names of the great players who made Australian tennis what it is. Margaret Court should be there, forget about this other rubbish." Cain told The Border Mail.
OIP Staff