Margaret Court says QANTAS is intimidating people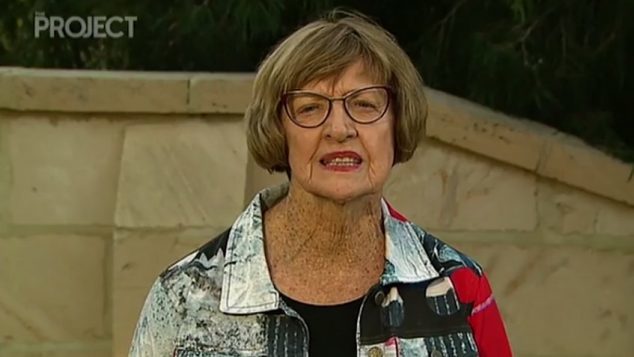 Margaret Court, the head of Perth's Victory Life Church has argued that QANTAS is intimidating people by publicly voicing support for marriage equality.
The former Tennis champion said she believes "normal people" do not support same sex couples being allowed to wed.
Court appeared on Channel Ten's The Project following two days of controversy that was sparked by a letter she wrote declaring she would avoid flying on airline QANTAS because the company is in favour of marriage equality.
It has been suggested that the Melbourne's Margaret Court Arena be renamed following the latest comments in the pastors long campaign against LGBTI people.
Speaking to Waleed Aly, Court said she had written her letter to The West Australian to show that she agreed with people who believed companies like QANTAS were intimidating people.
"He's using QANTAS as a platform to push and intimidate…" Court said.
The pastor said she disagreed with suggestions that the majority of Australians were supportive of marriage equality.
"There's very many people in this nation, just normal people out there, farmers and Mums and Dads,  and I've been married for fifty years this year, and I think you know, I may have been a Tennis champion, but even as a young person I believed that marriage is between a man and a woman." Court said.
The pastor said rather than looking at the statistics showing that marriage equality is supported by the vast majority of Australians they should read the first two chapters of the bible, before saying that people supporting traditional marriage were being silenced.
"I think anything that Christians, or non-Christians, say about marriage at the moment, they are being bullied and they are being intimidated. I think people, we do have a view and we're not being allowed to say why we believe marriage is between a man and a woman."
Court said normal people were being bullied and persecuted and not allowed to exercise their right to free speech.
When host Meshel Laurie noted that statistically it's not white heterosexual people that have a higher suicide rate, Margaret Court repeated her belief that most LGBTI people have been abused.
"I think a lot of it, if you do statistics, 92% have been been abused or somethings happen in their life." Court said.
Laurie highlighted that only a moment ago Court had told the audience that they shouldn't look statistics in the debate, a comment which brought waves of laughter from the studio audience.
Court said that children needed to know "a thought can change a life also" before moving on to attack the Safe Schools program.
The church leader has previously said that thinking about the idea of people of the same gender being in a relationship can lead to people themselves turning gay.
Court said she thought it was very sad that people were bringing her tennis achievements into the debate, saying she was being bullied by homosexual people.
"I have nothing against homosexual people, they can lead their life, but don't touch marriage." Margaret Court addresses her comments regarding marriage equality.

Posted by The Project on Friday, May 26, 2017
Australian Christian Lobby says right to free speech being challenged.
The Australian Christian Lobby has commented on the issue saying that people on both sides of the debate are being silenced from voicing their views.
Lyle Shelton, the lobby group's Managing Director addressed the issue in a media statement.
"It doesn't matter whether you are Shannon Malloy, a gay journalist at NewsCorp, or Margaret Court, a tennis great and Christian pastor, if your views don't align with the  politically correct view of marriage you are out," Shelton said.
"Whatever side Australians are on in the debate about redefining marriage, all of us have got to ask ourselves what side of the freedom of speech debate we are on."
OIP Staff