Marriage Equality Overdue Says Greens Senator Ludlum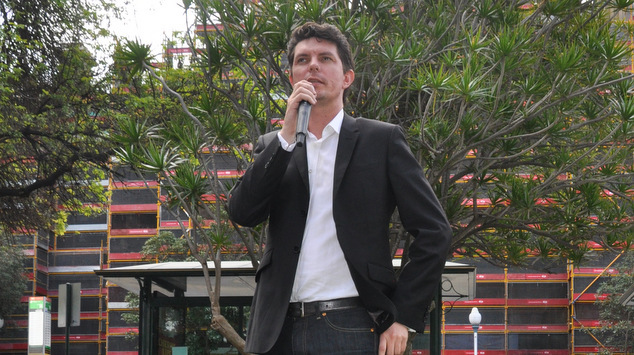 The Greens senator Scott Ludlum has described the call for marriage equality as a long struggle.
Speaking at the Equal Love Rally earlier today Senator Ludlum highlighted the recent change of position by Prime Minister Kevin Rudd on the topic of marriage equality as a major achievement for the marriage equality movement.
"The political ground is shifting," said Senator Ludlum, "we do not have to play to the margins, or imagine that we are some kind of extremist fringe radical group, we are in the majority here."
Senator Ludlum said the time for the marriage laws to change was overdue.
"These laws are written by God, we have separation of church and state in this country. These laws are written by human beings and here's one that needs to be re-written," said Senator Ludlum.
Senator Ludlum declared that there are so many issues that the parliament and activists should be focusing on rather than prolonging the approval of marriage equality.
"There are so many struggles and so many things that I figure you'd probably all rather be working on," said Ludlum, "more than this ridiculous hold out, maintaining this pointless discrimination against people who have done nothing wrong."
Senator Ludlum was one of several speakers who spoke at today's rally alongside activist Sam Cavallaro, community member Jayne McFayden, unionist Nadia Bordas, Assistant Secretary of the National Tertiary Education Union's WA branch, Sam Wainwright from the Socialist Alliance and Equal Love's Farida Iqbal.
Graeme Watson