Matthew Mitcham: New Twists and Turns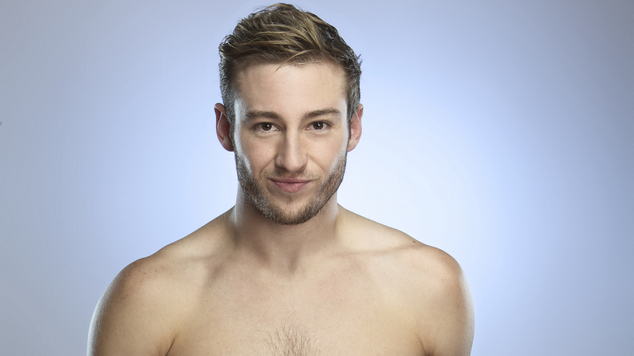 There can be few professional sports people who, while still at the top of their game, can announce that in addition to their athletic career they'll be going on the road with an autobiographical cabaret show – and that such an announcement would be greeted as a natural career progression.
"I reckon I've always been a performer"
Matthew Mitcham is definitely not like other sportsmen. This month his cabaret show 'Twists and Turns' will make its world debut at Fringeworld. The show which is based on Mitcham's best selling autobiography will see the ukele playing Olympian share his life story with a live audience.
When OUTinPerth spoke to Mitcham he'd just finished at the National Diving Championships, reaffirming his place as one of our top athletes. The combined challenge of training for sport and rehearing for a show has made Mitcham's days incredibly busy.
"I'm not going to lie, it's been pretty hectic." Mitcham said.  "I juggled it really well because training is from six to eight in the morning and then from three to six in the afternoon, so I've got a  six hour period in the middle of the day where I can do all this stuff. So there were no clashes."
Even when Mitcham is performing at the Fringe festival, he'll still be spending his days training in preparation for the Commonwealth Games. The world famous diver says that while he knows the world of diving, he's enjoying exploring the creative world too.
"I've done diving for such a long time that I can anticipate when it's going to be a bit tough and when I need to switch into hard arse mode or start preparing for a really painful sort of training block or when I can wind down. I know the ins and outs and the nuances of diving so well and yet this new cabaret experience is just so completely different, like I'm so green to this whole industry. It's been a wonderfully refreshing, new experience. I'm learning so much."
Mitcham shares that acting has come to him quite naturally, but admits he's always been a bit of a performer and can't wait for the curtain to rise on opening night.
"I think even in my diving and my trampolining days, I reckon I've always been a performer. Who really enjoys training? Let's be honest. The only reason I train is to compete because I just love showing off. I live for competitions. The bigger the crowd, the more exciting I find it. So I guess maybe I just naturally have that showing off, showmanship, show pony performer type personality." Mitcham said.
"It really didn't take me very long to feel comfortable acting and flicking in between characters and regressing into a five year old need to tell an anecdote. I felt really self conscious at the beginning but really it only took one session for me to realise that there's no need to be self conscious and this could actually be a really fun thing, and straight away I was able to drop any of that self consciousness and any of that shame and embarrassment and just really get right into it.
To build up for his big stage debut Mitcham has been making some appearances at small cabaret events in Melbourne. The exposure has allowed the diver to build up his confidence about performing in front of a live audience.
"Luckily, because otherwise I would've probably had a panic attack right there on the stage in front of everyone!" Mitcham laughed. "The first couple of times I did cabaret shows, because I wasn't very confident in myself or my ability, whenever I started panicking or whenever I felt like I was losing the audience I would just spontaneously start taking my clothes off to try and win the audience back.
"It definitely worked. It took me three shows for me to feel confident enough in my own performance that I didn't feel like I needed to resort to taking my clothes off."
For Mitcham a big appeal in developing the cabaret show was an opportunity to bring out into the open many of the issues that he shared in his autobiography. In the no-holes-barred book Mitcham is upfront about his challenges with drinking, drugs and mental health. Mitcham said that many people had advised him not to be so open, but he adamantly believes that these are issues we need to talk about more.
"Some peoples' opinion was that it was a mistake and it hurt me but I was always of the position that if I feel like the potential benefits outweigh the potential detriments to myself, then it's totally worth it." Mitcham declares.
"The response that I've gotten from people has just been overwhelming so of course I think I definitely made the right decision because I think the reason why I suffered for so long, much longer than what I really needed to, was because I felt so much shame about it. That prevented me from reaching out. Because there's stigma around, I suppose depression in sport I thought was a weakness, and I didn't want to be seen as a weakness. And then the especially taboo topic of drugs in sport was just so far beyond what I felt was acceptable and appropriate to talk about that I kept it to myself and the addiction was propagated and the longevity of it was much longer than what it needed to be."
When Mitcham attended the Beijing Olympics he was the only openly gay male athlete in the Olympic village. Over the last five years more and more athletes have been open about their sexuality but Mitcham is humble when we suggest he is a trailblazer.
"Of course! I would love to think that all these athletes are coming out because I've made it easier for them to," jokes Mitcham, "but until they tell me so I'm not going to-, well, maybe I can just keep thinking it in my own mind, that'll make me feel better."
He's also welcoming of fellow diver Tom Daley's recent revelation about his sexuality, noting that sharing personal information is a tough challenge for younger people in the spotlight.
"I think it's wonderful that he feels he's in a place where he's comfortable enough to reveal that about himself to the public, because it's a really big thing. I guess you feel really vulnerable because you are opening yourself up to other people voicing their opinions about it." Mitcham said.
"I think a lot of it has to do with the way you go about it, too. I tend to find in general, the vast majority of people are overwhelmingly supportive. They were in my case and according to Twitter they were in Tom's case as well. But you always get just some absolute, vile, vitriolic, trolling that goes on and I can't help but get really protective."
One issue Mitcham finds concerning is gay people who were critical of Daley for having previously said he that wasn't gay. Mitcham asks how many of us at some point in our youth may have denied our sexuality before we were sure ourselves.
"You know you're not going to talk about something that you're curious about and open yourself up to that kind of criticism until you're actually going to be sure about it."
Perth is a lucky position for Mitcham's show, not only getting the world premiere we also have the largest number of performances, more than Melbourne or Brisbane will get.
"I'm doing nine days in Perth" explains Mitcham,  "I can only do four days in Brisbane and four days in Melbourne because it's just so close to the lead up to the Commonwealth Games. Everyone who's been all around me has been so wonderfully flexible and accommodating and supportive. It's been a really nice experience."
Mathew Mitcham's 'Twist's and Turns' is playing at Da Parel Speigeltent as part of Fringe World from Saturday 1 February 2014 to Saturday 8 February 2014. For tickets head to Fringe World.
Graeme Watson