Mental Health Week: If you can't like yourself…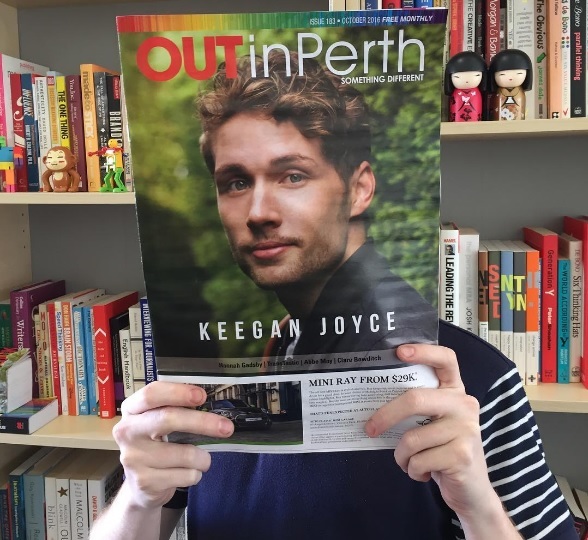 October 8th – 15th is Mental Health Week in Western Australia and across the country, a time to raise awareness of the internal struggles that we may all face – in varying degrees, in different forms.
It is fitting that our two feature stories this month are with Please Like Me stars Keegan Joyce and Hannah Gadsby, whose characters (Arnold & Hannah) both have to overcome incredible obstacles just to get by in their day to day life.
Both Hannah's hazy depression and Arnold's debilitating anxiety disorder struck me when watching the show. Living with both depression and anxiety, never have I seen characters I could relate to more.
Australian, queer, living with mental issues and struggling to endure every day social situations. Yep, that's me. It was a double-edged sword to see that much of myself on television.

What a wonderful thing to see a reality I understand represented on television after being weaned on years of the heteronormative romance and banal dialogue of Aussie TV. Yet again; how dispiriting to be reminded of those dreadful lows of my own mental instability.
There was a particularly resonant moment for me at the beginning of the program's third season. Arnold, now in a relationship with Josh, shares some of the irrational things he has done to placate his anxiety. It's a beautifully cathartic moment, where Arnold allows himself to be vulnerable and Josh is allowed to know his partner a little better.
Arnold calls Josh to say he bought too many groceries and couldn't carry them home so he stole a shopping trolley. What would be a fun moment of mischief for Josh sends Arnold spinning into a full-fledged anxiety attack, bolting down the street convinced the police are tracking the stolen cart.
It made me remember some of the things I have done, or rather my brain has done to me, as a result of my disorder. I've synthesised elaborate plots in which my friends are all conspiring to cut me off because I saw photos of them doing something without me. I've skipped lunch because I'm convinced the dude at the register is laughing at me, just because we made eye contact. I once had to take a seat while delivering a presentation at university because I was trembling with such intensity that my tutor couldn't understand what I was saying and he was concerned I was going to fall over.
Reliving these moments made me realise that there has been change. I can look back and laugh at myself, I can recognise when I am being irrational and I am able to recognise when anxiety is taking control.
I am fortunate to be able to see progress in myself, but for others it is not so easy. Their issues may manifest in different ways, far more intense or dangerous than my aforementioned lapses of judgement. They may not even recognise the issue in themselves.
Years of building a support network of friends and family, assistance from mental health professionals, medication and patience have allowed me to reach a point where I can look back and laugh it off.
I would be lying if I told you I didn't still have my moments, those who know me may notice that some days I struggle to even look you in the eye, but I have learned to find satisfaction in incremental change and noticing adapted behaviours.
This Mental Health Week, I urge anyone who is concerned about their mental health to reach out to somebody they trust or a professional and share your experiences.
I especially wanted to avoid mentioning the lingering spectre of the plebiscite in this issue, but after it was revealed this month that the proposed vote on marriage equality had fast become the number one reason Australians were calling the national suicide hotline; there is no more important time to seek help if you are struggling.
There is no shame in asking for help, and nothing selfish about wanting to be happy.
Leigh Hill
If you are struggling with anxiety or depression, support and counseling are available from:
QLife: 1800 184 527 / www.qlife.org.au  Lifeline: 13 11 14 / lifeline.org.au
Beyondblue: 1300 22 4636 / www.beyondblue.org.au