Merry Queermas! A helpful guide to self care this holiday season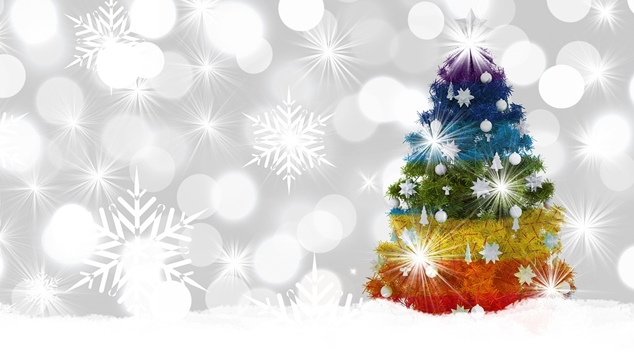 Ah, the holidays.
For some, Christmas and New Year is about religious or spiritual observance, for others it's a celebration of the year that has passed and a chance to spend time with loved ones, and for others again it is a time of disconnection and challenges. For the rest – lets be honest – its mainly about the presents.
For many LGBTIQ+ folks this time of year can be problematic, for a whole host of reasons. Already tense family situations can be made even more complicated with the addition of extended family. Folks who are not in contact with their birth family may feel vulnerable and isolated, and even for those people who do have wonderful supportive birth and chosen families the "silly season" can simply be exhausting.
So, what can we do to increase our resilience, step up our self-care and have a Merry Queermas?
Stand up for yourself
If this time of year places you with people that you may not ordinarily choose to be around, remember: You don't have to answer invasive questions. You don't have to listen to comments or opinions that express trans/bi/intersex/homophobia or that are hurtful to your sense of self. If it is safe to do so let people know that this is not ok and if it continues, you will leave.
Find an ally
Maybe it's your sibling, your cousin or your friend. Hopefully, there is at least one person who gets you and who will be there to rescue you from difficult conversations, be there to let you vent when you need to, or to share a well-timed look of understanding or eye rolling.
If you don't have an ally who can be there in person, get one on the phone. Arrange with a friend or friends that you can text or call when you need to.
Now is a great time to connect with your support people and prepare them by letting them know the ways they can best help you during these next few months. Connecting with local LGBTIQ+ groups online is another way to get support. There is a handy list of these in the back pages of OUTinPerth.
If you aren't able to get hold of any of these people, the amazing folks at QLife are ready and waiting as your back up. They will be more than happy to let you debrief, remind you how wonderful you are and to suggest some ideas that might help you get through that moment.
Say No
To putting yourself in situations that are not healthy for you – give yourself permission to say no when you need to.
To being the continual advocate or activist – this might be a great time to take a break for a wee bit. It has been a pretty big year, right?
To spending every day as a day of indulgence. If you do drink, maybe plan some alcohol-free days so you can treat your brain to some down time.
To the credit card- spending more money than you should can add extra stress to your life and who needs that? Find other ways to gift to others. Offer your time, bake something or create something from the heart.
To invitations- do you suffer from FOMO (Fear Of Missing Out)? Spending time with lots of people can be exhausting. Make time to sit in bed and read a book; watch an entire season of something or even to take a nap.
Prioritise Yourself
Now is not the time to slouch on self-care. Schedule in all those things, big and small, that help fill up your cup and increase your ability to handle what life throws at you. Tips that are particularly helpful at this time of year include pre-making and freezing some healthy meals to reheat when you are pressed for time; arranging some walking or swimming dates with someone, and planning  to have some time screen free time (even if just for 30mins a day).
Make Plans
What a wonderful time of year in Perth to arrange a picnic or day at the beach! Arrange to bring people together for free fun. LGBTIQ+ people have been through a lot this year, so let's celebrate together as a community and recognize our collective awesomeness.
Look out for others
Look around for friends, acquaintances, people in your neighborhood, people in groups you are in, work colleagues. Don't just assume that this time of year is a joy for everyone. Ask if people have plans and if they don't, include them in yours.
We have been hosting an "Orphan's Christmas" for the last 20 years, where we invite friends (and friends of friends and friends of friends of friends) to come together to debrief their family event, to be connected to others if they don't have an event they are going to and just to generally be around wonderful humans and have a great time. Maybe you could consider making this your annual tradition too?
If you are worried about the wellbeing of someone who usually (or recently) struggles at this time of the year, do something about it now. Have a chat with them and ask what supports they would find helpful for the coming weeks. If you aren't sure how to do this, or you are worried about someone's safety – tell someone about it.
You'd better recognise!
Take some time either alone or with some friends to talk about or write down all the things from the last year that you are proud of. The small victories you had, the great moments that made you laugh deep in your belly, the times you helped someone else, the secret smiles you shared with another and the great memories that you made. The year may not have been all sunshine and roses and while it is important to acknowledge the hard stuff (this is how we learn and grow), we need to get better at deliberately taking time to point out all the good things that happen in a year. The more you do this, the more you will start to see great things all around you.
So, to my wonderful queer family, whatever your Christmas and New Year may bring- Have fun. Stay connected. Stay safe. Look after each other and celebrate!
Bella Broadway
---
Support OUTinPerth
Thanks for reading OUTinPerth. We can only create LGBTIQA+ focused media with your help.
If you can help support our work, please consider assisting us through a one-off contribution to our GoFundMe campaign, or a regular contribution through our Patreon appeal.