Michael Shafar's latest show is his most personal yet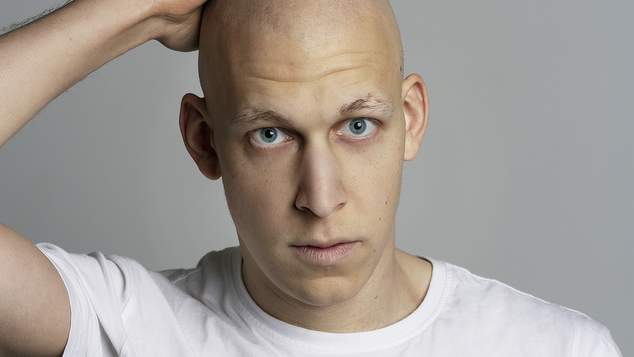 Comedian Michael Shafar has been performing at Fringe World for several years, audiences have loved his shows like Jewish-ish and Kosher-Bacon. A finalist of the Raw Comedy competition he's slowly been making his mark on the Australian comedy scene, while simultaneously working as a TV writer on The Project.  
His latest offering however tackles much more serious topics than religion and dealing with your parent's expectations, it's a tale of life and death – potentially his own. Michael Shafar was diagnosed with cancer, and his new show 50 / 50 chronicles his journey through his diagnosis and treatment.
How did you discover you had testicular cancer?
Basically, my right testicle had been getting larger and larger over a period of a few months. Being the typical guy, I just kept putting off getting it checked because I figured it must be nothing. I mentioned it to my girlfriend and she was like: "What is wrong with you?! Get it checked NOW!" So I did. My GP took a look at it, sent me for an ultrasound and it was confirmed I had cancer.
Comedian Gilda Radner famously said, "If it wasn't for the downside, having cancer would be the best thing and everyone would want it." How did your cancer diagnosis change your life?
Ha! I think I know exactly what she means. It's definitely changed me, probably more than I care to admit. I'm a much better person now than what I was before I was diagnosed. Mentally I'm a lot tougher, I've learned a lot about my relationships with my family and friends, and I try really hard to be grateful for the good health I'm fortunate to now be having. Plus, it's given me HEAPS of material, so that's a real bonus.
Is it hard to make a serious topic funny?
Surprisingly, I haven't found it to be as difficult as I expected it to be. Of the three shows I've now performed, this has definitely been the easiest one to write. The material has just flowed far more easily, probably because it's the most honest I've been on stage.
Having said that, it's definitely jarring for the audience to come out and talk about cancer, particularly when I'm performing spots at comedy clubs and the audience isn't necessarily ready for it. It's a bit tragic if people don't laugh, they just think it's a weird TED Talk. Fortunately, people have really been enjoying it (more so than my non-cancer material) and I'm getting a lot of people coming up to chat after shows saying they connected with it, so that's been really rewarding.
How is this show different your previous work we've seen at Fringe World.
It's definitely a lot deeper and certainly a lot darker. I talk about pretty heavy themes, like death and mortality, and having to confront your own legacy. Having said that, it's definitely the funniest show I've ever performed, probably because the pay-offs are so much bigger when there's that release of tension.
Reliving the cancer experience on stage each night must be draining, do think this show is something you will only be able to do for limited period of time?
Definitely. I'm booked in to perform about 50 shows around the country over the next three months, and I think I'll need a break from the show for a little while. It can be real tough when the cancer experience is not just your personal life, but also your work life. Obviously, that's completely my fault for writing a stand up show about cancer though!
I did a week of trials shows in Melbourne a couple of months ago after I had just finished chemotherapy and before going in for another round of surgery. It can be really exhausting going through it during the day and then having to go out and laugh about it at night. But, being able to write about it and bring it to the stage has helped me mentally handle the whole process, because at least I've been able to make some use of the experience.
Michael Shafar's 50 / 50 is on at Fringe World from 29th January to 5 February. Tickets are on sale now.  
Graeme Watson
---