Monday Book: Getting Warmer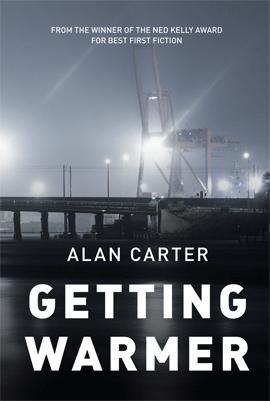 Getting Warmer
by Alan Carter
Fremantle Press
Alan Carter, who lives in Fremantle, collected lots of awards for his first book Prime Cut, a murder mystery set in the small south coast town of Hopetown.
Now Detective Cato Wong and Detective Lara Sumich have left Hopetown and joined DI Mick Hutchens in Fremantle for Carter's second novel.
Cato is trying to solve a cold case of a missing 15 year-old girl when he is seconded to find out how a guy in a locked toilet cubicle at the Birdcage Nightclub managed to get his throat cut just after giving someone a blow job.
Unravelling both cases involves following false leads, unearthing corrupt police officers and dodging physical violence on a regular basis.  Adding to the frustrations, Cato is trying to solve the daily cryptic crosswords.
The locations are so familiar to everyone in this boom state of Western Australia, with even the elephants on Thomas Road getting a mention. Lara's apartment overlooks The Round House, the Safer Streets initiative seems somewhat familiar and the bush around Star Swamp and Thompsons Lake will never be the same for walkers after reading this book.
As the heatwave continues, the body count mounts and there seem to be as many casualties on both sides of the law. All the characters are tarnished and have healthy amounts of cynicism which leaks out as brilliantly dark humour. There are small touches here and there especially for the locals, such as the comment that some of the royalties for regions money should be spent in Perth to solve the traffic problems.
Even for those not familiar with Perth and its surrounds, this is a very difficult tale to put down. Carter draws the reader in to become the profiler, trying to identify the psychological reasoning behind and all the manipulation and maiming. Carter delves into a messy world of drugs and gangs and the threats, murder and intimidation that goes with the territory.
Each group seems to have its preferred weapon – guns, knives, nail guns, and the who-did-what is dependent on unravelling the dark secrets and allegiances that the characters are trying to hide. This compelling crime drama will leave the reader far more vigilant of their local suburb, and Perth locals certainly wary of some of the settings used.
Lezly Herbert
Click on the image below to visit more stories from our BIBLIOPHILE collection.