MS MR's Lizzy Plapinger gears up for Groovin The Moo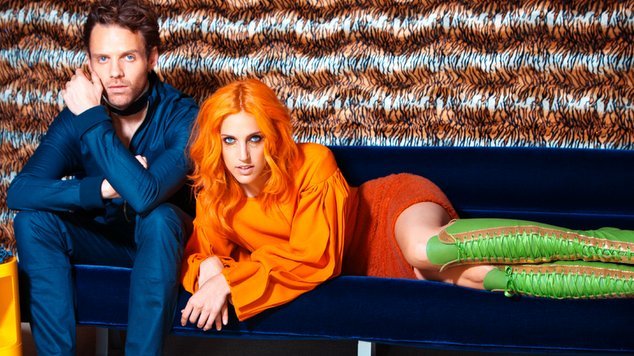 MS MR, the indie-pop New York duo shot onto the scene in 2011 and are gathering fan after fan with their new album 'How Does It Feel'. After the success of 'Secondhand Rapture', the band are touring around non stop and are in Australia for Groovin the Moo. Singer Lizzy Plapinger explained how much they love performing, their new record and how much they're looking forward to Groovin the Moo.
You're here for Groovin the Moo and you're doing a tour, but what else is going on with you guys?
We put out our second record, last summer and we were touring that pretty much non-stop from August til January of this year. We've had a couple of dates since then, but we've mostly been sort of re-cooping and working on some other projects which are sort of new for us, we've been experimenting with helping a friend score a short film of his and talking about potentially scoring a musical. At the moment, we're sowing out creative oats.
We'll leave for Australia, which we're super stoked about, and then we'll come back to the States and we're going to do a tour with Bloc Party, they're one of my favourite bands from growing up in London. Then we're doing festivals and shows all summer.
You're touring back to back. Was that to keep momentum or is that just how it came about in the end?
It's sort of just how it played out but for us it's great. Once we're in tour mode, we're in mode and now that we've been a band for six years and we've been on the road pretty much for most of it. We're really comfortable being on the road and we love the team that we travel with and our band. It's nice to know that once you're hitting the road that's where you're going to be for a couple of weeks.
Talking about the team that you tour with, they can become like your family, how do you pick yours?
We pretty much have the same family since the first show we ever did. For us it's about creating an environment and a family on the road because tour can be lonely and I think we're really lucky that we've actually never really had a bad run because we have been so cognisant about what we were building the whole time.
Do you guys write when you're on tour?
We do a little bit. We used not to be able to at all but the more and more comfortable we've been able to get on the road, the easier it's been. It's easy for Max to write on the road because he carries his keyboard with him and he can plug into his system. It's a little bit harder for me because I get a bit stressed writing in front of other people, but it is a good healthy experiment to remind yourself of what you're capable of and also sort of therapeutically to release whatever you're carrying around with you. There were a handful of songs on this past record that we did write while we were on the road. So it's something I hope we can continue to do more of.
Are you happy with how the record has been received?
Definitely. Before 'Secondhand Rapture', Max and I had never written music before. So for us each song was an experiment in itself and it was really about how we felt in the studio. But we hadn't given any thought whatsoever as to what it was going to be like translating those songs to stage and then even further beyond that, what it was going to be like touring those songs. Doing that for so long, the music sort of took on a different life and I think we sort of became different artists in the process of performing. So it was helpful heading into the second record thinking about what kind of show we wanted to put on and who had we sort of become as performers and what were our strengths. We really learnt how it feels thinking about the stage and especially festival shows. So, for us the greatest mark of success or validation is to just see how the crowd has reacted to these songs and I think there is such a palpable energy and dance and sense of camaraderie and support that happened through this record. I think we're both really, really pleased with how it's translated across the board.
Within the festival sphere, do you prefer playing at smaller, kind of boutique festival or do you like larger scale festivals?
If I'm being totally honest, I don't really think Max and I care where we play as long as we're just staging and an audience. I don't mean that in a "we don't care" way. It's more because we're just happy to be playing and we're just happy to be performing for whoever is there. And I think what's fun about any festival stage – no matter the size, scope or style of the festival – is that you're playing to people who don't necessarily know who you are and that's sort of an awesome challenge.
You know, it's nice to look into a crowd and see your fans singing back to you and know you have that support and recognition, but there's this awesome challenge in winning over the people that have never heard of you. There's just something about that really lights a fire under your ass and makes you work a little bit harder as a performer. I love that.
It's just fun to have a festival stage to move and dance around and become the wildest over the top version of yourself. For me, those are performers that I love. I think about Karen O, Janis Joplin, or Florence and how they feel like sort of unkempt electricity on stage and that's how I hope people sort of view our performance.
I think what's really special about what Groovin the Moo does is that it's a travelling festival and that's something that's specific to Australia and I love that. We've done Laneway in the past and it basically felt like summer camp for bands because you'd actually get to form a relationship with the other people who are on the bill. You get a chance to see other people a few times and I've just heard such awesome things about this festival in particular and especially because these are crowds that don't always get musical acts coming through so it seems like a particularly un-jaded and enthusiastic crowd, so we're coming in with pretty good expectations, I think.
Are you looking forward to playing in regional areas? You're playing areas that you wouldn't have necessarily had access to on another tour.
Yeah! These are places that I feel like I maybe would never have explored or gotten to know, and that's the best. I think about the kids who listen to music who don't live in the LA or the New York or the London or the Melbourne of the world and honestly those gigs are usually more fun because the people are un-jaded and they're just excited to see the show. I think in some ways those shows might be even a little bit more fun than the others.
Have you ever played a show in somewhere like that and fallen in love with the place much more than you expected to?
Yeah, all the time! I remember playing in Adelaide at Laneway and everyone was sort of like giggling that we weren't going to like Adelaide that much and I fucking loved it! I met all these people who were so awesome and they ended up taking us out that night and we had such a great night.
And that stuff happens in the States all the time too. You know, we played Oklahoma City, essentially in the middle of a corn field, and it was completely a "middle-of-nowhere" show and it was so awesome. It was one of my favourite nights we've ever had on tour.
I think, maybe it just depends on the personality of the group or the musicians. Max and I are pretty optimistic and positive people, so we're always looking for a reason to fall in love with a place and have a good time and usually that's through the eyes of the people you're playing for or meeting after the show. I think working for us; we tend to draw a really nice group of people. I've never been freaked out by a MS MR fan. Everyone is super appropriate and respectful and kind and so nice to one another and they're all different age groups and races and different genders, it's really nice. In some ways I do think we're a bit spoilt. We're in a little bit of a love bubble.
Where on the tour are you most looking forward to seeing for the first time?
Well, I'll admit we've been to Perth. We ended the Laneway tour there, and we had a beach day there. I've become sort of loose friends with some of the guys in Pond and Tame Impala and they all live in Perth, so I'm looking forward to sort of connecting with them and having a local's perspective and even if we don't get out… just sort of a house party and having that experience that would also be sort of ideal.
On the Groovin the Moo tour who else are you looking forward to sharing a stage with and performing on the same bill with?
I'm a huge Ratatat fan. I've been a fan of theirs for a really long time and I've caught them at other festivals bills, but our paths have never crossed, I've never met them. So I'm really just looking forward to hopefully getting to know them better and catching them a few times because they're someone I would really love to collaborate with in the future.
Because Groovin the Moo because it's not an over 18s gig, you do get a large population of a younger crowd. What would you say to the crowd that wouldn't have necessarily heard or seen you before? What's your pulling card?
I think even if you come to a MS MR show and you don't know any of our songs, it's a super high-energy show so it's sort of a perfect festival show to fall into because it's immediately going to bring up your day. It's the sort of show that you make friends in the crowd with, or go with your friends with, and there are songs that you can pick up quite fast to sing along with. So, for me I feel like we're your sort of perfect festival show because it's just going to be a really high energy, good time. I also might pour water on myself and throw myself around; I'll be bleeding by the end of the show.
After you've done your States tour what are you guys going to do? Chill out after that, will you start writing again, or tour again? Have you got another album up your sleeve?
I think we'll probably start writing again. We have some shows through the fall and we'll see those through but I think probably starting to write and think about the next steps for the band, which is an exciting place to be in.
Do you think you'll do another full album? Lots of people these days do an album and then scale it back and do an EP, do you think you'll stick on the album train?
I'm not really sure. I think what's nice about MS MR in general is that because we've experimented with a couple of different releases and a couple of different sounds that the door's pretty open for us to do whatever we want. I think what's nice about the way Max and I work is that we try to kind of come in with not too many pre-conceived notions of what we're going to do or even what we want necessarily. I think as long as the music and the show is evolving and we feel like artistically we're growing and taking steps forward it could be anywhere.
Maybe we'll do something that's a little more orchestral, or maybe we'll do something that's a little more electronic or maybe we'll try a bit of a different genre. I think for us just feeling like we have the space to experiment as much as we want is sort of the best bit about it. That's half the fun for us and not knowing what's going to go next.
MS MR are touring the country with Groovin the Moo and are playing a couple of headline shows along the way.
Apr 23 Groovin the Moo, East Maitland
Apr 24 Groovin the Moo, Canberra
Apr 25 Groovin the Moo, Oakbank
Apr 28 Metro Theatre, Sydney
Apr 29 Prince Bandroom, St. Kilda
Apr 30 Groovin the Moo, Bendigo
May 1 Groovin the Moo, Annadale
May 3 The Triffid, Brisbane
May 5 Rosemount Hotel, West Perth
May 7 Groovin the Moo, Bunbury