Review | Doco revisits scandalous deception at 'My Old School'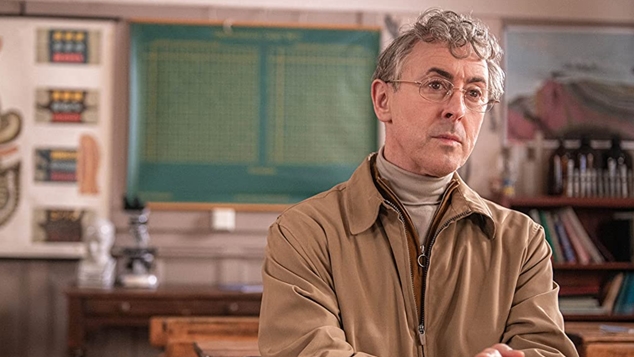 My Old School | Dir: Jono McLeod | ★ ★ ★ ★ ★ 
The official description of this outrageously entertaining documentary reads, "In 1993, 16-year-old Brandon Lee enrolled at Bearsden Academy, a secondary school in a well-to-do suburb of Glasgow, Scotland. What followed over the next two years would become the stuff of legend."
Bearsden Academy was in the posh part of Glasgow and Jono McLeod was Brandon Lee's classmate, but he was the bused-in kid from the rougher part of town and he always felt like an outsider. Also, as a 16 year-old gay kid, McLeod wanted to keep his head down and didn't really notice the kid sitting three desks away.
Brandon was very bright and he did seem a bit odd, but he had come from being home schooled in Canada and had an incredible back story. He studied hard, with the aim of getting into medical school, and made friends with some of the more marginised kids in the class.
When the huge scandal was revealed and Brandon's back story was found to be totally fictitious, Jono saved all the newspaper articles and revisited Brandon years later to interview him. Brandon agreed to the interview but then declined to be part of the documentary which opens with the caveat – "The subject of this film doesn't want to show his face, but you will hear his voice."
Using only interviews from the people who were at the school at the time, Jono asked his friend Alan Cumming to lip-sync with the original Brandon interview and represent the present-day camera-shy Brandon. The first time filmmaker also integrates animation and reenactments by the previous students to tell the ultimately hilarious story of deception and eventual discovery.
Although the stunt was morally ambiguous, no harm was done by Brandon's attempt to change the course of history, and several students even credit Brandon with helping them to turn their lives around. Of course, social media would make Brandon's con impossible nowadays but the engrossing account of this try again student makes for scintillating post-film conversations.
My Old School will show at the Perth Festival Lotterywest Films season at UWA Somerville from Mon 16 January until Sun 22 January, 2023. Go to perthfestival.com.au for tickets and further information.
Lezly Herbert
---

You can support our work by subscribing to our Patreon
or contributing to our GoFundMe campaign.